GOP Leaders Skip Donald Trump Farewell After Mitch McConnell Blames Him for Capitol Riot
GOP leaders are not expected to attend President Donald Trump's farewell event on Wednesday, one day after Majority Leader Mitch McConnell (R-Ky.) blamed the outgoing president for the January 6 insurrection at the U.S. Capitol.
Trump is planning to hold the early morning event shortly before becoming the first president to refuse to attend the inauguration of his successor in over 150 years and flying to his home in Florida instead. While invitations to the send-off at nearby Joint Base Andrews have been sent out, both McConnell and House Minority Leader Kevin McCarthy (R-Calif.) will snub the outgoing president to attend a morning Catholic mass with President-elect Joe Biden before he is inaugurated, according to Axios.
McConnell is set to continue leading Senate Republicans as minority leader when Democrats regain control of the chamber due to a partisan power shift caused by incoming Georgia Senators Raphael Warnock and Jon Ossoff, who are both likely to be sworn in shortly after the Biden inauguration on Wednesday. During his last session as majority leader on Tuesday, McConnell said that the Capitol rioters had been "provoked" and "fed lies" by Trump.
"The last time the Senate convened, we had just reclaimed the Capitol from violent criminals who tried to stop Congress from doing our duty," McConnell said. "The mob was fed lies. They were provoked by the president and other powerful people. And they tried to use fear and violence to stop a specific proceeding of the first branch of the federal government, which they did not like."
"But we pressed on," he added. "We stood together and said an angry mob would not get veto power over the rule of law in our nation, not even for one night."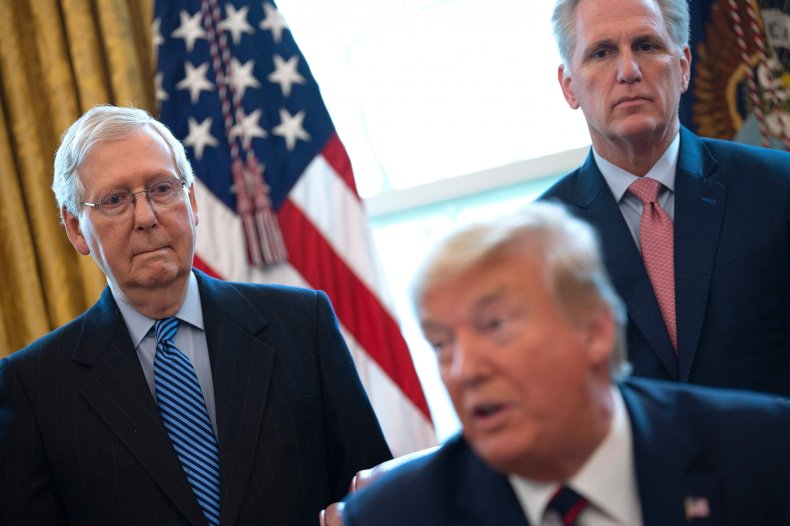 Multiple reports suggest that Trump aides may be having some difficulty in drawing a crowd to his going away event. Potential guests are being asked to arrive to the send-off at 6 a.m., while Trump is scheduled to depart for Florida at 8 a.m. Even staunch Trump ally Sen. Lindsey Graham (R-S.C.) told TMZ on Tuesday that he would be attending President-elect Joe Biden's inauguration ceremony instead of Trump's event.
Vice President Mike Pence is also not expected to attend the Trump event but does plan on attending Biden's swearing in. He will be missing the Trump event due to "logistical challenges" in getting from Joint Base Andrews to the inauguration, according to an Associated Press report citing an anonymous person familiar with the vice president's schedule. The Trump event will be held only about 12 miles from Biden's inauguration and at least four hours before the president-elect's planned swearing in at around noon.
Trump became the only president to ever be impeached twice last week for allegedly inciting the Capitol riot following months of unsubstantiated claims of massive voter fraud. His refusal to attend Biden's inauguration is being welcomed by the incoming president, who recently called it "one of the few things he and I have ever agreed on."
Newsweek reached out to the White House for comment.