GOP Leaders Slam Biden's 'War-Triggering' Language Toward Russia
President Joe Biden is facing backlash from Republicans after he said Russian President Vladimir Putin "cannot remain in power" during a speech in Poland on Saturday.
Delivering the speech in Warsaw, the president said: "We will have a different future—a brighter future rooted in democracy and principle; hope and light, decency and dignity; of freedom of possibilities. For God's sake, this man cannot remain in power."
After the speech, the White House immediately moved to walk back the comments and clarify that Biden was not calling for a regime change. However, his remarks still came under fire from members of the GOP this weekend.
When asked about Putin's remarks in Poland on Fox News, Representative Jim Jordan, a Republican from Ohio, said: "I think you could say here's a president potentially having more war-triggering type language than probably any president in American history. So we need to be careful, we need to be precise in things we say, particularly the commander-in-chief of our country."
He also noted that on Saturday former Army lieutenant colonel Alexander Vindman called the president's speech in Poland "historical."
"So historical that the White House had to go out and correct the record after he gave it," Jordan added.
Senator Jim Risch, a Republican from Indiana, said the president gave a "good speech," but criticized his statement that Putin "cannot remain in power," calling it a "horrendous gaffe."
"I wish he would stay on script. Whoever wrote that speech did a good job for him, but my gosh, I wish they would keep him on script," Risch said in a Sunday interview with CNN. "I think most people who don't deal in the lane of foreign relations don't realize that those nine words that he uttered would cause the kind of eruption that they did. But anytime you say, or even as he did, suggest that the policy was regime change, it's going to cause a huge problem."
The White House did not immediately respond to Newsweek's request for comment on Sunday. But in its statement walking back Biden's speech on Saturday, it said: "The President's point was that Putin cannot be allowed to exercise power over his neighbors or the region. He was not discussing Putin's power in Russia, or regime change."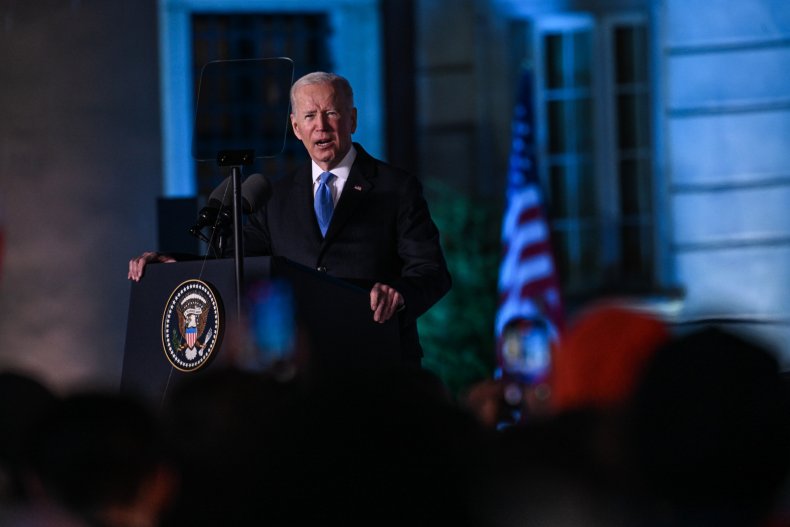 Senator Tom Cotton, a Republican from Arkansas, commented on Biden's speech on Fox News on Sunday, noting that the president "seemed to ad lib there" and said "something that Vladimir Putin will now use for his reasons to say 'see I told you all along that the United States and NATO wants to attack Russia, wants to topple our government.'"
"Yet then his staff immediately turned around and walked it back, so you get the worst of all possible worlds," he added. "It is not reassuring for our safety or to our allies."
Former President Donald Trump also took aim at Biden's handling of the Ukraine-Russia war Saturday night. In an interview with Newsmax at a rally he held in Georgia, Trump said the Biden administration was "almost" giving Putin "an incentive" to use nuclear weapons.
Speaking on ABC News Sunday morning, former CIA director David Petraeus, who served under former President Barack Obama, said the news of Biden's comments in Poland will soon disappear from the headlines. However, he noted that for Putin, the speech "will play on his mind and it could complicate matters going down the road."
However, the former director added that the remarks "should not overshadow what was an extraordinarily important and successful trip to Europe."