Former president Donald Trump has blasted President Joe Biden's handling of the war in Ukraine, suggesting the Biden administration was "almost" giving Russia's Vladimir Putin an incentive to use nuclear weapons.
Speaking to Newsmax at a rally in Commerce, Georgia, Trump insisted Putin "would never in a million years" have invaded Ukraine if he were still president and repeated the lie that the 2020 election was stolen from him.
Ukraine "is just in shambles," Trump said on Saturday, more than a month after Russia launched an invasion of its eastern neighbor on February 24.
"You look at these cities that have been bombed and they've been blown up and it's going to take 50 to 100 years to rebuild them. And so many people have been killed, so many people have been killed and horribly wounded, but I will tell you that it should have never happened."
Trump went on: "This would have never happened had the election not been rigged. This would have never happened. He would have never in a million years have done it. So it's very sad... all those people should be living now, they should not be dead."
Asked if he thought Putin could deploy nuclear weapons in the conflict, Trump said: "When you put him into a corner and when you talk the way they're talking, you know, they're talking weak and yet they're almost giving him an incentive... They're handling him very badly, in my opinion."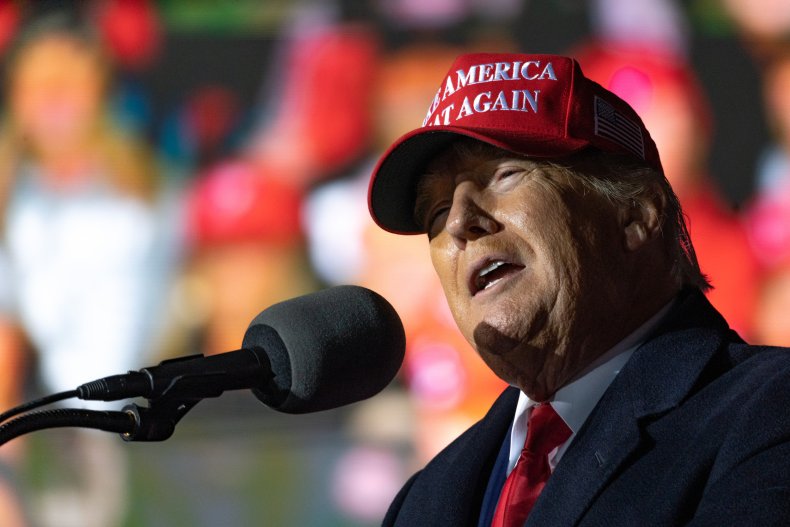 Biden on Saturday called Putin a "butcher" following a visit with Ukrainian refugees during his trip to Poland, a comment that prompted a complaint from the Kremlin.
The White House also walked back Biden's comment that Putin "cannot remain in power," clarifying that the president was not calling for regime change.
Trump said the Biden administration "don't know what they're doing."
He added: "It's the most dangerous time in the history of our country, in my opinion. I don't think our country has ever been in greater danger than it is right now because of the power of certain weapons that I know very well."
Trump also hit back at the president's recent remarks that he would be "very fortunate" to run against Trump again in 2024.
During a press conference in Brussels earlier this week, Biden invoked Trump's defense of white nationalists by suggesting "both sides" were to blame for the violence at a 2017 rally in Charlottesville, Virginia.
Trump, who has been hinting that he will run for the presidency in 2024, said Biden's comments on Charlottesville were "a whole lie."
He added: "I have no idea if he's gonna run. I can't imagine he does well, he's got the lowest approval rating in history, in the history of a president, which is pretty low. And if he does, and if I decide, I'd love to run against him, I can tell you. Who would be better?"
Trump's representatives and the White House have been contacted for additional comment.