Kremlin Complains About Biden's 'Temper' After He Calls Putin a 'Butcher'
Kremlin spokesperson Dmitry Peskov complained about President Joe Biden's temper on Saturday after the American commander-in-chief described Russian President Vladimir Putin as "a butcher."
During a trip to Poland, Biden responded to a reporter's question after visiting Ukrainian refugees in Warsaw. "He's a butcher," the president said of Putin.
"We will have a different future—a brighter future rooted in democracy and principle; hope and light, decency and dignity; of freedom of possibilities," Biden also said during a speech there. "For God's sake, this man cannot remain in power."
Speaking to Russia's Tass news agency about Biden's comments, Peskov—Putin's primary spokesperson—complained about the remarks by saying that "a state leader should keep their temper."
"And, of course, each time such personal insults narrow the window of opportunity for our bilateral relations under the current [U.S.] administration. It is necessary to be aware of this," the Putin spokesperson warned.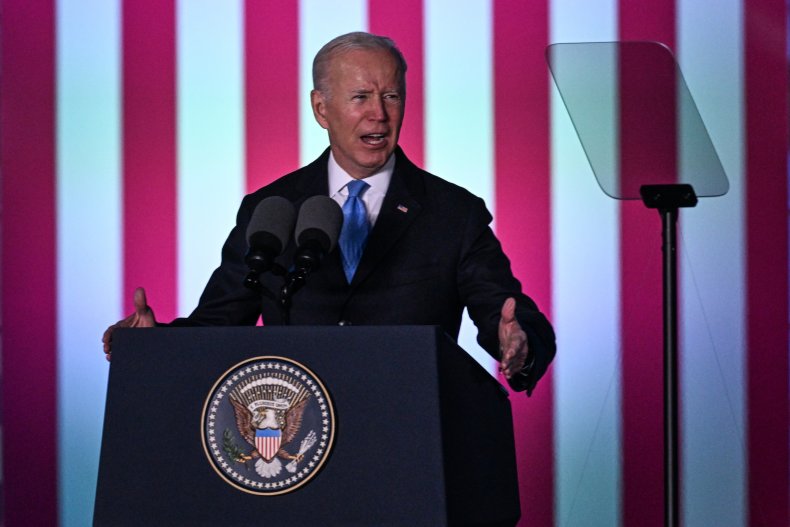 The Kremlin official pointed out that Biden has previously voiced support for U.S. bombings of other countries saying that "it is at least weird to hear such a thing from him."
After many believed Biden was openly calling for Putin's removal from leadership in Russia due to him saying that "this man cannot remain in power," the White House walked back the comments.
"The President's point was that Putin cannot be allowed to exercise power over his neighbors or the region," the White House said in a Saturday statement. "He was not discussing Putin's power in Russia, or regime change."
Russian forces launched an internationally condemned invasion of Ukraine on February 24. The U.S., Canada and Western European allies quickly responded with harsh financial sanctions targeting Russia's economy as well as Putin and other Moscow elite. NATO countries quickly moved to transfer billions of dollars in weapons, military equipment and humanitarian aid to support Kyiv as it works to defend itself against Moscow's aggression.
The United Nations estimated this week that at least 1,650 Ukrainian civilians have been killed since Putin's troops began the assault on the Eastern European nation last month. Most of the civilian deaths have been from "explosive weapons with a wide impact area, including shelling from heavy artillery and multiple-launch rocket systems, and missile and air strikes," the U.N. said. On Wednesday, the U.S. declared that Russia is committing war crimes in Ukraine.
In a landmark vote on March 2, the United Nations General Assembly overwhelming voted to condemn Putin's invasion. One-hundred and forty one nations voted in favor while just four nations—Belarus, Syria, Eritrea and North Korea—voted with Russia against the resolution. Even China, a key Russian ally, abstained from voting, along with 34 other countries, instead of voting against condemnation.
"In this battle we need to be clear-eyed. This battle will not be won in days, or months, either," Biden said in Poland on Saturday. "We need to steel ourselves for the long fight ahead." The president addressed efforts by NATO and the U.S. to avert the Russian invasion, but assessed Putin was "bent on violence from the start."
Biden has repeatedly condemned Putin, even before he entered the White House as president. "As president, I will do what Donald Trump refuses to do: work with our allies and partners to hold the Putin regime accountable for its crimes," he said in a September 2020 presidential campaign statement before he won the election.
Biden also said in 2014 that he told Putin directly that he did not believe the Russian leader had a soul.
"I said, 'Mr. Prime Minister, I'm looking into your eyes, and I don't think you have a soul,'" Biden, who was then serving as vice president under former President Barack Obama, told The New Yorker. Putin previously served as prime minister of Russia.
In a March 2021 interview with ABC News, Biden responded "I do" after he was asked whether he believed Putin was "a killer." Peskov complained at the time that "there hasn't been anything like this in history."
Meanwhile, Putin appears to have greatly miscalculated with his invasion of Ukraine. Analysts have assessed that the Russian leader appears to have been caught off guard by the resistance his military would face as well as the severity of the Western response. After more than a month of war, Russia has failed to conquer any major Ukrainian cities and appears to be adjusting strategies in an effort to save face.
NATO has assessed that between 7,000 and 15,000 Russian troops have already been killed in the war with Ukraine. To put that number in perspective, under 2,500 U.S. forces were killed in two decades of the war in Afghanistan. Russia has not confirmed the number and has been tightlipped about casualties resulting from the conflict.