Republicans Take the Lead in Two Senate Seats Democrats Need to Hold: Polls
Two recent Senate midterm polls in the key states of Nevada and Georgia both show the Republican challengers leading the Democratic incumbents with less than two months until the November elections.
In Nevada, the latest Emerson College Polling/8 News Now/The Hill survey revealed that GOP Senate candidate Adam Laxalt is narrowly ahead of incumbent Democrat Catherine Cortez Masto—42 percent to 41 percent.
The poll, conducted between September 8 and September 10 among 1,000 likely voters, is only the second time that the Donald Trump-endorsed Laxalt has beaten Cortez Masto in any of the last seven polls, according to FiveThirtyEight's collection of surveys.
Since July, Cortez Masto's support in Emerson Nevada polls has decreased by three points, while Laxalt's support has increased by one.
Discussing the poll result, Laxalt tweeted that "our momentum to take back the Senate isn't slowing down" while urging voters to "stop the radical Biden/Masto agenda."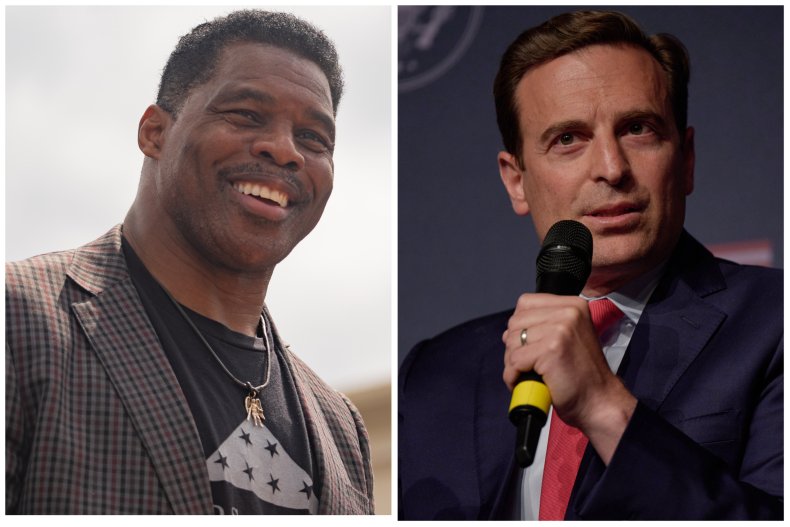 In Georgia, where the Democrats will hope to hold on to another seat if they have any chance of retaining the Senate, Trump-endorsed GOP candidate Herschel Walker also flipped the lead in the most recent poll.
According to an InsiderAdvantage/FOX 5 Atlanta poll of 550 likely voters released on September 8, Walker now leads with 47 percent support over Democratic Senator Raphael Warnock's 44 percent.
The former NFL star has managed to gain two points since the last InsiderAdvantage/FOX 5 Atlanta poll in July, while Warnock lost four.
InsiderAdvantage Chairman Matt Towery said that Warnock is more popular with younger voters and seniors, but "trails badly" to Walker among those aged 40-64.
"With only 4 percent undecided, this race could very well be headed to a General Election runoff given the fact that there seems to be few points among the various demographics up for grabs," Towery added.
Prior to August, Walker—whose campaign was at risk of derailment due to a series of personally controversies and gaffes—had not beaten Warnock in any poll leading back to April, with the incumbent coming out ahead in eight of the nine surveys and one ECU poll in June having the pair tied on 46 percent.
However, Walker has now led in four of the five most recent polls. Warnock did come out on top in an Echelon Insights survey released in early September, where he had a significant 10-point lead over his Republican rival.
Walker and Warnock are set to take part in their first live televised debate on October 14 in Savannah following weeks of stalled negotiations.
Walker originally proposed a debate in Savannah on October 14 while rejecting the three formats that were accepted by the incumbent.
"Herschel Walker, I'll see you on the stage in Savannah on October 14th," Warnock tweeted on Tuesday.
"And I hope you'll reconsider your refusal to debate in Atlanta and Macon so voters can see more than once the clear choice they have in this election."