GOP Official Who Called for 'Lynching' of Lloyd Austin Refuses to Resign
A Republican official in Virginia is being pushed to resign by the local GOP after a Facebook post was discovered in which he used the N-word and floated the idea of "lynching" Secretary of Defense Lloyd Austin and other leaders in Washington, D.C.
The Republican Party of Hampton, Virginia last week became aware of a February 2021 Facebook post by Hampton Electoral Board Chair David Dietrich. In the post, Dietrich attacked Austin—the first Black Defense Secretary in U.S. history—and other Democratic leaders. The controversy was first reported by local WAVY News 10.
Dietrich said in the post that Austin's efforts to root out white nationalists in the military was actually a ploy "to remove conservative, freedom-loving Americans from the roles." He said Austin and other Democratic leaders are "vile and racist," describing them as "stinking" N-words.
"If it is a civil war they want, they will get it in spades," he wrote. "Perhaps the best way to pull us back from the brink is a good public lynching."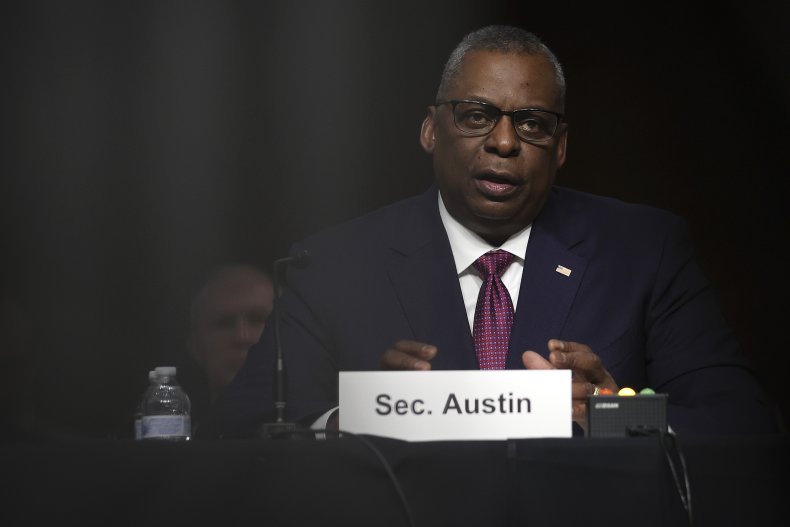 On Thursday, the Hampton GOP called on Dietrich to step down, reiterating the call on Friday—sharing a screenshot of the post. The local Republicans said Dietrich had used "abhorrent and unacceptable racist language that has no place in our Party or our Commonwealth." It said it immediately called on him to resign after learning of the post.
"In light of Mr. Dietrich's refusal to resign, the Hampton City Republican Party has asked the chief judge of the Hampton Circuit Court, the appointing authority for all electoral board members, to remove Mr. Dietrich from his position," the local Republican Party said.
"The Hampton City Republican Party unequivocally condemns all forms of racism and bigotry, and specifically condemns the language employed by Mr. Dietrich."
Philip Siff, chair of the local GOP, reiterated that he and other leaders "unequivocally condemn all forms of racism and bigotry," in a Friday comment to WAVY. Siff said that Dietrich was still refusing to resign.
Newsweek reached out to the Hampton GOP and Dietrich for comment.
Austin, a retired four-star general, was first announced as President Joe Biden's pick to lead the Pentagon in December of 2020. He became the first Black secretary of defense in U.S. history after he was confirmed by the Senate on January 22, 2021—with a substantial bipartisan vote of 93 in favor to just two senators opposed.
The Biden administration official retired from military duty in 2016 after 41 years of service. In addition to CENTCOM commander, Austin served as vice chief of staff of the U.S. Army and director of the joint staff.