GOP Attacks Alexander Vindman's U.S. Loyalty in Strategy to Discredit Him During Trump Impeachment Hearing
Congressional Republicans continued their apparent campaign to cast doubt about Lt. Col. Alexander Vindman — a key witness in the impeachment probe against President Donald Trump — by suggesting the military veteran has a dual loyalty to Ukraine.
The accusation came during Vindman's testimony before the House Intelligence Committee Tuesday morning. Vindman, the National Security Council's top Ukraine expert, earned the ire of Trump and his GOP allies when he told lawmakers in a closed-door meeting that he was alarmed by the president's July 25 phone call with Ukrainian President Volodymyr Zelenskiy.
Steve Castor, the counsel for Republicans on the panel, tried to raise doubts about Vindman's loyalty to the United States through questions about how a top Ukrainian official repeatedly asked him to consider serving as the nation's defense minister.
"Did you ever think that possibly, if this information got out, that it might create at least the perception of a conflict?" he asked.
"Every single time, I dismissed it," Vindman countered, adding that he notified the chain of command within the intelligence community each time the Ukrainian official made the request.
"I'm an American. I came here when I was a toddler. I immediately dismissed these offers, did not entertain them," Vindman said. He added that the "whole notion is rather comical."
Attacking Vindman's background as a Ukrainian-American immigrant has become a repeated tactic for Republicans as they seek to discredit him as a witness. Vindman's family fled Ukraine, then part of the Soviet Union, and moved to the U.S. when he was 3.
On Fox News last month, Laura Ingraham and her guest John Yoo also accused the decorated military veteran of espionage because of his personal connection to Ukraine.
"Here we have a U.S. national security official who is advising Ukraine, while working inside the White House, apparently against the president's interest, and usually, they spoke in English. Isn't that kind of an interesting angle on this story?" Ingraham said.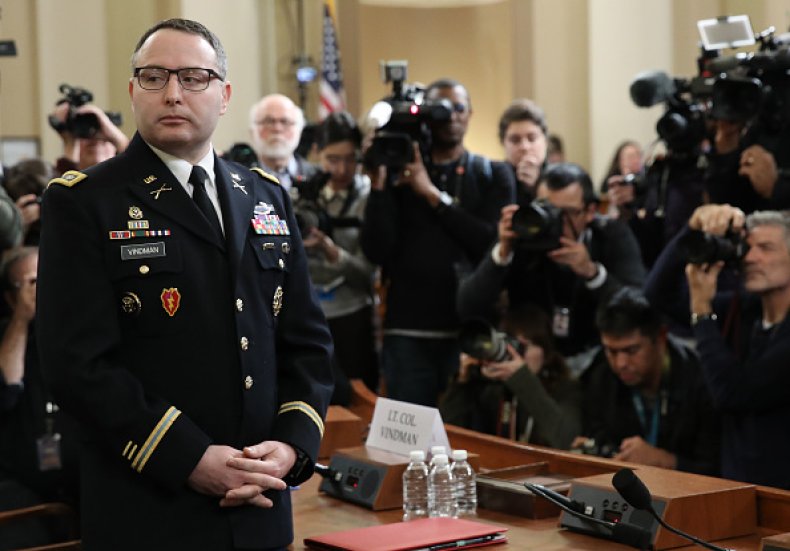 On Monday, the day before Vindman was due to appear on Capitol Hill, Sen. Ron Johnson of Wisconsin reportedly wrote in a letter to House Republicans that Vindman fits the profile of a so-called "Never Trumper." The senator alleged that Vindman was a member of the executive branch who has never accepted Trump's presidency and "react by leaking to the press and participating in the ongoing effort to sabotage his policies and, if possible, remove him from office."
In his opening statement on Tuesday, Vindman argued that appearing before Congress was part of the American dream. He noted that if he still lived under Russia's influence, reporting his concerns about the president's communication with Ukraine would have " severe personal and professional repercussions" and his public testimony would "surely cost me my life."
"Dad, my sitting here today, in the U.S. Capitol talking to our elected officials is proof that you made the right decision 40 years ago to leave the Soviet Union and come here to the United States of America in search of a better life for our family," Vindman added. "Do not worry. I will be fine for telling the truth."
Later on during the hearing, Democratic Rep. James Himes of Connecticut slammed Republicans for attempting to tarnish Vindman's reputation based "only on the fact that your family, like many American families, immigrated to the United States.
"I want people to understand what that was all about. It's the kind of thing you say when you're defending the indefensible," Himes said.