GOP Readies 'Feisty' Defense Strategy for Judiciary Committee Impeachment Hearings
The House Judiciary Committee will return to the spotlight Wednesday with its first impeachment hearing on the Ukraine scandal, a public showdown that's likely to feature feuds between Republicans and Democrats.
Despite recent testimony by witnesses before the House Intelligence Committee that backed allegations President Donald Trump engaged in a quid pro quo to pressure a foreign country to investigate a possible political opponent in exchange for U.S. military aid, Republicans haven't backed down from defending their party's leader.
Some of the president's biggest allies on Capitol Hill have made it clear that Wednesday's hearing, which will feature four legal experts and focus on the impeachment process, will be filled with spectacle and arguments over procedure.
In addition, Republican staffers on the Intelligence Committee released a minority report Monday afternoon to rebut Democrats' findings that will be published in a separate report. The 123-page document, which will be used by Republicans to defend Trump's actions surrounding Ukraine, concluded that "the evidence presented does not prove any of these Democrat allegations, and none of the Democrats' witnesses testified to having evidence of bribery, extortion, or any high crime or misdemeanor."
"The evidence shows that President Trump has a long-standing, deep-seated skepticism of Ukraine due to its history of pervasive corruption," the report states. It went on to say that Trump had "legitimate concerns" about Ukraine and corruption, and that his concerns about the involvement of Joe Biden's son, Hunter, in a Ukrainian gas company, Burisma, were "valid."
One GOP member of the Judiciary Committee suggested the upcoming hearing would be "much more feisty" than usual.
"There's a bunch of brawlers sometimes on the Judiciary Committee, so it should get pretty hot and under the collar as we go along," Representative Andy Biggs (R-Ariz.) said Sunday on Fox News. "I don't think things have been done the way they've been done in the past. And so it causes some rancor, and it should be pretty—much, much more feisty, I would say, than the Intel Committee was."
Biggs, the chairman of the conservative House Freedom Caucus, is just one of several Republicans on the Judiciary panel who are known for going to bat for Trump. The panel also includes Representatives Jim Jordan (R-Ohio), Matt Gaetz (R-Fla.), Louie Gohmert (R-Texas), Doug Collins (R-Ga.), John Ratcliffe (R-Texas) and Debbie Lesko (R-Ariz.).
Jordan and Ratcliffe were also part of the Intelligence Committee's hearings, and both vehemently disputed the accusations of wrongdoing against Trump and questioned some of the witnesses' credibility.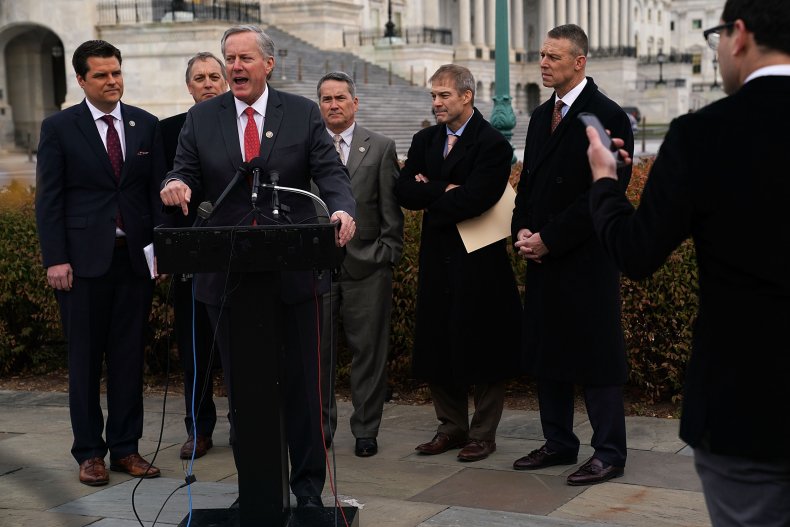 Collins, the ranking member of Judiciary, has warned Chairman Jerrold Nadler (D-N.Y.) to avoid unfairly conducted hearings that would lead to "political theater." Collins wants Nadler to ensure "fairness and restore integrity" to the impeachment inquiry by allowing Republicans to call an equal number of witnesses to testify. Lawmakers will hear from four witnesses: three from the Democratic majority and one from the GOP minority.
Noah Feldman, professor and director of Julis-Rabinowitz Program on Jewish and Israeli Law, Harvard University Law School
Pamela S. Karlan, professor of public interest law and co-director of the Supreme Court Litigation Clinic, Stanford University Law School
Michael Gerhardt, professor of jurisprudence, University of North Carolina Law School
Jonathan Turley, professor of public interest law, George Washington University Law School
"The Committee must ensure it maintains its credibility and its historically preeminent role in the impeachment of presidents by not rushing to articles of impeachment or hearing only from scholars with demonstrated animosity towards the President," Collins wrote in a letter to Nadler last week.
"Throughout this hurried and partisan impeachment process, I have consistently requested mere fairness from members of the majority. An equal distribution of experts for the December 4 hearing would be a small concession to demonstrate to the American people this impeachment inquiry is not merely political theater," Collins added.
In spite of persistent criticism from the White House and Republicans about affording Trump due process in the inquiry, the White House has declined to participate in Wednesday's hearing, saying it will not send a legal representative to ask questions. As for the reasons, White House counsel Pat Cipollone cited ambiguity over who would be testifying and a lack of preparation time. Trump, meanwhile, accused Democrats of purposefully scheduling the hearing for when he would be out of the country at a NATO summit in London.
"[W]e cannot fairly be expected to participate in a hearing while the witnesses are yet to be named and while it remains unclear whether the Judiciary Committee will afford the President a fair process through additional hearings," Cipollone wrote to Nadler in a letter.
"More importantly, an invitation to an academic discussion with law professors does not begin to provide the President with any semblance of a fair process. Accordingly, under the current circumstances, we do not intend to participate in your Wednesday hearing," Cipollone added.
Nadler called the decision "unfortunate." He also said that if the "president thinks the call [with Ukraine's president on July 25] was 'perfect' and there is nothing to hide, then he would turn over the thousands of pages of documents requested by Congress, allow witnesses to testify instead of blocking testimony with baseless privilege claims, and provide any exculpatory information that refutes the overwhelming evidence of his abuse of power."
At least one Republican who will participate in Wednesday's hearing, Representative Tom McClintock (R-Calif.), suggested over the weekend it would be a mistake for the White House to not take part.
"I think it would be to the president's advantage to have his attorneys there. That is his right," the Judiciary panel member said Sunday on ABC News. "But I can also understand how he is upset at the illegitimate process that we saw unfold in the Intelligence Committee."