GOP Rep. Adam Kinzinger Says 'Vast Majority of Colleagues' Believe Trump Incited Capitol Riot
Republican Congressman Adam Kinzinger says the "vast majority of [his] colleagues" believe that former President Donald Trump incited the January 6 Capitol riot, but that they have remained silent out of fear of retribution.
"I think the vast majority, if not all of them—my colleagues, believe that this was a Trump-incited insurrection. But when you're in a tribe, if you say something truthful, that gets you kicked out of the tribe, you keep your head down, and you stay in the tribe," Kinzinger told CNN's Anderson Cooper on Tuesday.
"If you watch the videos, you get that tinge of guilt and it's much easier to just paper over that tinge of guilt, hope that this organically just kind of fixes the glitch and nobody's willing to step up," he added. "It's disappointing, of course. It's sad."
Kinzinger was one of only 10 House Republicans who broke with the party to vote with Democrats in favor of impeaching Trump for a second time for his role in the deadly Capitol attack.
"It makes me sad, sad because I know this is true and all my colleagues know this is true. It's confusing because I thought so many of the people I know, like Kevin McCarthy, had a red line that they just wouldn't cross, that there would be no payoff worth crossing that line," Kinzinger said. "It feels isolating, but I'm going to tell you, seriously, it actually is very peaceful because I know I can say what is true."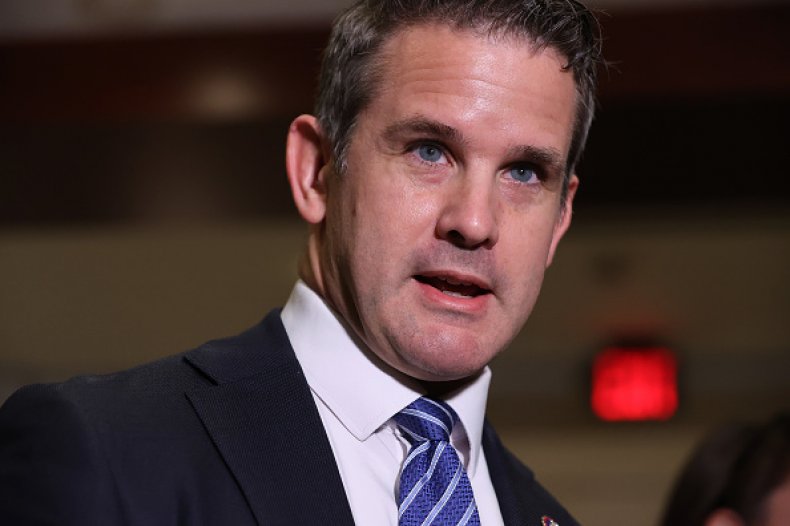 Congressional Republicans have been increasingly pressured to side with the former president in hopes of taking back both the House and the Senate during the midterm elections in 2022.
Representative Liz Cheney's vocal opposition to Trump sent a chilling signal to her colleagues after she was stripped of her position as the House Conference Chair earlier this year.
Kinzinger also warned of the dangers in promoting Trump's false election claims to voters, especially when the same elected officials who are touting a rigged election are the ones who don't necessarily believe there was any voter fraud.
"What's even more sad, Anderson, is not that so many people aren't acknowledging the truth, it's that there are millions of people, base voters, Republican voters, many in my district, that believe the big lie and it's not really their fault—although, everyone is responsible for what you believe and doing research—but all the leaders they trust are sitting here telling them it's the big lie," the Illinois Republican said.
"I believe that the future of this country and the republic rests on telling people the truth and until we accept that, there is real damage done to not just America, but America's reputation with these Putin-type tactics that are happening," Kinzinger added.
Newsweek reached out to Trump's office for comment but did not hear back before publication.