GOP Rep. Adam Kinzinger Shrugs Off Being on Enemies List of 'Losing Choke Artist' Trump
Republican Representative Adam Kinzinger of Illinois shrugged off being placed on former President Donald Trump's enemies list during a Monday appearance on MSNBC's Morning Joe.
Host Joe Scarborough told Kinzinger that "Donald Trump putting you on his enemies list I think for a lot of people that should be a badge of honor," to which Kinzinger said, "Well, it is."
"I'd rather be on the enemies list of a losing choke artist, you know, who failed to win an election that, frankly, had he just managed even halfway decently anything, since he was an incumbent, he probably could have won," Kinzinger said. "It's not a bad enemies list to be on."
The congressman then commented on Trump's Sunday speech at the Conservative Political Action Conference (CPAC).
"Quite honestly, I think what you can see in that speech yesterday was recycling old talking points, you know, just stream of consciousness," Kinzinger said. "And I think it's obvious there is no vision from Donald Trump. There's no desire to paint a vision."
"All he really desires is to stand in front of a crowd and be adored and he got that in ample amounts yesterday," Kinzinger continued. "But, I don't think that shows that he's really going to be any serious growing force going forward."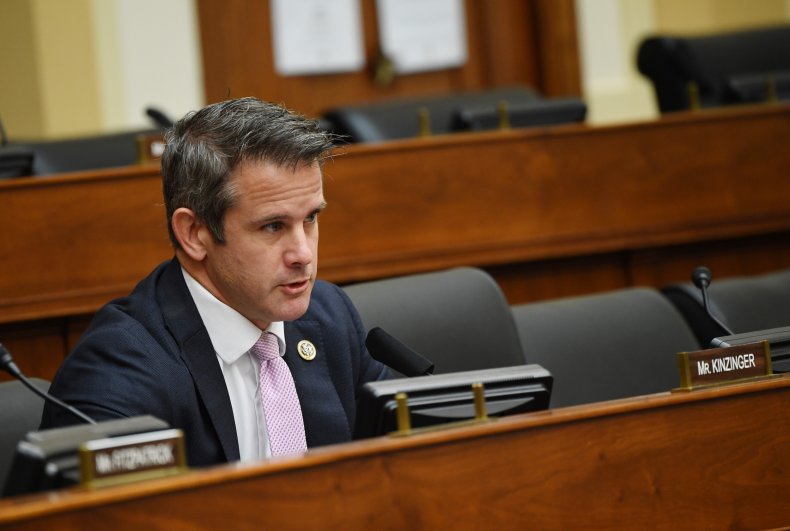 During his CPAC speech, Trump spoke of Republican unity but tore into GOP lawmakers who have criticized him since he left office in January.
"Get rid of them all," Trump said as he listed off the names of dissenting Republicans.
"The Democrats don't have grandstanders like [Utah Senator] Mitt Romney, little [Nebraska Senator] Ben Sasse, [North Carolina's] Richard Burr, [Louisiana's] Bill Cassidy, [Maine Senator] Susan Collins, [Alaska Senator] Lisa Murkowski and [Pennsylvania Senator] Pat Toomey," Trump said.
"And in the House, Tom Rice of South Carolina, Adam Kinzinger, Dan Newhouse [of Washington], Anthony Gonzalez [of Ohio], Fred Upton [of Michigan], Jaime Herrera-Beutler [of Washington], Peter Meijer [of Michigan], John Katko [of New York], David Valadao [of California] and of course the warmonger, a person that loves seeing our troops fighting, Liz Cheney [of Wyoming], how about that?" Trump added.
Following Trump's speech, Kinzinger took to Twitter Sunday to call the former president's speech "boring."
"Trump lost the election FYI. Side note this speech is boring," Kinzinger wrote. "We can't win the presidency with this boring, low energy, stream of conscience, weak, has been, choke artist. Just my .02."
Kinzinger also shared a new video from Country First, his political action committee and movement focused on steering the Republican Party away from Trump and toward more traditional conservative principles.
"Fear is rising," Kinzinger said in the video. "Fear of others, fear of ideas, fear of the economy, fear of our differences... yet rather than dispel the fear, most of our leaders stoke it. They have amplified fear for their own selfish gain."
Kinzinger was one of the 10 House Republicans who voted to impeach Trump following the violent riot at the U.S. Capitol on January 6.
Newsweek reached out to Kinzinger's office but didn't hear back in time for publication.