Arizona Republican Andy Biggs, who allegedly pleaded for a pardon from former President Donald Trump over his role in planning the January 6 protest, voted against a resolution Wednesday to honor U.S. Capitol Police.
Biggs voted against both the Violence Against Women Reauthorization Act and the Gold Medal bill this week, saying the former "does NOT support women" and the latter is actually "anti-police." The legislation, which passed Wednesday with overwhelming bipartisan support, aims to award Congress' highest civilian medal to local Washington D.C. officers who responded to the deadly Capitol riots.
Biggs and fellow Arizona GOP Rep. Paul Gosar were accused of planning the January 6 "fight" by top "Stop the Steal" organizer Ali Alexander as well as the House Office of Congressional Ethics, which demanded an investigation into their roles.
Reports emerged in January that Biggs and Gosar sought preemptive pardons from former President Donald Trump over their alleged roles in organizing the Capitol riots. Trump did not grant either request by the time he left office on January 20. Several members of Biggs' own family told the Arizona Republic newspaper their sibling was "at least partially to blame" for the deadly riots.
Just days before reportedly asking for pardons, Alexander accused Biggs, Gosar and Alabama GOP Senator Mo Brooks of helping to organize the January 6 event. Biggs' office has dismissed the claims.
Biggs on Wednesday joined 11 other House Republicans in voting against the Gold Medal resolution which passed 413-12. Some pro-police critics immediately accused Biggs of turning against law enforcement officers after his "no" vote, but the Arizona Republican instead blasted Democrats who backed the resolution.
"What this bill does, it basically covers for the Democrats," Biggs said in a video posted to Twitter Wednesday. "Because Democrats passed a piece of legislation just two weeks ago that defunded police, took away their qualified immunity, brought control of local police officers right under Washington D.C. "The same people who sponsored that bill and voted for that bill sponsored the bill today to try to cover it up."
"Those who support the police don't vote to defund the police," Biggs added Thursday on Twitter. "Unlike democrats, I don't have to politicize bills in order to show support to @CapitolPolice. I'm supporting a clean recognition of USCP by signing on to @RepGregSteube's bill that honors their heroism w/o pushing a hidden agenda."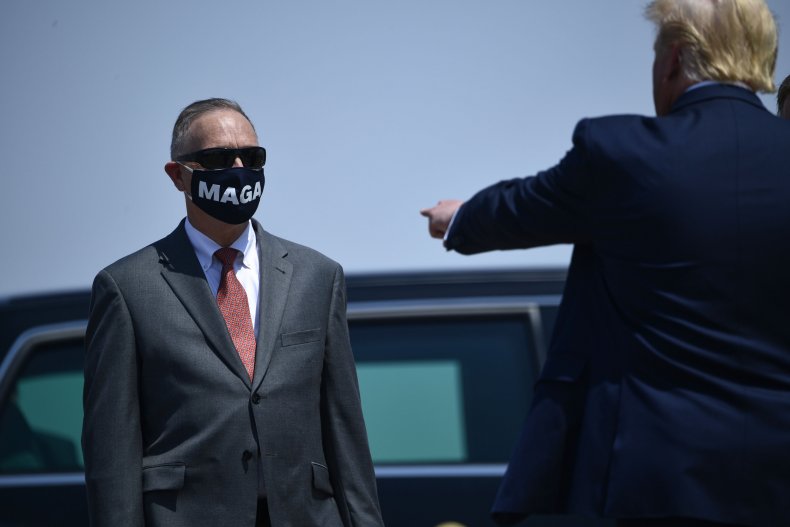 Biggs, who heads the staunchly conservative House Freedom Caucus, voted against the Congressional Gold Medal award resolution alongside 11 Republicans: Reps. Louie Gohmert, Michael Cloud and Lance Gooden of Texas; Bob Good of Virginia; John Rose of Tennessee; Marjorie Taylor Greene and Andrew Clyde of Georgia; Matt Gaetz and Greg Steube of Florida; Thomas Massie of Kentucky and Andy Harris of Maryland.
The Capitol Police officers' union announced in late January that 140 D.C. area law enforcement officers were injured during the Capitol insurrection. Capitol Police Officer Brian D. Sicknick died after clashes with the rioters and two other D.C. police officers died by suicide in the days after the assault.
With hours of the deadly January 6 Capitol attacks, Biggs condemned the violence and the "criminal rioters" who participated. But in the weeks leading up to the event intended to overturn President Joe Biden's victory, Biggs led calls for a "fight" in Washington. And in the weeks since the riots, he has been one of the most vocal critics of large fences and National Guard troops still standing guard outside the Capitol.
"The same people who tell me that fences don't work on the border want to have this fence and turn the Capitol into a military compound," he complained last week.
Newsweek reached out to Biggs' office for additional remarks Thursday.