GOP Rep Brags His Kids Had 'Zero Debt, No Scholarships' in Student Loan Crisis Hearing
At a congressional hearing addressing the U.S. student loan debt crisis Tuesday, a Republican congressman bragged that his kids graduated with "zero debt," while a conservative panel member said borrowers simply made poor choices.
The lengthy U.S. House Committee on Financial Services hearing was entitled, "A $1.5 Trillion Crisis: Protecting Student Borrowers and Holding Student Loan Servicers Accountable." The five-person panel included a diverse range of student loan debt experts and commentators such as writer and comedian Hasan Minhaj and Center for Responsible Lending Senior Counselor Ashley Harrington.
Nearly all panel and congressional members agreed the U.S. is in "crisis" over rampant student loan debt, which affects approximately 45 million people, but Georgia Republican Rep. Barry Loudermilk, and an American Enterprise Institute resident fellow touted personal responsibility and said high-income families are equally strained by such costs.
Loudermilk repeatedly challenged panel members who said "students have to have a loan to go to college" before boasting that his own children graduated from four-year colleges with "zero debt" because they "actually worked for it." [Pertinent clip below begins about 2:17:20].
A pair of panel members from borrower and student protection services pushed back against Loudermilk and the conservative AEI panelist, saying the root of the student loan crisis is "not a question of personal responsibility or more disclosures."
Loudermilk, who represents Georgia's 11th District including several Atlanta suburbs, opened up discussion by relaying a constituent's anecdote about a woman who said she attended a technical school before going "right into the workforce." Loudermilk said he found it "incredible" that in four years she made more money than her sister had incurred in student loan debt by attending college.
Loudermilk, who submitted a pair of papers on the record from the Consumer Bankers Association, said there is an employment void in the U.S. because people are not learning "technical skills and stuff."
Seth Frotman, executive director at the Student Borrower Protection Center, countered Loudermilk's position saying, "When I talked to people over the last half-decade, that's what they feel like. I think Hasan [Minhaj] said it best that people don't feel like they have a choice. For as long as I can remember, I'm sure for as long as many of you can remember, it was 'go to school, take on the debt.'"
Loudermilk pushed back, "So it's more about how people feel than – actually do we happen to know what percentage of students graduate with no debt?"
Earlier in the hearing, Minhaj railed against banks and the government misleading borrowers and surreptitiously forcing debt upon them.
"Americans should not have to go bankrupt pursuing higher education. We know the government is capable of stepping in during a financial crisis. Why can't we treat our student borrowers the way we treat our banks? Because 44 million Americans: that is too big to fail."
"You don't have to have crippling student loan debt to have empathy for people who are investing in their futures," Minhaj later added.
Ashley Harrington of the Center for Responsible Lending replied to Loudermilk's question about students graduating with zero debt: "In the 2016 class, 70 percent of graduates had student loan debt. This is the vast majority and it is something that is no longer a choice. Sixty-five percent of jobs by just next year are going to require some form of post-secondary education and that's only going to go up."
Loudermilk continued, "I'm just wondering because I think of that and two of my three children graduated four-year college institutions with zero debt and no scholarship they actually worked for it, I couldn't pay for it, they actually worked and paid for their tuition even from some colleges you would recognize."
Jason Delisle, resident fellow at the conservative AEI, argued that student loans impact wealthy families as much as they do poorer families. An executive director of AEI last week told college students to "get a credit card" after a Temple University professor relayed data that many financially pinched students drop out over expenses as low as $200.
"Many of the students who take out loans come from high-income families, which should tell us that many of the people who are taking out students loans aren't doing so because they have to. They're making choices, they may be making choices to attend more expensive schools. They may think the government is offering such an incredible deal they can't turn it down," AEI's Delisle said.
Several Republican senators including Tennessee's Lamar Alexander have previously introduced legislation calling on colleges and universities to demonstrate more accountability in the financial viability of degrees they offer to students – particularly those taking on massive levels of student debt.
"We tend to cast student loan debt as this thing that only low-income people are taking and it's this huge burden, but many high-income families are choosing to use it," Delisle added.
Harrington agreed with Delisle's point in part, but offered nuance: "Yes we do have a large number of high-income individuals taking out student loans but there is a significant number of low-income individuals who have to take out student loans and that's where the issues lies."
"Do you agree with Mr. Delisle that [borrowers] do know going into it what the requirements are for repayment, their interest rates, their payment, the escalating payments. I mean, is there enough disclosure there?" Loudermilk asked Harrington.
"I don't think this is a question of personal responsibility or more disclosures this is a question of how we're sure that private actors are acting in the best interest of consumers and students and therefore taxpayers," she responded.
"Well I think it is in a sense, I was under the impression that people were just being given loans or whatever and they didn't know what they're getting into and the requirements to repay. When you buy a house, the requirements are so expansive in [the] Truth in Lending [Act] that we have to have software to do it."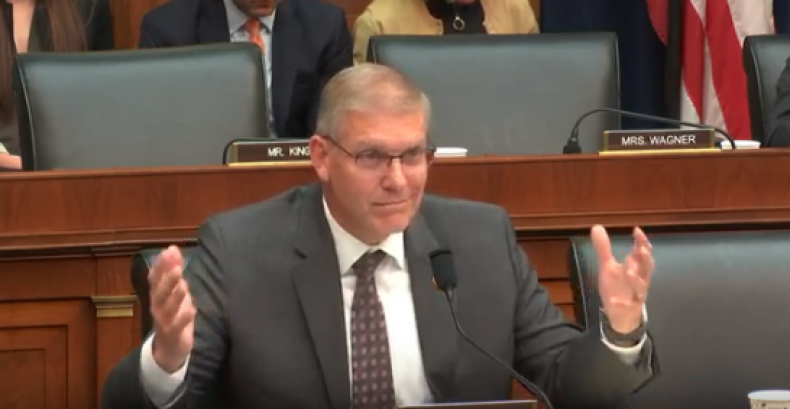 The hearing also addressed several pending pieces of legislation addressing the student loan crisis. Minhaj, the writer and producer of the Netflix series Patriot Act, added a bit of levity to the proceedings:
"When I left college I didn't have any student loan debt because I have immigrant parents and they made me live at home with them. I don't have crippling student loan debt I have crippling emotional debt and Congress is yet to stand up to my parents and say what you did was wrong."