Republican Texas Representative Louie Gohmert has said that he will take the anti-malarial drug hydroxychloroquine to treat his asymptomatic COVID-19.
"My doctor and I are all in," Gohmert said during a Wednesday evening interview with Sean Hannity on FOX News. Gohmert and Hannity discussed Gohmert's plans to treat his recent COVID-19 diagnosis with the drug during the interview.
"I got a text just before I came on [Fox News] from a friend doctor who just found out he had it, and he started the regimen too—zinc, azithromycin and hydroxychloroquine. And that will start in a day or two, so thank you," Gohmert continued.
During the interview, Gohmert said that if Republican President Donald Trump hadn't invited him on a recent flight to West Texas, Gohmert might not have gotten tested for COVID-19 and realized that he had it.
Newsweek contacted Gohmert's office for comment.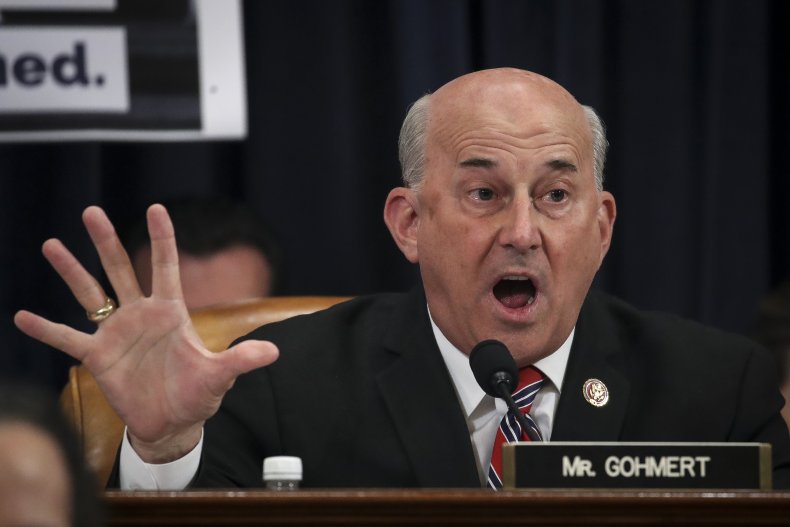 Gohmert is just the latest conservative politician to tout hydroxychloroquine as a way to treat symptoms of coronavirus.
On Monday, both Trump and his son Donald Trump Jr. tweeted a video of a doctor who claimed that zinc, azithromycin and hydroxychloroquine could "cure" COVID-19. Twitter subsequently restricted the accounts of Trump Jr. and at least one other Republican politician who shared the video for violating their policies against spreading COVID-19 misinformation.
Hydroxychloroquine as a possible coronavirus treatment has been rejected by Dr. Anthony Fauci, director of the National Institute of Allergy and Infectious Diseases and a top White House adviser on the Coronavirus Task Force.
"The overwhelming, prevailing clinical trials that have looked at the efficacy of hydroxychloroquine have indicated that it is not effective in coronavirus disease," Fauci told ABC's Good Morning America on Tuesday.
The Food and Drug Administration (FDA) has also warned that the drug can exacerbate "serious heart rhythm problems and other safety issues, including blood and lymph system disorders, kidney injuries, and liver problems and failure." The National Institutes of Health also stopped a clinical trial last month after declaring that the "drug was very unlikely to be beneficial to hospitalized patients with COVID-19."
Gohmert has frequently voiced his opinion against requiring face masks as a way to prevent the spread of coronavirus. As recently as Wednesday, Gohmert said, "If somebody feels strongly about everybody should wear a mask, then they shouldn't be around people that don't wear masks."
On Wednesday, Politico quoted a staffer in Gohmert's office who claimed the representative "berated" office workers who wore masks in the past. Gohmert has called the story untrue.
Barely a month ago, Gohmert told CNN, "I don't have the coronavirus... but if I get it, you'll never see me without a mask." While Gohmert began wearing a bandana over recent weeks, such facial coverings aren't considered as effective as masks. He often wore his bandana pulled below his nose, according to The Texas Tribune.