Twitter Limits Arizona GOP Chair for Sharing COVID-19 'Cure' Video
The Twitter account of Arizona Republican Party Chairwoman Kelli Ward has been temporarily limited by the microblogging platform after sharing a video of a controversial doctor recommending against wearing face masks and proclaiming the anti-malarial drug hydroxychloroquine as a "cure" for COVID-19. The same video was shared by Republican President Donald Trump on Monday night.
The Arizona Republican Party has complained that the temporary restraint put on Ward's Twitter account will limit her ability to reach out to voters one week before the party's August 4 primary.
The video featured Houston doctor Stella Immanuel outside the U.S. Supreme Court surrounded by other doctors calling themselves "America's Frontline Doctor" at what they term the "White Coat Summit," a gathering of doctors who contradict mainstream medical thinking on COVID-19. The "summit" was organized by the Tea Party Patriots, a right-wing group backed by wealthy Republican donors, according to journalist Will Sommer.
Twitter said that Ward's video violated its policy on spreading misleading and "potentially harmful" information about the COVID-19 pandemic, according to the Arizona Republic.
In response, the Arizona Republican Party published a tweet that read, "#BIGTECH CENSORSHIP: @Twitter has suspended the account of @AZGOP Chairwoman @kelliwardaz — one week before Arizona's August 4th Primary — for tweeting a #COVID19 video featuring doctors discussing the benefits of using #Hydroxycholoroquine as prophylaxis. Election interference!"
Newsweek contacted the Arizona Republican Party for comment.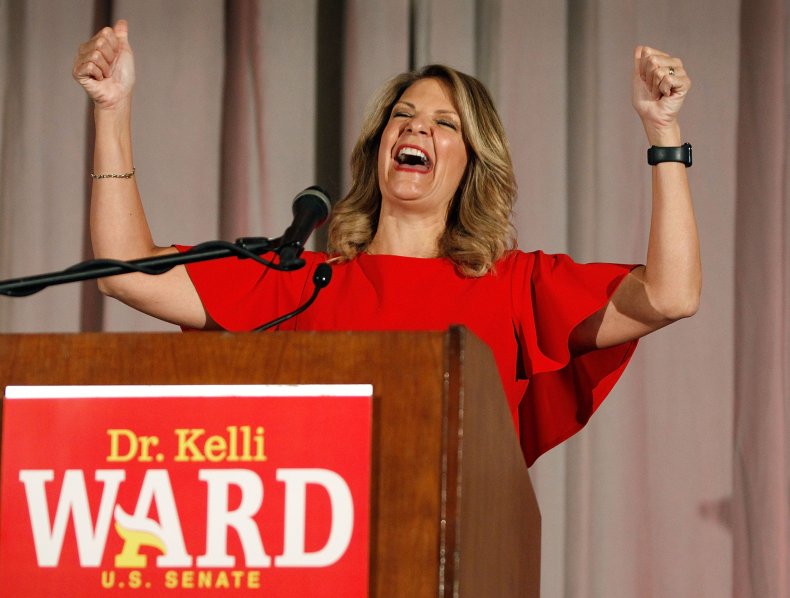 Despite Immanuel's claims, hydroxychloroquine is not a cure for COVID-19.
Dr. Anthony Fauci, director of the National Institute of Allergy and Infectious Diseases and a top White House adviser on the Coronavirus Task Force, also has rejected the drug as a way to treat the symptoms of COVID-19.
"The overwhelming, prevailing clinical trials that have looked at the efficacy of hydroxychloroquine have indicated that it is not effective in coronavirus disease," Fauci told ABC's Good Morning America on Tuesday.
The Food and Drug Administration (FDA) has also warned that the drug can exacerbate "serious heart rhythm problems and other safety issues, including blood and lymph system disorders, kidney injuries, and liver problems and failure." The National Institutes of Health also stopped a clinical trial last month after declaring that the "drug was very unlikely to be beneficial to hospitalized patients with COVID-19."
On Tuesday, a Twitter spokesperson confirmed to Newsweek that Twitter had also restricted Trump's son, Donald Trump Jr., from posting from his account after he also shared the video.