GOP Rep. Madison Cawthorn Accused of Bringing Weapon to School Board Meeting
North Carolina Representative Madison Cawthorn has been accused of carrying a knife into a school board meeting. State law forbids the carrying of weapons on "educational property."
Democrat Jay Carey, a political candidate running for Cawthorn's congressional seat, accused Cawthorn of bringing the knife to a Monday meeting of the Henderson County Board of Education. Cawthorn attended the meeting to speak against the board continuing its district-wide mask mandate. The board voted 6-to-1 to continue the mandate.
After the meeting, Carey posted a tweet that included pictures of Cawthorn sitting in his wheelchair. The pictures showed the handle of a knife protruding from under Cawthorn's wheelchair, Carey said.
"@RepCawthorn must have feared for his life, seeing as he brought a knife to the meeting," Carey wrote in his tweet.
"I'm 100 percent certain it was a knife," Carey told the Asheville Citizen-Times. "I was 20 years in the military. Attention to detail is my bread and butter and what kept me alive."
The publication noted that the handle shown in Carey's picture resembles that of the "SBD" knife made by Microtech Knives. Microtech is a weapons company located in Fletcher, North Carolina.
Bringing a knife onto an "educational property" is a Class 1 misdemeanor under North Carolina General Statute 14-269.2. The misdemeanor carries a maximum penalty of 120 days in jail and a discretionary fine.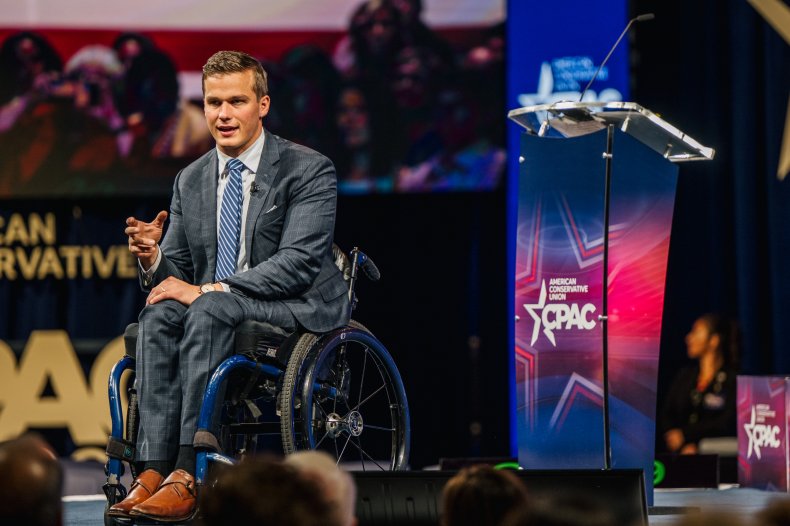 Carey was less concerned about the law and more concerned that someone could've taken the easily accessible weapon, Carey told the aforementioned publication.
David Wheeler, president of the super political action committee (Super PAC) FireMadison.com, said that his Super PAC sent letters to the sheriffs of Henderson and Polk counties. Cawthorn attended school board meetings in both counties. Wheeler encouraged the counties' sheriffs to investigate the incident.
"Allowing a member of Congress to flout the laws of North Carolina should not be tolerated," Wheeler said.
This isn't the first time that Cawthorn has been accused of illegally carrying weapons inside a restricted space.
On January 7, Cawthorn said that he was armed during the January 6 Capitol riots. It's unclear what weapons he had or where he kept them during the riots. However, Capitol rules ban guns from the legislative chambers and adjacent areas for all people except for the sergeant at arms, The Washington Post reported.
Cawthorn has long opposed mask mandates. In late July, he established an online bail fund for Republicans who get arrested for not wearing a mask inside the Capitol. The fund directed donations to his own personal campaign rather than a separate account.
Newsweek contacted Cawthorn's office for comment.