GOP Rep. Michael Guest Violates Stock Trading Rules, Submitting Disclosures 8 Months Late
Mississippi Representative Michael Guest turned in his mandatory stock trading transaction report eight months late, putting him in violation of the Stop Trading on Congressional Knowledge Act of 2012 (STOCK Act), Business Insider reported.
According to Guest's disclosure report, the Republican congressman purchased between $1,001 to $15,000 worth of Exxon stock and sold between $1,001 to $15,000 worth of BP stock on January 22—yet the House Clerk was not notified until October 22.
"On October 22nd, 2021, I became aware of a stock transaction made by a family trust," Guest wrote in a comment on his disclosure report. "I do not have a decision-making role in the trust; but my wife and sons are beneficiaries, so I am bound to report certain details. I reported the transaction to the Clerk of the House on November 3, 2021, and paid the statutory remedy of a $200 late fee."
As the second most senior Republican on the House Committee on Ethics, Guest serves on the panel responsible for overseeing the enforcement of the STOCK Act. Under the rule, members of Congress must report a stock transaction 30 days from when they are made aware of a trade imitated by them or their spouse.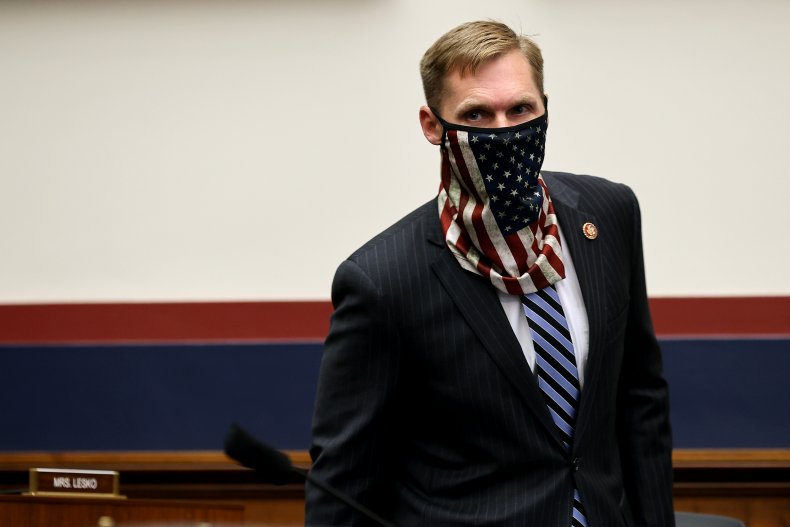 The STOCK Act aims to provide greater transparency over where members of Congress earn revenue. It also intends to show where they may have potential conflicts of interest. Forty-four members of Congress failed to properly report their trades this year alone, according to Business Insider.
Newsweek uncovered a number of trades made earlier in the year by members of Congress that appeared to contradict their stated beliefs.
Congresswoman Lois Frankel traded $4,004 to $60,000 worth of stock in two of the nation's top greenhouse gas emitters, Duke Energy and Dominion Energy, over the past year. Congressman Ro Khanna's disclosures featured purchases of $30,000 to $100,000 worth of stock in ExxonMobil and Chevron, as well as $3,003 to $45,000 worth of shares in the natural gas companies Dominion Energy, Duke Energy, and ConocoPhillips.
As members of the Progressive Caucus, these two align themselves with a group that seeks to "eliminate our reliance on fossil fuels" and "recognizes environmental justice and economic prosperity must go hand-in-hand."
When Newsweek contacted the two lawmakers, Khanna said the purchases were made by his wife's money manager by mistake and were sold shortly after. Frankel said she does not manage her account and pointed to her "high ratings from multiple national environmental groups" but did not promise to divest.
The issue of stock trading among Washington's top decision-makers remains a developing issue. In late October, the Federal Reserve announced its intent to implement new rules that would ban its top policymakers and senior staff from trading individual stocks. It remains to be seen as to whether Congress may institute similar rules.