GOP Rep. Refuses to Wear Mask, Told to Leave Gettysburg Museum
An Ohio state representative said she was told to leave the Gettysburg Museum in Pennsylvania on Thursday after she and her husband refused to wear face masks in the building.
The Republican state lawmaker said the pair's tickets were refunded after they declined to wear the protective gear, despite the Gettsyburg Foundation website clearly warning visitors that face coverings are mandatory.
Posting on social media about the incident, Rep. Keller also called requirements to wear face masks "unconstituional" and suggested Americans were "losing their rights" amid the coronavirus pandemic.
The Cincinnati Enquirer reported that the GOP lawmaker had previously refused to have her temperature checked as she entered Ohio' State House of Representatives.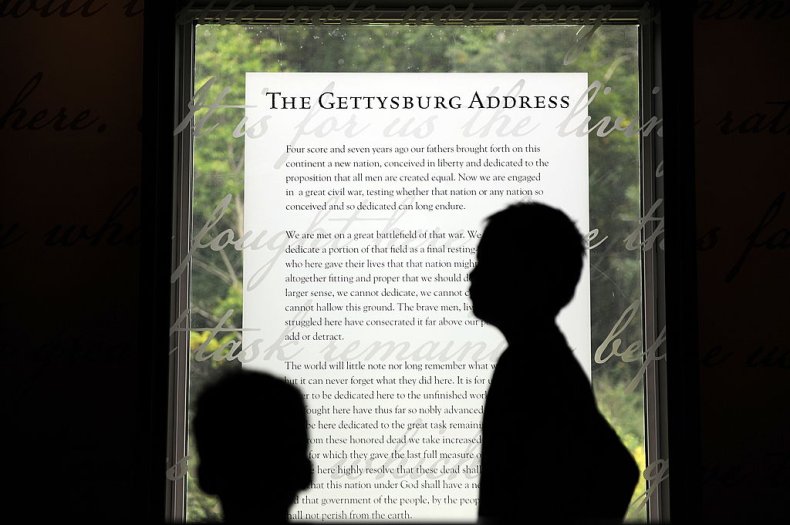 Speaking to her followers in a Facebook video, State Rep. Keller said: "We were asked to leave the Gettysburg welcome center because we refused to wear a face mask. This is not the law in Pennsylvania, nor yet in Ohio where I'm from, and it is an unconstitutional idea that our leaders have come up with.
"We chose not to cause a problem to the administrators of the Gettysburg welcome center, rather we got a refund on our tickets to go through the museum, and we left."
The state lawmaker then went on to claim that Americans were "losing our rights" and called on others to "stand up to those who would diminish your freedoms" in her response to being asked to wear a face mask.
"I encourage you to speak out; to push against the madness," she said. "We will not wear face masks when we are not sick."
In an email to Newsweek, a Gettysburg Foundation spokesperson said: "Visitors to the Museum & Visitor Center are required to wear a face covering unless the person is under two-years of age or has a medical condition that prevents them from wearing a face covering.
"We provide plenty of signage throughout the parking areas noting the need for face covering. In addition, under our safety updates, we also note the need for a face covering."
They also noted that Pennsylvania joined other states in mandating the use of face masks in public spaces this week.
The website of the Gettysburg Foundation, which operates the Gettsburg Museum with the National Park Service, sets out clear safety guidelines for visitors arriving at the park amid the pandemic reopening.
"Face coverings are required during your visit," the website's page on safety rules reads.
Visitors to the historical site are also asked to regularly wash their hands, maintain social distancing of at least 6 feet, and observe floor markings.
The U.S. Centers for Disease Control and Prevention (CDC) also urges Americans to cover their mouth and nose with a face covering when around others to curb the spread of COVID-19.
"Everyone should wear a cloth face cover in public settings and when around people who don't live in your household, especially when other social distancing measures are difficult to maintain," the CDC guidelines read.
This article was updated to include a statement to Newsweek from the Gettysburg Foundation.