GOP Rep. Slammed for Gifting Grenades to Colleagues: 'Absolutely Stupid'
Representative Cory Mills, a Florida Republican, is under fire on social media after gifting grenades emblazoned with the Republican elephant symbol to his congressional colleagues.
On Thursday, an image began circulating on Twitter of a letter penned by Mills, a freshman congressman, along with an inert, 40MM grenade produced in Florida that is designed for use in the MK19 grenade launcher—a rapid-firing weapons system first deployed in the Vietnam War.
"Welcoming you to a mission-oriented 118th Congress," the letter read.
However, some on Twitter were quick to slam the GOP lawmaker, describing the gesture as "nonsense" or "insane."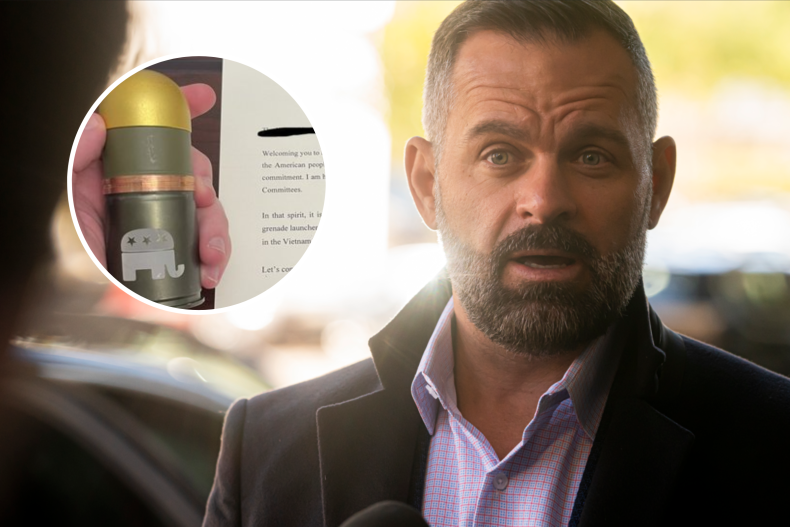 "I read the letter—it's still absolutely stupid to hand out dud grenades," one Twitter user wrote. "What does that say about the insanity of American culture that this is a thing?"
"Not even George Santos could make this stuff up," Representative Jim Himes, a Connecticut Democrat, tweeted on Friday.
On Thursday evening, Mills—an Iraq war veteran, defense contractor, and a gun rights advocate who currently serves on the House Committee on Armed Services—played up the stunt after a picture of his gift went viral on social media, clapping back at a post from Representative Ted Lieu, a California Democrat, who mocked the gift.
For Republican House members, Mills explained, it's typically seen as customary for freshman members to give gifts to members of the Steering Committee or other members of their freshman class with some relation to their home state or something that represents their background.
In Mills' case, as a Floridian and defense contractor, the gifts made sense—something he explained to Lieu in his own tweet.
"I can understand your jealousy for not receiving one of my GOP freshman gifts," Mills tweeted to the California congressman. "I'm an Army combat veteran, Bronze Star recipient, on HASC, and these are made in Florida. I can have one made for you, but clearly can't engrave 'House Majority' for obvious reasons."
The viral gifts also earned Mills something more valuable than any gift a member of Congress could give: earned media. On Friday, Mills made an appearance on Fox Business with morning host Maria Bartiromo, where he was able to trade barbs at his Democratic colleagues' expense.
"If they would get this upset about our borders or the sexualization our children or things like that, as opposed to a simple gift, that would be really, really nice for once," Mills said. "But again, this was cleared by the Capitol Police, cleared by the chief, cleared by leadership, cleared by the bomb squad...this is clearly nothing more than a paperweight. But you got Ted Lieu and [Representative] Eric Swalwell who are melting down over this."
Newsweek reached out to Mills' office for further comment.