GOP Sen. Cotton: Biden Will Fire Prosecutors Investigating Son 'If' He Becomes President
Questioning President-elect Joe Biden's projected victory, Republican Arkansas Senator Tom Cotton called for a special counsel to investigate Hunter Biden.
"Should Joe Biden become president, all of the prosecutors investigating Hunter Biden will be fired," Cotton tweeted Thursday. "There's a clear conflict of interest here–one that demands a special counsel."
Cotton's tweet linked to an interview he did with Fox News' Sandra Smith on Thursday, alleging Hunter Biden was the subject of a wider investigation.
"This investigation appears to be pretty far-reaching," said Cotton during his appearance. "I know the Biden campaign released details of a tax fraud investigation in Wilmington. I think that was just a show, maybe the least damaging part of the investigation."
The senator continued to cite allegations of security fraud, money laundering, and "a crooked hospital deal with Jim Biden, Joe Biden's brother," in Western Pennsylvania.
"The Biden family has been trading on Joe Biden's public office for 50 years," Cotton said. "Do we really think that that will change if Joe Biden becomes president, the highest office in the land?"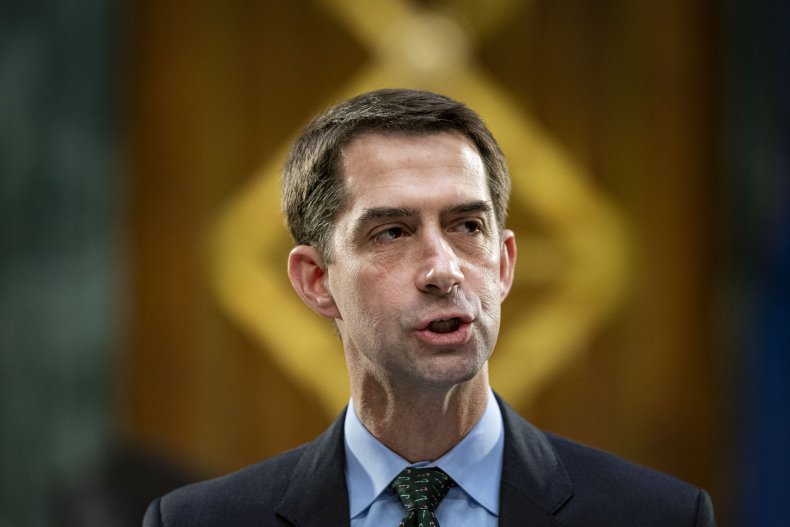 Biden's presidential transition team revealed on Wednesday that Hunter Biden is currently under investigation by the Justice Department over tax matters.
"I learned yesterday for the first time that the U.S. Attorney's Office in Delaware advised my legal counsel, also yesterday, that they are investigating my tax affairs," Hunter Biden said in a statement released by the transition team.
"I take this matter very seriously but I am confident that a professional and objective review of these matters will demonstrate that I handled my affairs legally and appropriately, including with the benefit of professional tax advisors," Hunter Biden continued.
The transition team said that the president-elect is "deeply proud of his son" while calling attacks from critics "vicious." It noted that Hunter Biden emerged "stronger" in the face of criticism.
Biden and Vice President-elect Kamala Harris were declared the projected winners of the presidential election on November 7 by multiple media outlets, including Fox News.
Although the formal transition has begun, President Donald Trump refused to concede claiming that the election was decided through widespread voter fraud. Despite countless lawsuits filed throughout the country, Trump's claims have gained little ground.
"Barring a miracle, Biden will be sworn in as president next month," conservative columnist Miranda Devine wrote in an op-ed in the New York Post.
Cotton and Biden's team didn't respond to Newsweek's request for comment in time for publication.