Hunter Biden Investigation: Here's What You Need to Know
The presidential transition team for Joe Biden revealed on Wednesday that the president-elect's son Hunter Biden is currently under investigation by the Justice Department, leading prominent Republican lawmakers to reemphasize their concerns about the younger Biden's foreign business interests.
"I learned yesterday for the first time that the U.S. Attorney's Office in Delaware advised my legal counsel, also yesterday, that they are investigating my tax affairs. I take this matter very seriously but I am confident that a professional and objective review of these matters will demonstrate that I handled my affairs legally and appropriately, including with the benefit of professional tax advisors," Hunter Biden said in a statement released by the transition team.
The transition team said that the president-elect is "deeply proud of his son" while calling attacks from critics "vicious." The team said Hunter Biden has emerged "stronger" in the face of the criticism.
Although the fact that the FBI and the IRS are looking into Hunter Biden's tax issues was not previously and publicly known, concerns about the president-elect's son's foreign business dealings were raised repeatedly since 2019. The criticism also goes back to Joe Biden's time as vice president under former President Barack Obama, due to Hunter Biden's position on the board of the Ukrainian energy company Burisma while the former vice president served as the Obama administration's point-person on Ukraine. Burisma was facing corruption investigations when Hunter Biden joined the board.
The investigation from the Justice Department, which was launched in 2018 when the president-elect was not serving in government, is also reportedly scrutinizing the foreign business ties of the president-elect's brother James Biden.
The president-elect is not and has not been under investigation.
Joe Biden pledged this month that his family members will not be "involved in any business, any enterprise that is in conflict with or appears to be in conflict, with inappropriate distance from the presidency and government."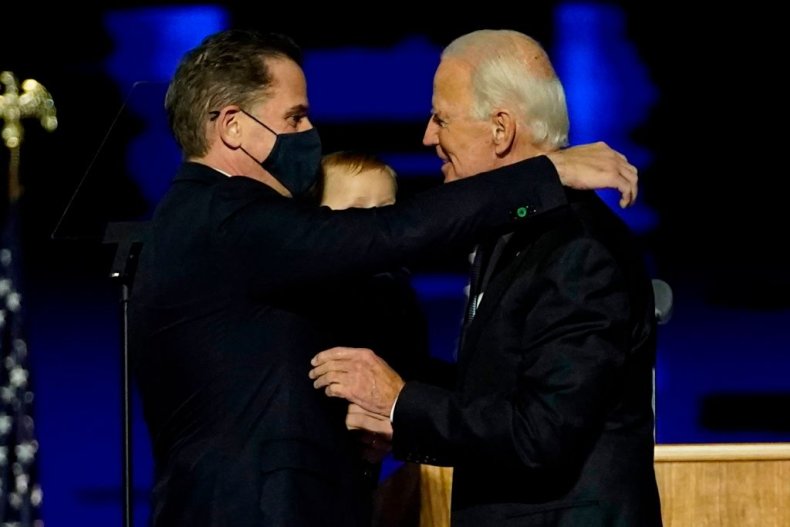 The New York Times reported Wednesday that the ongoing investigation included looking into potential money laundering and possible criminal tax violations, with a focus on Hunter Biden's China dealings. The FBI reportedly failed to find enough evidence regarding possible money laundering to merit any prosecution. While it appears that the money laundering investigation has been closed, the investigation into Hunter Biden's taxes continues.
President Donald Trump and Republicans have attempted to characterize the president-elect and the Obama administration as corrupt due to Hunter Biden's position with Burisma in Ukraine, as well as his ties to China. Joe Biden urged Ukrainian leaders to remove a top prosecutor, Viktor Shokin, in 2016 while he was still vice president. Shokin was reportedly investigating alleged corruption by Burisma at the time.
But the Obama administration's effort to get Shokin removed, which was ultimately successful, was related to concerns about his own corruption and his failure to investigate Ukrainian politicians. Analysts have suggested that Shokin's removal actually would have made it more likely that corruption at Burisma would be investigated—not less likely.
No evidence has emerged demonstrating that the president-elect was working to benefit his son's business interests in Ukraine or in China, despite investigations by Senate Republicans. Shokin's ouster had bipartisan support within Washington, D.C. at the time and was in line with the position of European allies—who saw the Ukrainian prosecutor as ineffective at addressing corruption.
But Trump pressured Ukraine's President Volodymyr Zelenskiy to announce investigations into the Bidens—in what critics of the president saw as an abuse of his office for partisan political goals. The Trump administration temporarily withheld military aid to Ukraine in 2019 as the president urged Zelenskiy to announce the probes. Democrats later launched an inquiry, resulting in Trump's impeachment by the House of Representatives in December of last year.
Democrats alleged that Trump was improperly using his office to pressure Ukraine to tarnish the reputation of a potential political opponent. At the time, it was unclear who the Democratic nominee for president would be. But the Senate, which is controlled by Republicans, acquitted Trump—with only Republican Senator Mitt Romney of Utah joining Democrats in voting for the president's removal from office.
Since then Senator Chuck Grassley, chair of the Senate Finance Committee, and Senator Ron Johnson, chair of the Senate Homeland Security and Governmental Affairs Committee—both of them Republicans—have pursued investigations into Hunter Biden's foreign business ties. Grassley's and Johnson's committees released reports in September and November. Although these detailed a series of questionable financial payments and foreign entanglements involving the president-elect's son, they did not demonstrate criminal activity or any direct connections to Joe Biden.
In October, emails from a laptop left at a computer repair store in Delaware were reported by The New York Post, detailing what appeared to be Hunter Biden's business interests in Ukraine and China. The shop owner said he believed Hunter Biden was the person that left the laptop at his store but was not certain. Democrats alleged that the emails and other materials from the laptop were part of a Russian disinformation campaign. But Trump's director of national intelligence, John Ratcliffe, told Fox Business at the time "there is no intelligence that supports" the claim that the contents of the laptop were connected to Russia.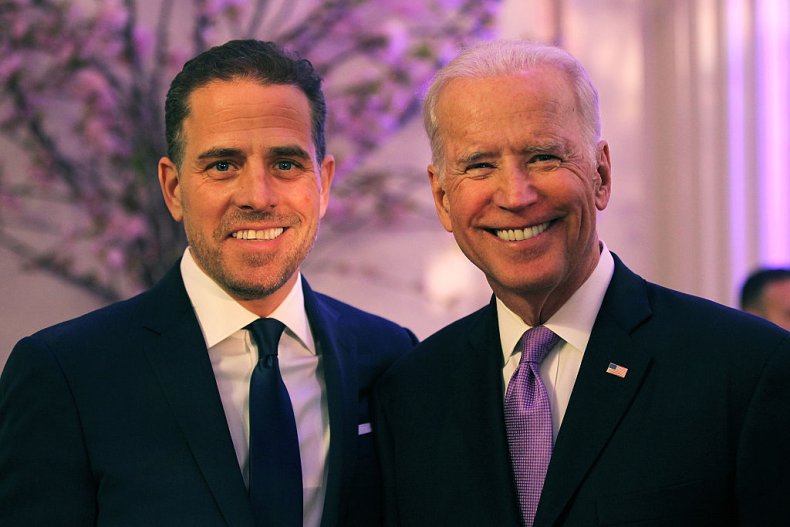 In the wake of the revelation about the Justice Department investigation into Hunter Biden's taxes, Republicans have suggested they plan to continue to raise concerns about his foreign business ties as the new administration takes over.
"I'm not going to turn a blind eye on this," Johnson, who represents Wisconsin, told Fox News on Wednesday, pointing out that he has already requested a slate of additional documents. "We'll keep digging."
Grassley reiterated in a Wednesday tweet that his committee had already been investigating Hunter Biden.
"For over 1yr I led review of Hunter Biden's biz deals overseas w big focus on China but many Dems/news orgs dismissed/ignored Some even baselessly said it was foreign disinfo Now those same orgs report IRS/FBI subpoenaing Hunter Biden in tax fraud probe over his China ties," the GOP senator from Iowa wrote.
Representative Matt Gaetz, a Florida Republican, told Fox News on Thursday morning that lawmakers "have to track" Hunter Biden's transactions to determine if they have any impact on the president-elect's policies moving forward.
Representative Ken Buck, a Colorado Republican, has urged Attorney General William Barr to set up a special counsel to investigate the allegations against Hunter Biden and any possible connection to his father.
"This investigation is critical to defending the integrity of our Republic and ensuring a potential Biden Administration will not be the subject of undue foreign interference," Buck wrote to Barr this week.
While some Republican lawmakers are expressing concern about the president-elect's son's foreign business ties, they have largely remained silent or defended President Donald Trump and his children's sprawling international ties. The president's personal business—the Trump Organization—has business ties in numerous countries, which have been heavily scrutinized by Democrats and the media since he launched his 2016 presidential campaign.
Although Trump said he would not be involved in the operations of his personal business while serving as president, Trump reported being paid consulting fees related to the Trump Organization during his time in office. The Chinese government also granted 18 trademarks within two months to the president and his daughter Ivanka Trump in 2018 amid tense trade negotiations with the administration. Ethic experts have raised alarms about foreign officials spending millions of dollars at Trump properties during the president's tenure in the White House as well.
Newsweek reached out to Grassley and Johnson for further comment, but did not immediately receive a response. A Biden spokesperson referred Newsweek to the previous statements from Hunter Biden and the transition team.