GOP Sen. Josh Hawley to Call For Senate Vote on $1,200 Stimulus Checks
Missouri Republican Senator Josh Hawley said Thursday he would ask the Senate to vote on his bill that would add direct payments to the next coronavirus economic relief package.
Hawley and Vermont Senator Bernie Sanders have pushed for direct assistance to be sent to eligible Americans, a topic which has become a sticking point for lawmakers working on finalizing the legislation. Congressional leaders initially indicated that the package could be finalized by Friday. While some lawmakers have indicated that relief checks in the amount of $600 could be part of the stimulus package, Hawley has contended that the amount is insufficient to meet the financial needs of Americans.
"Tomorrow I will go to the Senate floor to ask for an up or down vote on my bill to provide a direct payment of $1200 to working Americans, $2400 for couples, $500 for kids. This is the #covid relief working families need," Hawley tweeted.
Sanders indicated on Wednesday that stimulus checks could be included in the relief package, but not in the amount that he and Hawley desired.
"I'm happy to say that as of now—and we're going to fight for more, because this process is not over—the proposal, as I understand it, provides for a direct payment of $600 for every working class adult and $600 for their kids," Sanders said during remarks on the Senate floor.
"It is a step forward and I'm going to do my best to make sure that we come as close to the $1,200 as we possibly can," Sanders added.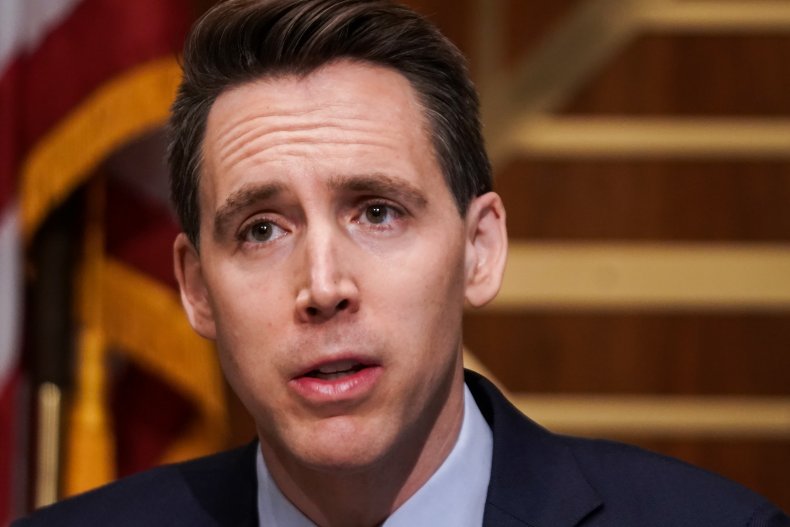 House Speaker Nancy Pelosi told reporters Thursday that progress had been made on the economic stimulus plan but would not elaborate. Newsweek reached out to Pelosi's office for comment.
Extended unemployment benefits provided by the CARES Act, which was signed in March, are set to expire in December. The cessation of the Pandemic Unemployment Assistance and the Pandemic Emergency Unemployment Compensation programs could affect more than 12 million Americans who are unemployed. According to the U.S. Labor Department, the November unemployment rate was 6.7 percent.
As lawmakers attempt to finalize the details of the COVID-19 economic relief bill, funding for the U.S. Government is expected to run out on Friday initiating a shutdown. Members of Congress have been working on an omnibus spending bill with an approximate price tag of $1.4 trillion that would fund the government for the next fiscal year. Failure to pass the omnibus bill by midnight Friday would initiate a government shutdown.
Some lawmakers have recommended passing a short-term stop-gap measure to keep the government open until the omnibus bill can be finalized.
"We are going to stay right here," Senate Majority Leader Mitch McConnell said in a Thursday floor speech, "right here, until we are finished even if that means working through the weekend, which is highly likely."