GOP Sen. Lamar Alexander Says There's 'No Need for More Evidence,' Republicans Likely Able to Block Witnesses
Republican Senator Lamar Alexander of Tennessee said late Thursday that he does not believe lawmakers require more evidence to reach a conclusion in the impeachment trial of President Donald Trump, rendering it almost certain that his party has enough votes to block a forthcoming effort by Democrats to summon witnesses.
"There is no need for more evidence to prove something that has already been proven and that does not meet the United States Constitution's high bar for an impeachable offense," the third-term senator said in a statement.
A failed vote to subpoena witnesses and documents, which is expected Friday, tees up a swift and certain acquittal for the president by the GOP-controlled chamber as early as that night. A lengthy debate over witnesses is expected to occur in the afternoon.
Alexander, whose term ends in January 2021 and is not seeking reelection, explained in a lengthy statement that Trump's withholding of military aid to Ukraine while pressuring the foreign power to conduct investigations into a political opponent was "inappropriate" and "undermines the principle of equal justice under the law."
However, he said it's been established in the trial that Trump's attempts to have former Vice President Joe Biden and his son, Hunter, investigated do not rise to the charges of abusing his power and obstructing Congress.
"The question then is not whether the president did it, but whether the United States Senate or the American people should decide what to do about what he did," Alexander elaborated. "I believe that the Constitution provides that the people should make that decision in the presidential election that begins in Iowa on Monday."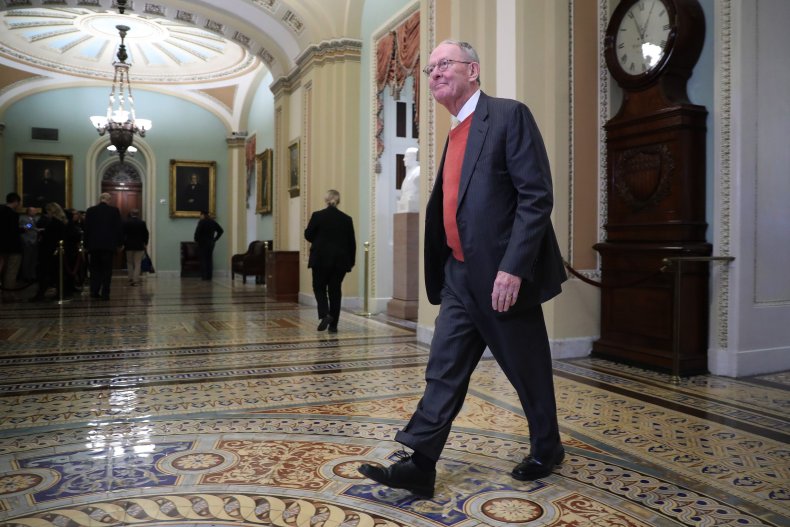 He also sharply criticized House Democrats for conducting what he called a "shallow, hurried and wholly partisan impeachment." If successful, Alexander said, it would "rip the country apart, pouring gasoline on the fire of cultural divisions that already exist."
Although an ally of Senate Majority Leader Mitch McConnell (R-Ky.), Alexander was among a handful of Republicans considered wildcards when it came to witnesses and Trump's guilt. His decision came at the conclusion of the second day of the question-and-answer portion of the trial.
Alexander's opposition to further evidence means that Democrats will almost certainly lack the votes to subpoena testimony from people such as former national security adviser John Bolton and acting White House chief of staff Mick Mulvaney.
Sen. Susan Collins (R-Maine) confirmed she will vote for witnesses and Mitt Romney (R-Utah) has signaled he will as well, making them the only Republicans who, as of Thursday night, planned to cross the aisle and support Democrats' endeavor.
That calculation would leave a vote for witnesses two short. It remains to be seen how Sen. Lisa Murkowski (R-Alaska), who's held her cards close, plans to vote. If Murkowski does support witnesses, Chief Justice John Roberts could break the tie that would result. However, it's unlikely he would do so, as the justice has taken a more hands off approach while presiding over the trial.
"I believe hearing from certain witnesses would give each side the opportunity to more fully and fairly make their case, resolve any ambiguities, and provide additional clarity," Collins said in a statement.
Democrats have said that a trial without witnesses would amount to a "cover-up," and would be "unfair" and unprecedented, therefore making an acquittal of Trump "meaningless."
"A trial without truth, without key evidence, without witnesses and documents, would render the president's acquittal meaningless, a giant asterisk next to it because the trial was so rigged in his favor," Senate Minority Leader Chuck Schumer (D-N.Y.) said Thursday.