GOP Senate Candidate Eric Greitens Rips McConnell: 'We Are Coming for You'
GOP Senate candidate Eric Greitens, who is currently facing domestic abuse allegations, slammed "disgusting coward" Senate Minority Leader Mitch McConnell in a new campaign video on Friday.
New allegations against the former governor of Missouri, who is now running in the state's open Senate race, emerged last week. His ex-wife, Sheena Greitens, accused him of assaulting her and their child in an affidavit obtained by the Associated Press on Monday.
Some Republicans, fearing he could become a liability during the general election, called on him to exit the race. However, in the 4-minute video, Greitens defended himself, accusing McConnell and GOP strategist Karl Rove of having involvement in manufacturing the accusations.
"I want to tell you directly, Karl Rove and Mitch McConnell. Hear me now. You are disgusting cowards, and we are coming for you," he can be seen saying. "We are no longer going to allow you to attack me and attack my kids—to destroy this country."
He dismissed the allegations as "RINO attacks," claiming Rove, who previously served as former President George W. Bush's chief of staff, was "directly involved" in creating the attacks and sent the information to people who work for McConnell.
In a statement to Newsweek, Rove criticized a Breitbart report claiming he provided information about Sheena Greitens' forthcoming statement to GOP donor Steve Hantler.
"Steve Hantler remains one of Eric Greitens' biggest boosters even after the sex abuse scandal that Greitens admitted to, which explains why he wants to distract attention from these horrific new revelations. It also explains why it's patently absurd that I'd have proposed a meeting between him and Sheena Greitens, even if it were in my power to arrange it," Rove wrote.
Among the allegations, Sheena Greitens accused her ex-husband of "cuffing our then-3-year-old son across the face at the dinner table in front of me and yanking him around by his hair."
He also allegedly knocked her down during an argument and went to take away her cellphone, wallet and keys. "I became afraid for my safety and that of our children at our home," she wrote.
The accusations have shaken up the state's Senate race, where several Republicans are vying to fill the seat being occupied by retiring GOP Senator Roy Blunt. Several of Greitens' opponents and other high-profile Republicans have said he should end his campaign.
"Real men never abuse women and children. Period, end of story," Representative Vicky Hartzler said on Twitter. "It's time for Eric to get out of the Senate race and to get professional help."
Republican Senator Josh Hawley of Missouri wrote on Twitter: "If you hit a woman or a child, you belong in handcuffs, not the United States Senate. It's time for Eric Greitens to leave this race."
McConnell has not publicly called on him to end his campaign, but said he would expect voters to consider the allegation.
"I think all of the developments of the last 24 hours are things the people of Missouri are going to take into account both in the primary, and I would assume they would take into account in the general," he said when asked by reporters about the accusations, St. Louis news station KSDK-TV reported.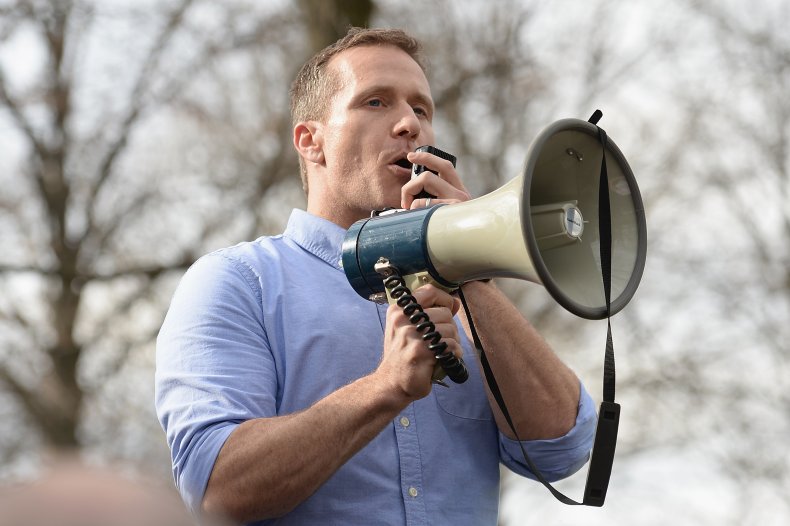 If Greitens wins the Republican primary, his candidacy could make the race more competitive in a state considered to be fairly safe for Republicans that former President Donald Trump won by about 15 points.
In a statement on Monday on Twitter, Greitens called the accusations "completely fabricated, baseless allegations."
Newsweek reached out to the office McConnell for comment Saturday morning. This story will be updated with any response.
Updated 03/27/2022 10:23 a.m. ET with statement from Karl Rove