A Georgia Tech student is set to file a lawsuit against Senator David Perdue of Georgia after the Republican snatched away the young man's phone when asked a question about voter suppression.
Atlanta-based law firm Dreyer Sterling LLC, which is headed by Democratic state Representative David Dreyer and former Atlanta mayoral candidate Michael Sterling, has said it plans to file a "civil battery" complaint against Perdue in Fulton State Court on Monday morning on the student's behalf.
The law firm made the announcement in a press release sent to Newsweek by Southern Majority, a campaign consultancy group serving progressive candidates in the South, accusing Perdue of having "ripped [a] phone out of a student's hands as the student attempted to ask a question about voter rights."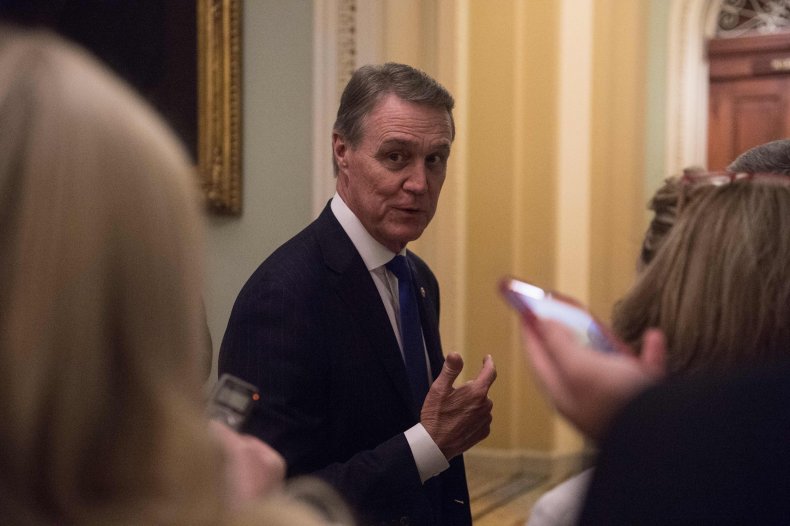 Video of the October 13 incident appears to show the student beginning to ask the senator why he was at the school to campaign on the behalf of Georgia's Republican secretary of state, Brian Kemp, who is in a tight race for governor against Democrat Stacey Abrams. Kemp is facing a lawsuit from a coalition of civil rights groups after an Associated Press report alleged his office had failed to process more than 53,000 voter applications from mostly black applicants with weeks to go before the November midterm elections.
"Hey, so, uh, how can you endorse a candidate—" the student, who has been identified as a member of the Young Democratic Socialists of America group, starts to ask, as he films the senator on his phone.
Perdue cuts him off, however, saying: "I'm not doing that," as the camera appears to shake.
"You stole my property," the student says to Perdue.
"You wanted a picture?" the senator responds, with the camera pointing at his shoes.
Eventually, Perdue appears to hand back the phone before walking away.
Read more: Georgia Senator David Perdue appears to snatch student's phone
"That's U.S. Senator David Perdue. U.S. Senator David Perdue just snatched my phone because he won't answer a question from one of his constituents," the student says, following behind the candidate.
Casey Black, a spokesperson for Perdue, reiterated the senator's previous claims that the incident had been the result of a misunderstanding, telling Newsweek that the senator had been asked to take a picture "and went to take a selfie as he often does with hundreds of people."
Black said the allegations against the senator were "outrageous and completely frivolous," asserting that it was "abundantly clear" that the lawsuit was being "politically orchestrated by Georgia Democrats."
"Sadly, but not surprisingly, this is another attempt by liberal activists to distort the facts and distract the people of Georgia just weeks before an election," the spokesperson said.
The civil battery complaint against Perdue is expected to be filed at Fulton State Court at 10:30 a.m. ET on Monday in Atlanta.
This article has been updated with a statement from a spokesperson for Republican Senator David Perdue of Georgia.