Sen. John Cornyn (R-Texas) dismissed suggestions that blaming China for the COVID-19 coronavirus pandemic is racist, insisting the country is at fault because it is a "culture where people eat bats and snakes and dogs."
Cornyn made the remarks to reporters Wednesday after being asked about recent criticism levied at Republicans including President Donald Trump for calling COVID-19 "the Chinese virus" and emphasizing the pathogen's foreign origins.
"Well, I think China is to blame because the culture where people eat bats and snakes and dogs and things like that, these viruses are transmitted from the animal to the people," Cornyn said. "And that's why China has been the source of a lot of these viruses like SARS, like MERS, the Swine Flu, and now the coronavirus."
"So, I think they have a fundamental problem, and I don't object to geographically identifying where it's coming from," he added.
Although misleading memes that have circulated online suggest otherwise, scientists have not concluded that the virus was first contracted by humans due to eating one of the animals Cornyn mentions.
Cornyn was then asked about whether Republicans framing the virus as "Chinese" could be racist and alienating towards Asian Americans.
"I disagree," insisted Cornyn. "We're not talking about Asians. We're talking about China, where these viruses emanated from and which created this pandemic."
Trump also defended the characterization Wednesday when asked at a press conference whether assigning an ethnicity to the virus could be inspiring racist attacks.
"It's not racist at all. No, not all," said Trump. "It comes from China. That's why, I want to be accurate... I have great love for all of the people from our country."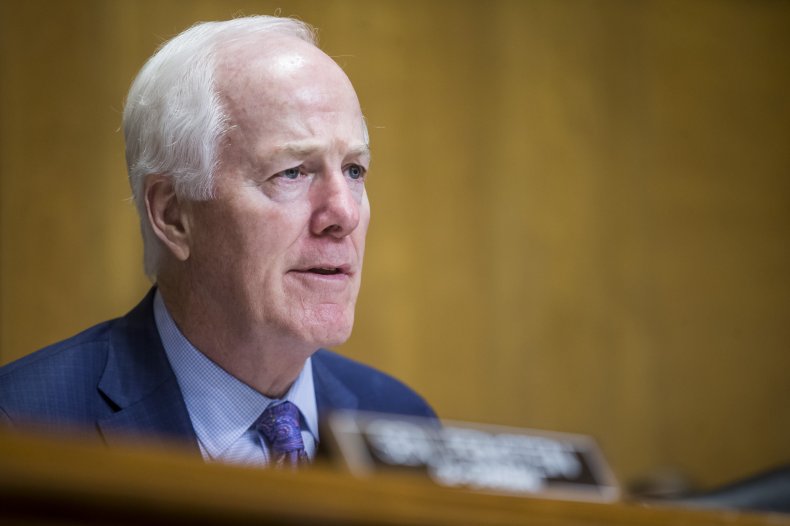 The president also claimed that Asian Americans would endorse his choice of words, while dismissing a reporter's question about an unnamed White House official purportedly dubbing the virus "Kung Flu."
"I think they probably would agree with it [calling the COVID-19 "the Chinese virus"] 100 percent," Trump said. "It comes from China, there's nothing not to agree with."
Trump and Republicans adopting the ethnic moniker for the virus has been dubbed xenophobic and harmful towards Asians by a number of advocates and experts from groups including the World Health Organization.
"Viruses know no borders and they don't care about your ethnicity, the color of your skin or how much money you have in the bank," said WHO emergencies specialist Dr. Mike Ryan at a Wednesday press conference. "It's really important we be careful in the language we use, lest it lead to the profiling of individuals associated with the virus."
Cornyn previously drew criticism after sharing a picture of a Corona beer to Twitter along with a message telling people not to "panic' just as the virus was beginning to spiral out of control in the United States.
"Be smart; don't panic. We will get us through this #coronavirus," tweeted Cornyn Saturday.
Newsweek reached out to Cornyn for comment but did not receive a response in time for publication.