GOP Senator Ernst Regains Lead From Democratic Challenger Greenfield in Iowa: Poll
Republican Senator Joni Ernst has taken the lead back from her Democratic challenger Theresa Greenfield in Iowa, according to a new poll.
A Quinnipiac University poll released Thursday showed Ernst with a narrow 2 percent lead over Greenfield, 48 percent to 46 percent. Another 4 percent did not answer, while 1 percent said they would vote for someone else. The poll was conducted among 1,225 likely Iowa voters between October 23 and October 27, with Ernst's lead coming within a 2.8 percent margin of error.
"Iowans know there's only one candidate in this race they can trust," Republican Party of Iowa spokesman Aaron Britt told Newsweek in a statement. "Joni has never wavered in her commitment to putting Iowans first, visiting every county, every year, and taking their concerns to Washington. As the first female combat veteran to serve in the U.S. Senate, Joni is a proven leader, and that's why Iowans will vote to re-elect her on November 3rd."
An earlier Quinnipiac poll, conducted among likely voters between October 1 and October 5, found Greenfield with a 50 percent to 45 percent advantage, a lead outside of the poll's margin of error. A RealClearPolitics average of recent polling in the race showed Greenfield up by 1.5 percent as of Thursday.
"This race is a dead heat, and Theresa is gaining momentum as Republicans, Independents and Democrats in Iowa continue to unify behind the scrappy farm kid who actually knows the price of soybeans and will always put Iowa's workers, farmers and small businesses first," Greenfield for Iowa Communications Director Sam Newton said in a statement to Newsweek.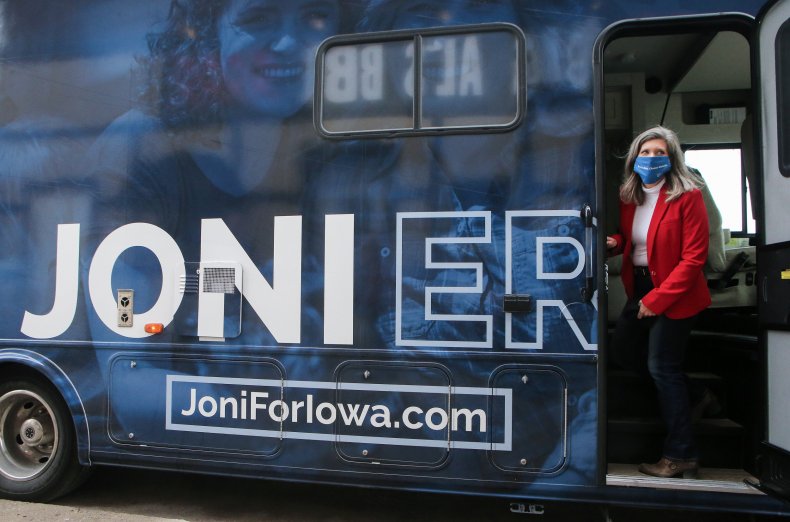 The new Quinnipiac poll also indicated a close race in the presidential election, with President Donald Trump maintaining a slight 1 percent edge over Democratic presidential nominee Joe Biden. The former vice president led Trump by 1 percent in a RealClearPolitics average as of Thursday.
"In 2016, the Hawkeye State gave the president a nine-point win, and in 2014, elected Republican Joni Ernst as the first female Senator from the state by eight points," Quinnipiac University Polling Analyst Tim Malloy said in a statement. "But now, less than a week until Election Day 2020, both the presidential and Senate races are too tight to call."
The Greenfield campaign resumed an RV tour of the state on Thursday after being forced to pause it on the previous day upon learning that some staff members had come into contact with a person who tested positive for COVID-19. The last-minute push for votes was allowed to continue after the candidate and her staff were medically cleared following negative tests for the virus.
"Theresa and those staff members have all taken tests and received negative results," Newton said in a statement. "This is Theresa's second negative test result in the last week. As a result and after consulting with medical experts, we've determined it's safe to resume our RV tour by holding events and press availabilities that are outside, where masks and social distancing are required, among other precautions."
Ernst also embarked on an RV tour of the state on Wednesday, one day after she was spotted alongside fellow Republican Senator Deb Fischer of Nebraska attending Trump's Omaha campaign rally without wearing face masks. As she launched the campaign tour, Ernst told KMA that the "masked up" and "enthusiastic" crowds at GOP events made her confident that she is "going to have a good outcome Tuesday evening."
Update 10/21, 9:42 p.m.: This article has been updated to include a statement from Greenfield for Iowa Communications Director Sam Newton.