Republican Senators Joni Ernst of Iowa and Deb Fischer of Nebraska were both seen without masks at President Donald Trump's campaign rally in Omaha on Tuesday night.
As Trump gave a shout out to Ernst and Fischer during his address in Nebraska, the live-stream camera panned to the two Republicans. Both were surrounded by attendees and neither were wearing masks.
"Deb Fischer, who's fantastic, she's my favorite senator from the State of Nebraska by far," Trump said. "Joni, thank you very much, and I heard you're doing very well. I just saw some very nice numbers."
The president railed against the mainstream media for aggressively covering the coronavirus pandemic during the Omaha rally, his third and last campaign stop of the day. "You notice the fake news now, right? All they talk about is COVID, COVID, COVID, COVID, COVID, and we've made such progress, it's incredible," he said.
"Excuse me, I'm here," Trump added. "I wasn't exactly feeling great and I met with great doctors, one thing when you're president, you got plenty of doctors."
Democratic Presidential Nominee Joe Biden on Monday warned Trump against holding rallies amid the pandemic as coronavirus cases surged across America. "The big difference between us, and the reason why it looks like we're not traveling, we're not putting on super spreaders," the former vice president said.
Biden also criticized Trump's plans to hold a White House celebration that evening to celebrate the confirmation of Judge Amy Coney Barrett to the Supreme Court. He noted that several Republican attendees of a Rose Garden event last month to celebrate Barrett's nomination later became infected with the virus.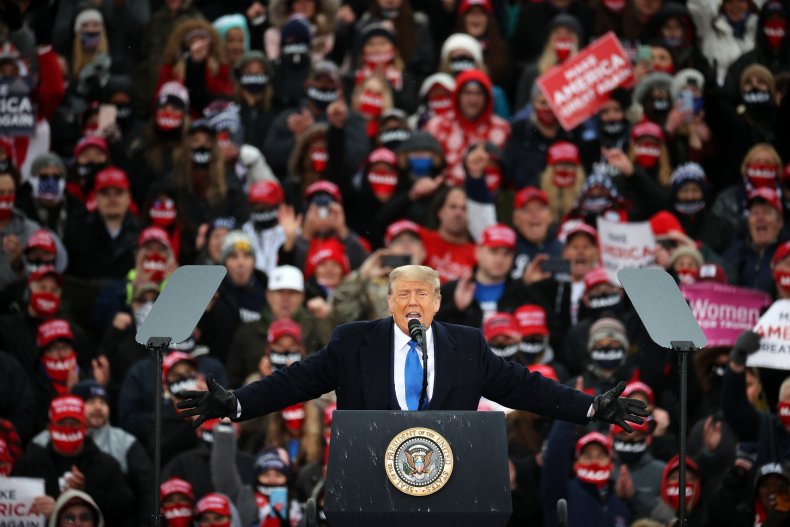 "And when the president of the United States puts on these super-spreader events, you saw what happened when she was announced, all the people, including his family—thank God they seem to be okay—all the people who came down with COVID, I just hope he was willing to have learned a lesson," Biden said.
Trump quickly fired back at Biden, accusing the Democrat of waving the "white flag on life" amid the pandemic. "He doesn't leave his basement," he told reporters. "He's a pathetic candidate."
With seven days until November 3, the president has been grinding out back-to-back campaign rallies as he trails behind Biden in most national polls. A Rasmussen Reports survey, released Monday, showed Trump one percentage point ahead of Biden. It was the first nationwide survey in more than a month to have the president ahead of his Democratic opponent.
Newsweek reached out to the Trump campaign for comment.