GOP Senator Has Instructed Staff to Cooperate With Biden Transition, Says It's 'Past Time' for Trump to Do Same
Senator Kevin Kramer, a North Dakota Republican, said that he has instructed his staff to cooperate with any outreach from President-elect Joe Biden's transition team while asserting that it was "past time" for President Donald Trump to do the same.
Although Biden and Vice President-elect Kamala Harris were declared the winners of the election just over two weeks ago, Trump has refused to concede. The president and his supporters have pushed unfounded claims—without providing evidence—that Biden won through widespread voter fraud. The Trump appointee leading the General Services Administration (GSA) has declined to officially "ascertain" the election results, blocking Biden's transition team from accessing federal funds, office space and cooperation with Trump administration agencies.
"I, frankly, do think it's time to—well, it was past time to start a transition, to at least cooperate with the transition. I'd rather have a president that has more than one day to prepare, should Joe Biden, you know, end up winning this," Kramer told NBC News' Meet the Press on Sunday.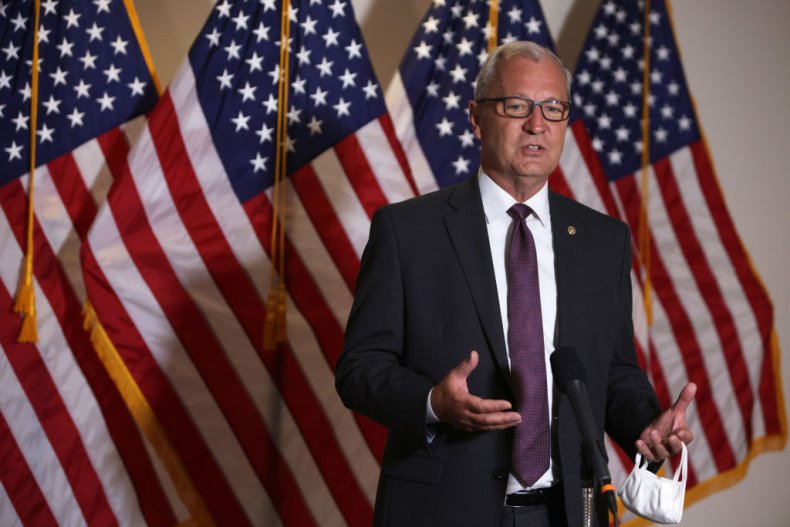 Although Kramer said Trump has a legal right to pursue court challenges in various states, he said that the GSA should "ascertain" the results so the transition can go forward on Monday.
"It should happen tomorrow morning because it didn't happen last Monday morning. I just think you have to begin that process, give the incoming administration all the time they need," the Republican lawmaker said. He noted that he "informed" his staff "well over a week ago that they ought to cooperate with any transition outreach because we want to be prepared."
"We have to, you know, we have a government to run regardless of who the president is," the GOP senator said.
Democrats and some Republicans have raised significant concerns that a lack of a smooth transition could threaten national security, as well as the successful rollout of COVID-19 vaccines.
"We haven't been able to get into Operation Warp Speed, but we will take what we learned today and build it into our plan," Biden said Thursday after a meeting that included several GOP governors. Operation Warp Speed is the name the Trump administration has given to its effort to rapidly develop COVID-19 vaccines and distribute them across the country.
A growing number of prominent Republicans have called on Trump to recognize the results of the election. Several have criticized his legal team for making baseless accusations, while pointing out that they have not made the same claims in court when they are under oath.
"Quite frankly, the content of the president's legal team has been a national embarrassment," former Governor Chris Christie of New Jersey—a Republican who helped Trump prepare for his September debate against Biden—told ABC News' This Week on Sunday.
Speaking to CNN on Sunday, Maryland's Governor Larry Hogan, a Republican, raised concerns that more Republicans have not challenged the president publicly.
"We're beginning to look like a banana republic," Hogan said. "Frankly I'm embarrassed more people aren't speaking up."
Senator Mitt Romney of Utah, a Republican who has often clashed with Trump, strongly criticized the president's unfounded claims in a Thursday statement posted to Twitter.
"Having failed to make even a plausible case of widespread fraud or conspiracy before any court of law, the President has now resorted to overt pressure on state and local officials to subvert the will of the people and overturn the election," Romney said. "It is difficult to imagine a worse, more undemocratic action by a sitting American President."
Newsweek reached out to the White House but it did not immediately respond.