GOP Senator Joni Ernst Sides With Liz Cheney, Calls Effort to Oust Her 'Cancel Culture'
GOP Senator Joni Ernst of Iowa defends Rep. Liz Cheney (R-Wyo.) from efforts to unseat her from the No. 3 House Republican post, calling the efforts "cancel culture."
Ernst spoke up to defend Cheney in a letter penned to GOP members on Monday, saying, "We are a big tent party. We represent Americans of all backgrounds. ... And unlike the left, we embrace free thought and debate." She argued that trying to silence Cheney is counter to the Republican party's free speech values.
"Cancel culture is cancel culture no matter how you look at it, and unfortunately I think there are those that are trying to silence others in the party," Ernst later told reporters.
She clarified her position by adding: "I support President Trump and his policies, so I have a slightly different view on that. But I still think we shouldn't be trying to cancel voices, but what we can do is come together and try and win seats, and [in] 2022, I think that's what all of us should be focused on."
Cheney is expected to be ousted very soon from her position as No. 3 House Republican and has been under fire since the beginning of the year for her open condemnation of former President Trump and his hand in inciting supporters to attack the U.S. Capitol on January 6th in an attempt to overturn the results of the Presidential election in his own favor.
"There has never been a greater betrayal by a President of the United States of his office and his oath to the Constitution," Cheney wrote in a statement back in January.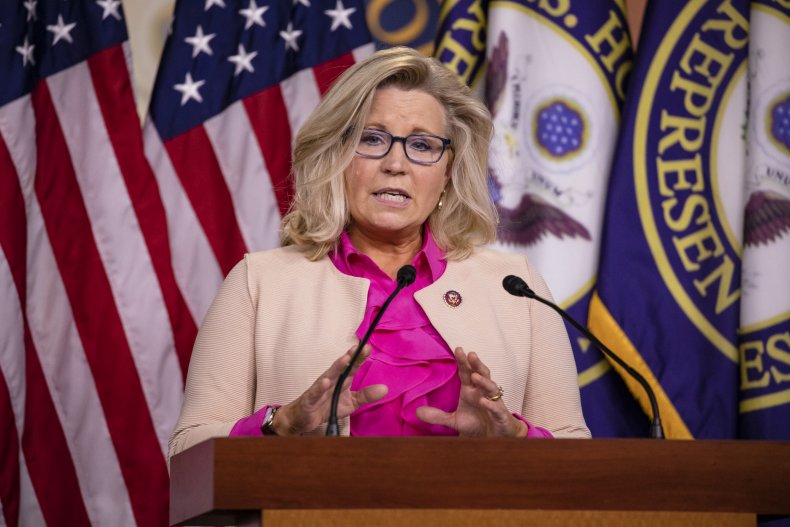 Republican members of the House and Senate alike have widely criticized Cheney, often voicing their support for her to be replaced by Rep. Elise Stefanik, a Republican from New York's 21st district.
It's not necessarily an obviously winning strategy say some pundits. For instance, Chris Wallace recently spoke on Fox News Sunday, saying that Cheney actually had "a more staunchly conservative" voting record" than Stefanik.
House Minority Leader Kevin McCarthy of California and his No. 2, Rep. Steve Scalise from Louisiana, have already voiced support for Stefanik to take over Cheney's position as Chair. Stefanik has been vocal in last week about her willingness to step up into the position of conference chair with the kind of pro-Trump verve her colleagues seem to be gunning for.
"The job of the conference chair is to represent the majority of the House Republicans, and the vast majority of the House Republicans support President Trump, and they support his focus on election integrity and election security," Stefanik told a former adviser to Mr. Trump during a series of interviews last week.
Cheney was one of ten Republicans to side with Democrats in the vote to impeach Trump for his alleged participation in the historic attack.