GOP Senator Lisa Murkowski Says House Responded 'Appropriately' With Impeachment
Senator Lisa Murkowski offered the most telling indication yet that she may support convicting President Donald Trump of impeachment.
However, the Alaska Republican, one of the most moderate GOP senators, stopped short of committing to vote one way or the other. She offered a nod towards conviction on Thursday while ripping into the commander-in-chief's inciting last week's Capitol riot.
"On the day of the riots, President Trump's words incited violence, which led to the injury and deaths of Americans—including a Capitol Police officer—the desecration of the Capitol and briefly interfered with the government's ability to ensure a peaceful transfer of power," Murkowski said in a statement. "Such unlawful actions cannot go without consequence and the House has responded swiftly, and I believe, appropriately, with impeachment."
Last week, she told the Anchorage Daily News that she thought Trump should have immediately resigned. "I want him to resign. I want him out," Murkowski said at the time. "He has caused enough damage."
The House passed one article of impeachment for "incitement of insurrection" on Wednesday, making him the first president in U.S. history to be impeached twice. Ten Republicans broke rank to join all Democrats in supporting the resolution that will head to the upper chamber for a trial that will not commence until President-elect Joe Biden takes office.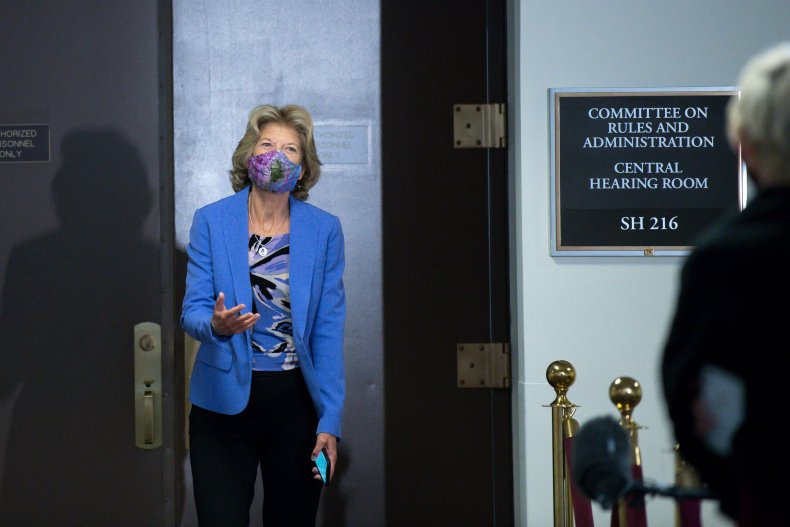 Seventeen Republican senators would be needed to convict Trump, assuming all 50 members of the Democratic Caucus vote yes and all senators are present and vote. But Sen. Joe Manchin (D-W.V.) has expressed skepticism toward conviction and offered remarks that suggest he may support acquittal. He labeled the move "ill-advised" in a Fox News appearance, issuing a warning similar to that from Republicans that impeachment would only further divide the country.
No Republican senator has yet committed to backing impeachment. But a handful are considered potential supporters based on their recent criticism of Trump, including Murkowski, Pat Toomey (R-Pa.), Ben Sasse (R-Neb.), Mitt Romney (R-Utah) and Susan Collins (R-Maine). Romney was the lone Republican to vote for Trump's conviction during his first impeachment.
Senate Majority Leader Mitch McConnell (R-Ky.) has even told colleagues he's still deciding where to land on conviction, another sign of the frustration with Trump among many Republicans on Capitol Hill.
"While the press has been full of speculation, I have not made a final decision on how I will vote and I intend to listen to the legal arguments when they are presented to the Senate," McConnell told his fellow GOP senators in an email on Wednesday.
This time around, Murkowski said the circumstances stand "in stark contrast" to the first impeachment, which she described as partisan in nature that "left no opportunity for a fair trial in the Senate."
"For months, the president has perpetrated false rhetoric that the election was stolen and rigged, even after dozens of courts ruled against these claims," Murkowski said. "When he was not able to persuade the courts or elected officials, he launched a pressure campaign against his own vice president, urging him to take actions that he had no authority to do."
She vowed to "listen carefully and consider the arguments of both sides, and will then announce how I will vote."