GOP Senator Mike Lee Met With Amy Coney Barrett Three Days Before COVID Diagnosis
Senator Mike Lee, a Republican from Utah, met with U.S. Supreme Court nominee Amy Coney Barrett three days before his positive diagnosis for the coronavirus.
"Yesterday morning, I was experiencing symptoms consistent with long-time allergies," Lee began in his statement, which he posted to Twitter Friday morning. "Out of an abundance of caution, I sought medical advice and was tested for Covid-19."
The test came back positive, Lee wrote, unlike the one he took "just a few days ago while visiting the White House." The senator will remain in isolation for the next 10 days, he added.
Lee met on September 29 with Barrett, whom President Donald Trump announced as his nominee to replace late Justice Ruth Bader Ginsburg following her September 18 death. As a member of the Senate Judiciary Committee, Lee was expected to play a key role in Barrett's nomination proceedings.
As part of the confirmation process, it is customary for the Supreme Court nominee to meet with senators individually, according to C-SPAN. A video showed Barrett and Lee posing for photographs following their meeting Tuesday on Capitol Hill. Both were pictured without masks.
In addition to the one-on-one meeting, Lee attended Barrett's nomination announcement hosted Saturday at the White House. A video posted to Twitter shows Lee giving two attendees hugs, their faces in close proximity to one another despite advice from the Centers for Disease Control and Prevention (CDC) recommending social distancing of at least six feet during the pandemic. Lee and the two others he hugged were not wearing masks.
John Jenkins, president of Notre Dame University, announced Friday that he has also tested positive for COVID-19. Jenkins attended Barrett's nomination event on Saturday and was criticized for not wearing a mask and shaking hands with other guests, a C-SPAN video shows. It is unclear whether Jenkins had the virus during the event.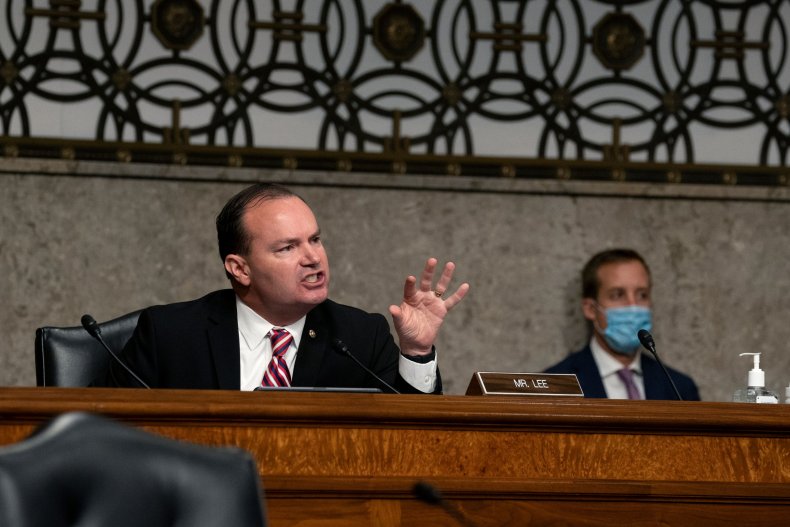 The news comes amid Trump's announcement early Friday morning that he and first lady Melania Trump have also tested positive for COVID-19.
The two first went into quarantine after Hope Hicks, one of the president's senior aides, tested positive for the virus Thursday. The 31-year-old had traveled with the president and first lady aboard Air Force One to and from the first presidential debate Tuesday, as well as to Trump's rally in Duluth, Michigan, on Wednesday.
Trump, who has long played down the severity of the outbreak and has often been pictured without a mask, told supporters at a political dinner Thursday evening that he felt the pandemic was nearing its end.
"I just want to say that the end of the pandemic is in sight, and next year will be one of the greatest years in the history of our country," Trump said mere hours before receiving his positive results.
Lee said in his statement that he had assured Senate Majority Leader Mitch McConnell and Senator Lindsey Graham that he would be back to work "in time to join my Judiciary Committee colleagues in advancing the Supreme Court nomination" of Barrett to both the committee and the full Senate.
Graham, who heads the committee, has also voiced his plans to proceed with Barrett's confirmation to the Supreme Court as planned. Kevin Bishop, a spokesman for Graham, told Newsweek Friday that the process will continue with "no change." Hearings before the committee are set to begin October 12.
This story has been updated to include additional information.