GOP Senator Mike Lee Says Mitt Romney's Trump Impeachment Vote Is No Cause for Alarm
Utah Republican Senator Mike Lee released a statement Friday on his campaign website discussing the differences between himself and Mitt Romney, his fellow GOP senator from the same state—especially over their differing votes on whether to impeach former President Donald Trump.
Romney was one of seven Republicans who joined all 50 Democrats who voted in favor of convicting the former president during his second Senate impeachment trial.
In the lengthy statement, Lee wrote about how breaking from the majority or entirety of the GOP can be both "liberating" and "terrifying," usually at the same time. Even though the differing votes are "rare," Lee said that they do occur "from time to time."
He went on to state the differing opinions show that each senator has been forthcoming on how they decided to vote.
"In any event, the fact that Senator Romney and I sometimes disagree (either with each other or with most Senate Republicans, or both) is not itself cause for alarm," Lee said in the statement. "To the contrary, it shows that neither one of us blindly defers to anyone. We each do our own homework and then, after conferring with our colleagues on both sides of the aisle and with each other, we reach our own conclusions."
He also said that while the pair may disagree, they remain respectful of the other's "independent judgment and studied analysis."
Lee went on to quote former President Ronald Reagan, from his time as governor of California, to demonstrate how vast and "broad" the Republican Party is. He then went on to say that there was plenty of room in the "Republican tent" for both of them, and added that Republicans have to work to "chart the proper course for our party."
The senator continued by saying that varied discussions in the party were beneficial. "The Republican Party should work tirelessly to take back the House and Senate in 2022. Having different perspectives within our party leads to more robust debate, which in turn produces more thoughtful policy outcomes—all of which will be a benefit to Republicans in future elections," he said.
Lee's statement ended by saying that the Republican Party is open to all. "With our eyes fixed on the future, we should be including and inviting our friends, neighbors, colleagues, and family members—and anyone else who might be discouraged or disaffected—by bringing more people into the tent."
Despite seemingly defending Romney's right to a differing opinion, Lee has also made clear that he still disagrees with his fellow Utah senator's vote to convict Trump. Tweeting a story from the Salt Lake Tribune, which claimed he was "defending" Romney's vote, Lee called the headline "misleading" and "affirmatively deceptive."
"I didn't defend anyone voting to convict. Nor would I. My vote to acquit was correct," he wrote.
Newsweek reached out to Romney's press secretaries for comment. A press contact for Lee referred Newsweek to the senator's statement from Friday night.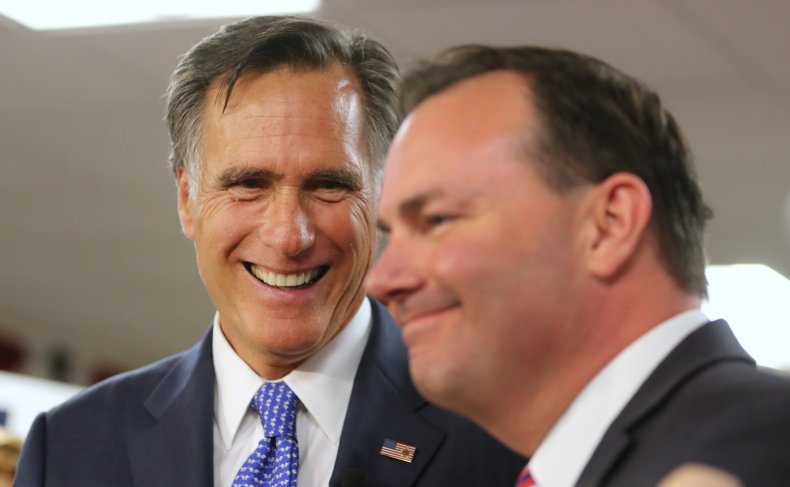 Update 2/20/21 10:30 a.m. ET: This story has been updated to note that Lee's press contact referred Newsweek to his Friday statement.