Kentucky Senator Rand Paul on Tuesday told the directors of the Centers for Disease Control and Prevention and the National Institute of Allergy and Infectious Diseases that the experts responsible for issuing recommendations on the nation's response to the coronavirus pandemic should practice more caution.
Robert Redfield, director of the CDC, and Anthony Fauci, director of the NIAID and member of the White House's coronavirus task force, both attended a Senate hearing Tuesday to discuss the nation's ongoing battle against the pandemic and strategies for reopening. The hearing came as numbers of new cases were spiking in several states, causing a handful of governors to roll temporary restrictions initially put in place to halt the spread of the virus back into place.
"It is a fatal conceit to believe any one person or small group of people has the knowledge necessary to direct an economy or dictate public health behavior," Paul said during the hearing.
"I think government health experts during this pandemic need to show caution in their prognostications. It's important to realize that if society meekly submits to an expert, and that expert is wrong, a great deal of harm may occur," he said.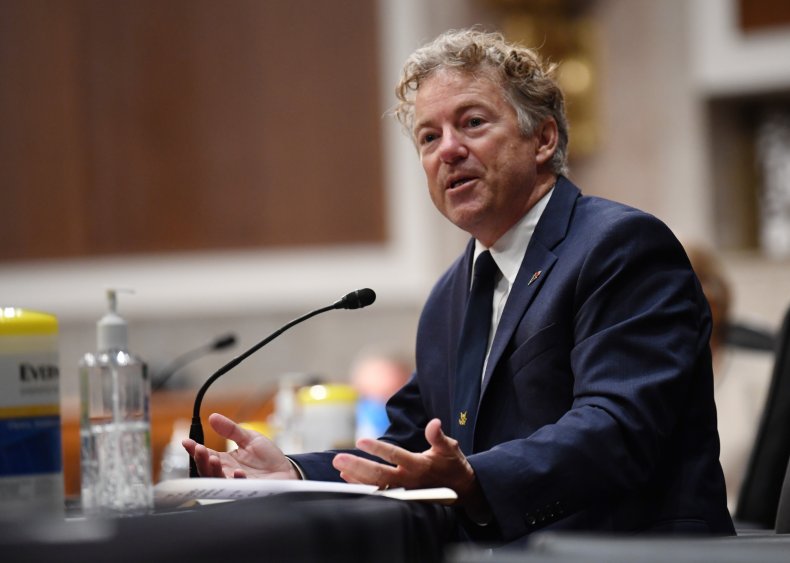 The Republican senator was the first among his Senate colleagues to contract COVID-19 in March. Days before Paul's diagnosis, his father, a former Texas congressman, published an article warning that fear inspired by crises like the pandemic made people "more willing to give up freedoms for promises that the government will take care of them."
Echoes of his father's article could be heard in the remarks Paul made on Tuesday. The caution health experts have advised regarding child care and school openings in particular was inconsistent with what other countries have found to be true, Paul said. Many of the countries he used as examples—such as France, Austria, Belgium and Denmark—have been credited with flattening the virus curve among their residents, enabling government leaders to begin lifting restrictions.
"Perhaps our experts might consider the undue fear they are instilling in teachers who are now afraid to go back to work," Paul said. "We shouldn't presume that a group of experts somehow knows what's best for everyone."
Paul's office did not respond to Newsweek's request for further comment in time for publication.
In response to Paul's remarks, Fauci referenced earlier statements he'd made during the hearing regarding using abbreviated class schedules to encourage social distancing and other strategies school districts could implement to reopen safely. While Fauci said he agreed with Paul on the importance for schools to reopen, he said the path to get there would be difficult to navigate as long as the virus remained a threat in the U.S.
"The only thing that I can do is to the best of my ability give you the facts and the evidence associated with what I know about this outbreak," Fauci said.
The U.S. has recently begun reporting record single-day increases of new cases as the nation's total case count breached 2.6 million. According to Fauci, it is possible the country will soon be reporting a far greater number of new cases.
"I would not be surprised if we go up to 100,000 a day if this does not turn around," he said during the hearing. "It could get very bad."