GOP Senators Rand Paul, Mike Lee Still Refuse Masks as Texas Rep. Tests Positive For Coronavirus
Senators Mike Lee (R-Utah) and Rand Paul (R-Ky.) were spotted walking around the Capitol Wednesday without wearing a face covering—a usual practice for both Republican lawmakers—despite earlier news that Rep. Louie Gohmert (R-Texas) tested positive for the coronavirus.
A staunch conservative who's part of a group of Republican lawmakers who often refuse to don a mask—and have even ridiculed the practice—Gohmert tested positive Wednesday morning just before a scheduled flight with President Donald Trump, Politico reported. Gohmert attended a public hearing with Attorney General William Barr, lawmakers and reporters on Tuesday, where he and Barr were spotted without masks outside the room.
Although the attitudes of Paul and Lee appeared unchanged, Senator Tom Cotton was spotted donning a cloth mask. In the past, the Arkansas Republican has been frequently spotted around the Capitol not wearing one. He declined to comment to Newsweek when asked whether Gohmert's positive result bore any correlation.
"Senator Cotton has always worn a mask when he can't socially distance," a Cotton spokesman said.
The refusal by Paul and Lee not to wear masks is against guidelines from the Centers for Disease Control and Prevention, as well as the U.S. Capitol physician. Lee has donned a face covering in the past but often has chosen not to.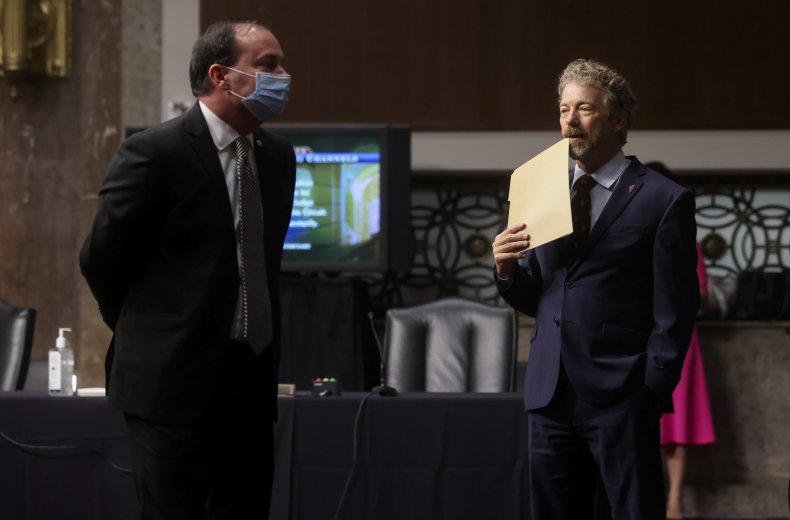 Paul, a former ophthalmologist who told Newsweek last month it was "conjecture" for health officials and experts to say closing states helped curb the spread, has claimed he is immune because he contracted and recovered from COVID-19.
But the CDC states that is not necessarily true. The agency says that the "immune response, including duration of immunity," is "not yet understood." The CDC also recommends people who survived should continue wearing masks in public to protect themselves and others.
"Because I'm immune," Paul told Newsweek Wednesday when asked why he does not wear a mask. When told of the CDC guideline, Paul responded: "You need to read a little more on it. All the scientific evidence points toward immunity."
Paul invoked Dr. Anthony Fauci, the country's top infectious disease expert at the National Institutes of Health, as evidence. However, while Fauci has said those who recover from COVID-19 should be immune, he and the CDC have questioned for how long and whether it's 100 percent protection.
The CDC states that recurrence of COVID-19 is "very uncommon," and that the "presence of antibodies may decrease a person's infectiousness and offer some level of protection from reinfection." Antibodies should provide "at least short-term immunity," their website says.
Paul, who said he does not feel the Capitol needs additional safeguards to prevent the virus' spread, said he spoke with Gohmert on Wednesday. "The disease is going to do what it wants to do, regardless of what we do," Paul added.
In contrast to Paul, Senator Tim Kaine (D-Va.), who also recovered from coronavirus, continues to don a mask around the Capitol.
While waiting for his test results back in March, Paul continued coming to work and using the Capitol gym, frustrating his colleagues when the revelation was unearthed that he may have exposed others. Senators Mitt Romney (R-Utah) and Lee both self-quarantined at the time.
After the publication of this story, Lee was spotted donning a mask.
"Sen. Lee normally wears a mask but he sometimes removes it so he can talk on the phone," spokeswoman Conn Carrol told Newsweek. "He would also appreciate if you stayed six feet away from him at all times."
Gohmert's test results prompted lawmakers to renew calls for mandatory testing on Capitol Hill. House Speaker Nancy Pelosi (D-Calif.) and Senate Majority Leader Mitch McConnell (R-Ky.) rejected an offer from the Trump administration in the past to establish rapid testing for members of Congress, a decision that was unsettling for lawmakers in both parties since many of them frequently travel.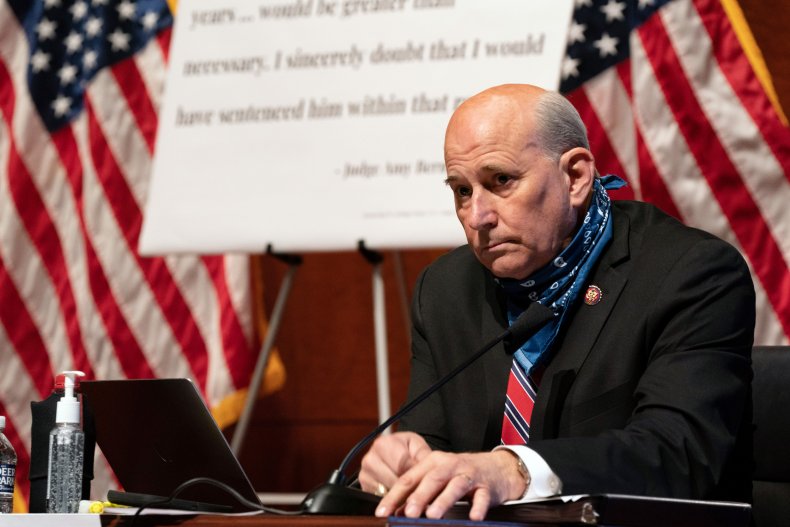 House Majority Leader Steny Hoyer, in the wake of hearing Gohmert tested positive, told reporters that they are "discussing" making testing mandatory. "This is a moment, I think, where we ought to be discussing it again," the Maryland Democrat said.
Senator Lamar Alexander, chairman of the Senate Health Committee, reiterated his belief Wednesday that there should be increased testing in Congress. The Tennessee Republican said he told McConnell weeks ago that "we all should be tested when we go home so that we're not carriers coming back and forth."
"I have said for weeks I think it's a good idea for us to be tested," Alexander said.
The Capitol physician has told Alexander that tests are more available today than in the past. However, Alexander said he has not "asked about that lately."
Gohmert suggested to local TV station KETK that he caught coronavirus because he has sometimes worn a mask.
"I can't help but wonder if by keeping a mask on and keeping it in place, that if I might have put some germs or some of the virus onto the mask and breathed it in," Gohmert said. "I don't know."
Update July 29, 6:03 p.m.: This story was updated to include comments from Sen. Paul and Sen. Cotton, and information about Sen. Lee.
Clarification: This story was updated to clarify Sen. Cotton's mask-wearing habits.
Correction: An earlier version of this story incorrectly stated Paul is a former optometrist rather than an ophthalmologist. We regret the error.