GOP Senators Warn Trump to Not Campaign Against Alaska Senator Who Said She Was 'Struggling' to Support Him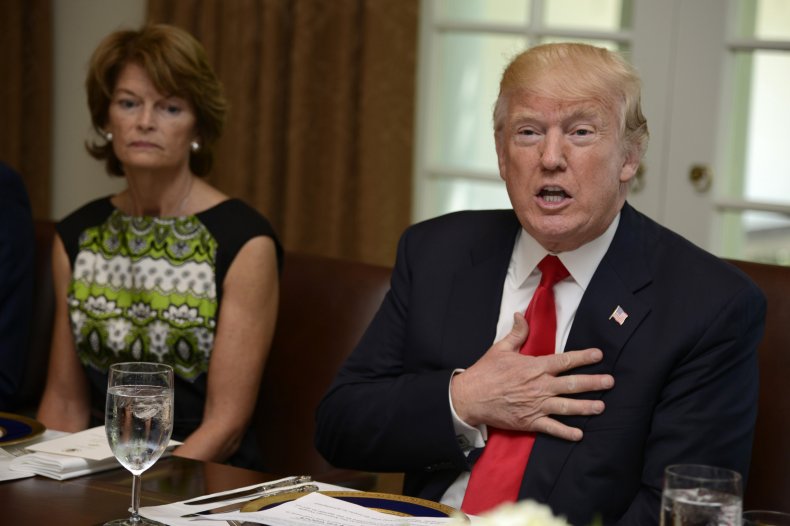 Republican senators have warned President Donald Trump not to follow through on threats to campaign against Sen. Lisa Murkowski (R-Alaska) after Murkowski admitted she was "struggling" over whether to support the president.
Murkowski said she was not certain she could support Trump's reelection last week, and she criticized the president's response to protests against racial injustice and police brutality following the May 25 death of George Floyd, an unarmed black man who died in police custody. A number of Murkowski's GOP colleagues have now pushed back against the president's plan to campaign against the senator in apparent retaliation, according to a Monday report from The Hill.
"I'd leave Lisa alone. She's a member of our conference, and we want to keep it that way," Senator John Thune (R-S.D.) told the outlet.
Sen. John Cornyn (R-Texas) told reporters that he does not support Trump's plan to campaign against his Alaskan colleague "at all." In addition, Sen. John Barrasso (R-Wyo.) and Sen. Roy Blunt (R-Mo.) pointed out that Trump's plan is unlikely to succeed due to Murkowski enjoying strong support in her state.
"She won a ... write-in in her race. The last time that had happened was 1954," Barrasso told The Hill. "She knows her state."
Newsweek reached out to the White House for comment. This article will be updated with any response.
Murkowski's rebuke of Trump came as she expressed support for the remarks of former Secretary of Defense James Mattis's on Wednesday, when he said that the turmoil the U.S. is currently experiencing is a result of "three years without mature leadership" and described the president as a threat against the Constitution. Murkowski agreed with Mattis and said that she was unsure whether she could support his reelection.
"I thought General Mattis' words were true and honest and necessary and overdue, and I have been struggling for the right words," Murkowski told reporters.
"I am struggling with it. I have struggled with it for a long time," she added, in reference to her support for Trump.
Not long after Murkowski made her remarks, Trump went on Twitter to announce he plans to campaign against the senator when she is up for reelection in 2022 and support "anyone with a pulse," regardless of whether they are "good or bad."
Murkowski and Mattis are not the only prominent Republicans to offer recent criticism of Trump. The president's former White House Chief of Staff John Kelly echoed the comments of Mattis last week, while former Secretary of State Colin Powell said he would vote for Trump's Democratic rival, former Vice President Joe Biden.
Dissenting voices have been particularly critical of a June 1 incident that saw the president brandishing a Bible and posing for pictures in front of a church near the White House after a peaceful protest had been cleared out by federal law enforcement officers who fired tear gas and pepper balls into the crowd.