Republicans are lashing out at GOP senators backing bipartisan gun legislation as "traitors" who are helping Democrats to "confiscate" firearms.
A bipartisan gun bill cleared its first procedural hurdle with the support of 14 Republicans in the Senate on Tuesday, as members of the GOP took to social media to admonish their colleagues that voted for the legislation. Calls to strengthen gun laws have recently been growing louder in response to last month's deadly mass shootings at an elementary school in Uvalde, Texas, and a grocery store in Buffalo, New York.
Although the bill that the bipartisan senators agreed on is significantly watered down from Democratic proposals that have been consistently rejected by Republicans for decades, some GOP members of Congress and other conservatives quickly lashed out at the Senate Republicans who backed the bill.
Representative Marjorie Taylor Greene, a Georgia Republican, accused the GOP senators of "helping Democrats confiscate your guns" in a tweet on Wednesday. The tweet also included a video clip of her suggesting during a press conference that all 14 senators would be voted out of office.
"[President] Joe Biden... he's friends with these Republican senators," Greene says in the video clip. "People all over our country are furious with them... These are the Republican senators that Republican voters do not support anymore."
During an appearance on the conservative One America News Network's In Focus With Addison Smith, Republican Representative Louie Gohmert of Texas said that the Republicans who backed the bill were guilty of "betrayal," while comparing them to American Revolutionary War defector Benedict Arnold.
"Let me tell you, the last time there was a betrayal like this one, on this gun bill, Benedict Arnold had to move to England," said Gohmert. "Because he just didn't, he had more friends there than he did in the United States."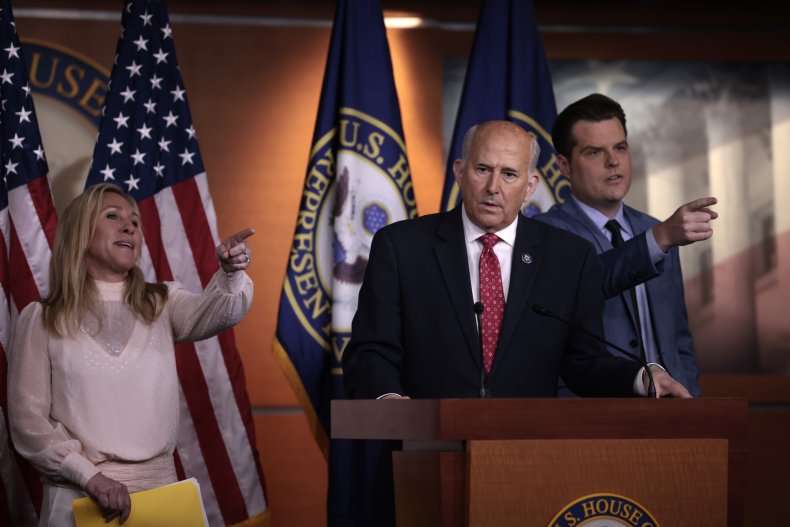 Fox News host Tucker Carlson accused Republican Senator John Cornyn of Texas, who voted for the bill, of having "gone far left in recent years" while discussing the bill before the vote on Tuesday night.
"Has there ever been a greater, more brazen sell-out of any group of voters than what Republican Senators Mitch McConnell, John Cornyn and the rest are doing right now?" Carlson said. "Talk about a subversion of democracy."
"If they keep this up, the system will collapse," he added. "You have the represent the interests of your voters, that's why you're there."
During a Sunday discussion with GOP Senator Mike Lee of Utah, who voted against the bill, Fox News anchor Shannon Bream noted that the conservative news network's own polling indicated that a large majority of Americans are in favor of strengthening gun laws.
"Fox News polling shows that there is a lot of strength behind some of these proposals at this point," said Bream. "There is a lot of momentum, at least among the public sphere, for doing this."
The bipartisan bill includes tougher background checks for gun buyers aged 18 to 21, closing the so-called "boyfriend loophole," funding for mental health programs and funding for crisis intervention programs that could back state "red flag" gun laws.
"Republican Senators who voted to back Red Flag Laws are traitors to the Constitution and our country," Representative Matt Gaetz, a Florida Republican, tweeted on Wednesday.
Newsweek reached out to the Senate Republican Conference for comment.