Fox News Host Confronts GOP Senator With Network's Polling Data About Guns
Fox News anchor Shannon Bream confronted Senator Mike Lee, a Utah Republican, on Sunday with her network's polling data showing large majority support for proposed gun law reforms—questioning the GOP lawmaker over whether his party was "out of step" with the public.
Last Sunday, a bipartisan group that included 10 Republican senators, announced a deal on major gun reform legislation in the wake of multiple recent high-profile mass shootings. Although top GOP senators touted the deal as something they were ready to get behind, and Democratic leaders voiced their strong support, the discussions around the proposals have reportedly stalled around some of the details in the language to be used in the bill.
During an interview on Fox News Sunday, Bream pressed Lee, who has raised concerns about the agreement, on the positions of many Republicans regarding guns. The journalist pointed to Fox News polling on the issue to suggest there was a disconnect between many GOP lawmakers and the American public.
"Fox News polling shows that there is a lot of strength behind some of these proposal at this point," Bream said. She then put the polling data on the screen, showing strong majorities backed key gun reform proposals. Not all of them would be included in the bipartisan legislation, however, according to the framework released last week.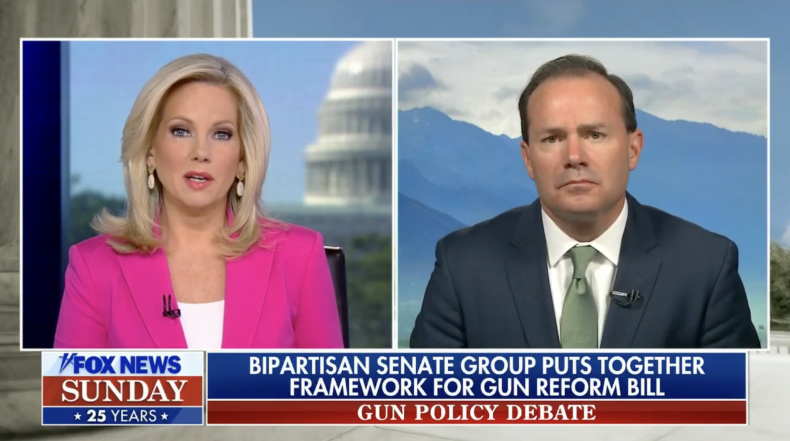 The data showed that 88 percent of registered voters support background checks for gun purchases, 82 percent think the legal age to buy assault rifles should be raised from 18 to 21 years old, 81 percent back red flag laws for people who are a danger to themselves or others, and 63 percent approved of an assault weapons ban.
"There is a lot of momentum at least among the public sphere for doing this. Are you out of step with your constituents?" Bream asked Lee.
"What's important is that we look out for the rights of constituents," the GOP senator responded. "Constituents are asked poll questions. They're not asked questions about specific language within legislative text. It's the job of the lawmaker to look out for the interest and the rights of the law abiding citizens they represent."
Lee said that "with each of those provisions, I understand how they could get high popularity ratings when they don't define them." He argued that some of the proposals in the polling are too vague and not defined specifically enough.
"The text does matter here because it's that text that will determine whether we're intruding unduly on the rights of the American law abiding citizen and doing so in a way that would actually deter violent criminal behavior," the Utah Republican added.
The Fox News poll, which was conducted from June 10 to 13, also found that 56 percent of voters believe tougher gun laws would reduce the number of mass shootings. Eighty percent believed people should face background checks when purchasing ammunition for guns. The survey had a margin of error of plus or minus 3 percentage points.
Whether the bipartisan agreement ultimately gets passed through Congress remains to be seen. After the optimism expressed by prominent Republicans and Democrats alike last week over the compromise, Senator John Cornyn, a Texas Republican who is a key negotiator, walked out of the talks on Thursday.
"It's fish or cut bait," the GOP senator told reporters. "I don't know what they have in mind, but I'm through talking." His departure cast doubt over whether the bill could pass quickly, or at all.