GOP Sen. John Cornyn Booed by Texas Republicans Over Gun Control Agreement
Senator John Cornyn, a Texas Republican who has recently worked with Democrats on potential gun control legislation, was met with a chorus of boos during an appearance Friday at this year's Texas GOP convention in Houston.
In the wake of the Robb Elementary School mass shooting in Uvalde, Texas, that saw 19 students and two teachers killed, Cornyn helped lead bipartisan negotiations with Senators Chris Murphy of Connecticut, Kyrsten Sinema of Arizona, and Thom Tillis of North Carolina.
However, Republicans in attendance at the convention did not seem to take kindly to Cornyn's involvement in the Senate push on improved background checks to those under 21 years old, allocating funds for mental health treatment and school security, and grants to states to enforce red flag laws.
In one video taken by Adam Bennett of local news station KHOU 11, the Republican senator mentions "making sure that violent criminals and the mentally ill cannot buy firearms," and is jeered by the crowd.
After saying "that means enforcing current law...nothing more, nothing less," and attributing it to conversations with Texas constituents, the senator is loudly booed as he sips on water.
"Let's take our country back, starting with our Congress in November," Cornyn said at the podium during the conclusion of his appearance, in a video recorded by the Houston Chronicle's Jeremy Wallace. "Thank you, God bless you, and may God continue to bless our great state of Texas."
Opposed to Gun Law Changes
Townhall reported Friday that the Republican Party of Texas' Platform Committee unanimously passed a resolution Thursday in opposition of the discussions and potential changes to gun laws occurring at the federal level.
It included a "rebuke" of Republican senators working with Democrats on the issue, in response to fears of Second Amendment restrictions and due process rights of law-abiding firearm owners.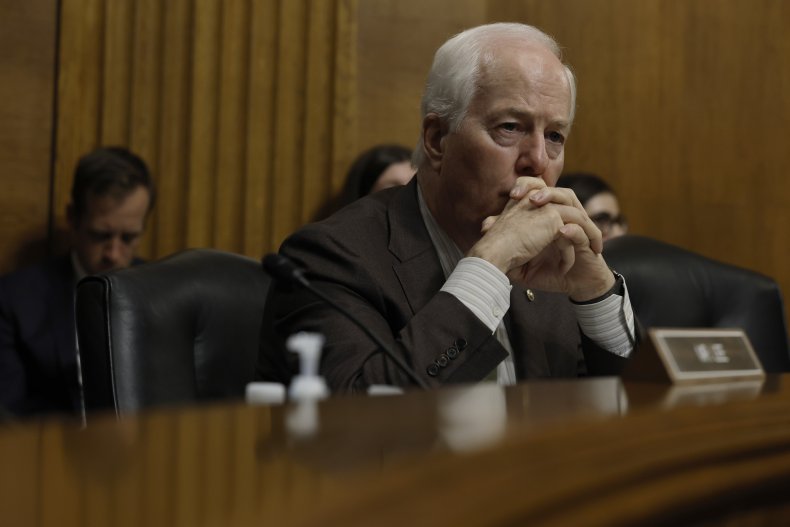 The Texas Tribune called this year's convention "an opportunity for the GOP's most devoted members to update its platform, craft its legislative priorities and elect party officers like the chair." Delegates normally meet in person every two years, though the 2020 event was hampered due to the pandemic and took place online.
And while Texas Republican voters have seen high-priority initiatives come to fruition, such as the permitless carry of handguns, and a near-total statewide abortion ban, it's expected that voter fraud will play a major role.
The convention will host three screenings of conservative filmmaker Dinesh D'Souza's documentary film 2000 Mules. The film shows video, obtained through open-records requests, in which so-called mules—described in the movie as paid or unpaid operatives—are seen allegedly stuffing ballot boxes during the 2020 presidential election.
Texas Governor Greg Abbott has noticeably been absent from past GOP conventions in the state due to inner-party squabbles, and is likely not to make himself present throughout the convention.
Some donors of Abbott's and the GOP as a whole have openly written letters advocating for the gun reform legislation being negotiated by Cornyn and others in the Senate, which is the same legislation being ridiculed by GOP Representative Marjorie Taylor Greene and others.
The Georgia congresswoman tweeted Sunday that "Senate Republicans are everything wrong in the GOP," adding that "the party needs a drastic identity change for America to survive."
Newsweek reached out to Cornyn's office for comment.