Marjorie Taylor Greene Slams Senate Republicans After Gun Agreement Reached
Representative Marjorie Taylor Greene, a Georgia Republican, took aim at GOP senators after a bipartisan agreement on gun reform legislation was announced on Sunday.
Ten Senate Republicans along with 10 Senate Democrats negotiated and agreed to bipartisan legislation that would be the most significant effort by Congress to address the national issue of mass shootings and gun violence in years. Senate Majority Leader Chuck Schumer, a New York Democrat, and President Joe Biden welcomed the deal, which would be expected to pass if all 10 Republicans ultimately vote in favor.
Hours after the news broke, Greene took to Twitter to attack Senate Republicans, apparently over their willingness to work with Democrats to pass legislation.
"The Senate Republicans are everything wrong in the GOP. Too many of them have helped Joe Biden pass his America Last agenda even more than the Progressive Democrats in the House," the Georgia Republican, who is a staunch supporter of former President Donald Trump, complained.
"The Republican Party needs a drastic identity change for America to survive. Or the GOP won't," Greene added.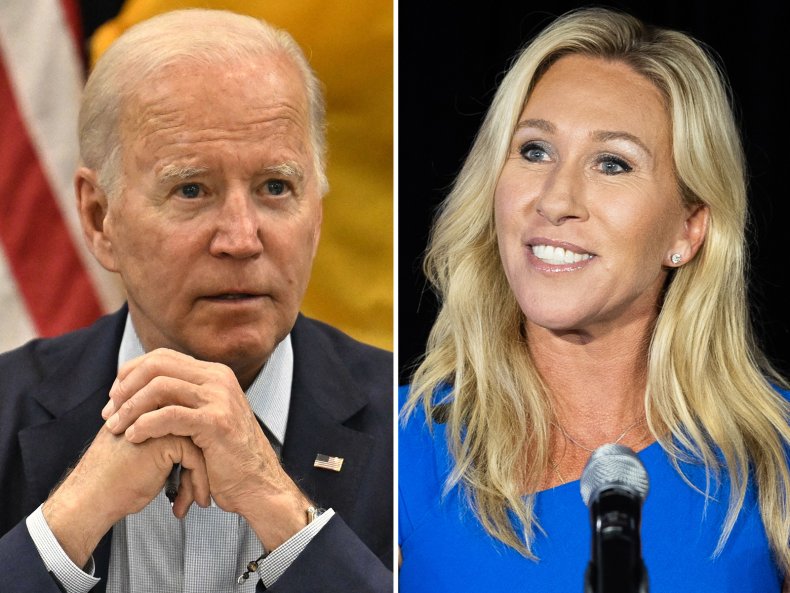 'Sell Out Your Gun Rights'
On Gettr, Greene posted a video of her attacking Senate Republicans on guns, and specifically slamming GOP Senator Lindsey Graham of South Carolina. Graham was long seen as a Trump ally but has more recently drawn criticism from the former president and his supporters. The South Carolina lawmaker is one of the Republican senators backing the bipartisan gun reform agreement.
"BREAKING NEWS: Lindsey Graham is locking arms with Democrats to sell out your gun rights," Greene captioned the video she uploaded to Gettr Saturday afternoon.
In the clip, Greene said Graham was "ready to violate due process" by supporting the "red flag" related provisions in the bipartisan agreement. "This is everything wrong with Republicans in the Republican Party," she said.
Representative Lauren Boebert, a Colorado Republican, called out the 10 Senate Republicans as well. "Hey Siri, show me a list of Senate RINOS," she wrote on Twitter, retweeting a list of the GOP senators who backed the bipartisan deal.
Another School Shooting
The negotiations between Republican and Democratic senators began after the May 24 mass shooting at an elementary school in Uvalde, Texas, which left 19 young students and two teachers dead. Senate Minority Leader Mitch McConnell, a Kentucky Republican, said on May 26 that he was "hopeful" a bipartisan solution could be achieved. He said that he'd tasked GOP Senator John Cornyn of Texas with spearheading negotiations for his side of the aisle.
The discussions were led by Cornyn and GOP Senator Thom Tillis of North Carolina along with Democratic Senators Kyrsten Sinema of Arizona and Chris Murphy of Connecticut.
In addition to the lead negotiators, the following senators signed off on the bipartisan package: Senators Susan Collins, a Maine Republican; Joe Manchin, a West Virginia Democrat; Bill Cassidy, a Louisiana Republican; Chris Coons, a Delaware Democrat; Martin Heinrich, a New Mexico Democrat; Richard Blumenthal, a Connecticut Democrat; Lindsey Graham, a South Carolina Republican; Pat Toomey, a Pennsylvania Republican; Roy Blunt, a Missouri Republican; Cory Booker, a New Jersey Democrat; Richard Burr, a North Carolina Republican; Mark Kelly, an Arizona Democrat; Angus King, a Maine independent who caucuses with Democrats; Rob Portman, an Ohio Republican; Mitt Romney, a Utah Republican; and Debbie Stabenow, a Michigan Democrat.
Newsweek reached out to spokespeople for Cornyn and Tillis for comment on the GOP representatives' criticism.
Tougher Criminal Background Checks
Among multiple provisions, the bipartisan deal includes financial support for state "red flag" laws that aim to keep firearms out of the hands of potentially dangerous individuals. It also includes tougher criminal background checks for gun buyers under the age of 21, requiring their juvenile criminal records to be checked.
The lawmakers also included crackdowns on so-called "straw purchases" by people buying guns for friends or family members who could not pass a background check. Additionally, there is a proposal to expand community mental health services.
"I want to thank Senator Chris Murphy and the bipartisan group for their gun safety proposal. It does not do everything that I think is needed, but it reflects important steps in the right direction," Biden tweeted on Sunday. "With bipartisan support, there are no excuses for delay. Let's get this done," he added.
Romney released a statement explaining his support for the deal. "Our plan saves lives while also protecting the constitutional rights of law-abiding Americans. We look forward to earning broad, bipartisan support and passing our commonsense proposal into law," the Utah Republican said.
Cassidy contended that the deal preserved Americans' right to own guns as well as due process.
"I joined these negotiations to ensure any agreement addressed illegal gun violence while upholding due process and protecting law-abiding Americans' 2nd Amendment rights. This agreement upholds that commitment," the Louisiana Republican asserted in a tweet.
Correction June 13, 2022 at 7:53 a.m ET: A previous version of this article incorrectly referred to Schumer as the Senate minority leader. He is the Senate majority leader.