GOP Strategist: It's Time to Get Off Trump's Crazy Train | Opinion
At the beginning of this year, Republicans were salivating at the opportunities these elections provided. In the last two midterms after Democratic presidential sweeps (1994 and 2010), the party made massive gains in the House (52 and 63 seats respectively) and solid Senate wins. President Biden's approval remained underwater all year, due mainly to soaring energy prices and inflation not seen since the 1980s. The party faithful were energized, their representatives free of any governing responsibilities and at liberty to blame everything on the Biden administration. It all inspired the ever-quotable Newt Gingrich to predict early in the year that Democrats would suffer their worst defeat since 1920 when the GOP won 302 House seats.
However, as college football commentator Lee Corso would say, "Not so fast, my friend." The wave never came. The GOP will probably win the House by the barest of margins and a one vote Senate majority may be riding on Herschel Walker's runoff in Georgia. Good luck to Kevin McCarthy in fashioning a governing majority. But the real news of the night is how poorly the GOP performed in key Senate and Governors' races in the key presidential battleground states.
The results validate yet again an important political axiom: Candidates matter. As Senate Minority Leader Mitch McConnell predicted, the GOP didn't come close to nominating its first team. How else can you explain Republican losses in the key swing states of Michigan, Wisconsin, Pennsylvania, and probably Arizona? The losing Republican candidates all echoed the now-familiar election lies about 2020. Not surprisingly, relitigating an election two years in the rear-view mirror was not a winner with voters.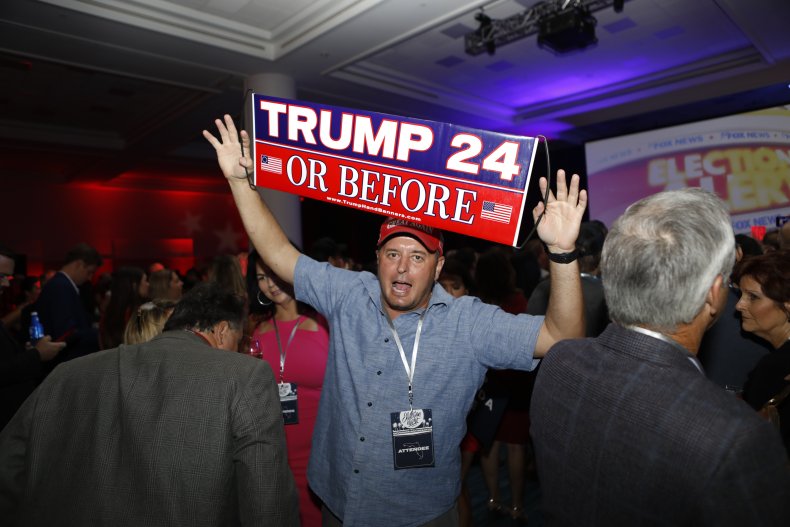 The GOP badly overreached in other ways. After the Supreme Court's Dobbs decision, Republican state legislators sought to enact highly restrictive abortion laws, some outlawing the procedure in all circumstances, including cases of rape and incest. Most Republicans had never advocated such extreme measures when Roe v. Wade was controlling precedent, always taking care to focus the discussion on things like restricting late-term and publicly funded abortions, positions that have far more public support. One Republican senator even advocated a federal abortion ban, something Republicans have argued against for 50 years. Why did the GOP move to advocate such extreme positions at such a critical time?
Republicans also did not propose an alternative agenda to the Biden administration's policies. House Republican proposals were long on rhetoric and short on specifics. Most concerning is that House Republicans continue to flirt with isolation and said little about America's real-world interests, though they have promised to make life miserable for Hunter Biden.
The brightest spot for Republicans was the smashing victory of Gov. Ron DeSantis in the now reliably Republican state of Florida. DeSantis led a clean sweep for Republicans at the state level, buttressed by a strong win in heavily Hispanic Miami Dade County. His showing in an otherwise disappointing year is reminiscent of George W. Bush's big win in Texas for governor in 1998, which instantly made him a favorite in the 2000 presidential election. Don't look now, but former President Donald Trump has found a worthy adversary for party leadership.
Speaking of Trump, he was the big loser on Tuesday. Let's count the ways.
First, he threatened more than once to announce for president during these midterms. That continuing discussion made him rather than Biden the main issue in many high-profile races. To underline the point, he still loses in most hypothetical matchups to an incumbent whose approval ratings are in the low 40s. Can we also mention that he continued to raise millions of dollars, most of which went to his ongoing legal problems, not to Republican candidates? He'll need the money as he faces numerous civil and criminal investigations, even as he tries to launch yet another presidential bid.
Second, he endorsed incredibly weak general election candidates, some of whom survived in a good Republican year, but others lost very winnable races. Let's look at the honor role: Tudor Dixon in Michigan, Doug Mastriano and Dr. Oz in Pennsylvania, Don Bolduc in New Hampshire, Blake Masters (probably) in Arizona. JD Vance in Ohio and Herschel Walker ran well behind mainstream Republican governors in their states. Trump's reach beyond the GOP remains small and shrinking. He's the quarterback who throws for 250 yards, but also three interceptions and loses a fumble, and blames his teammates for the loss.
Finally, and most important, he has retarded the GOP's ability to propose new solutions and respond to new challenges facing America. His focus is firmly planted in the past, namely his baseless lies about the 2020 election which he lost by a large margin. As noted, Republicans didn't offer a governing agenda this year. They didn't even try to write a party platform in 2020. The result is that Republicans are ill equipped to offer ideas to solve the country's most pressing problems that have arisen in the last decade—inflation, the deficit, the solvency of Social Security and Medicare, new public health challenges, and the threats posed by emerging authoritarian countries like Russia, China, Iran, and North Korea.
So, the message to the GOP is this: Forget most of this year but remember that you owe very little to a former president who is ill equipped and not really interested in leading America into the future. Republicans have tried to humor, ignore, and flatter him—all to no avail. Before the 2024 season begins, Republicans have one more chance to get off Trump's crazy train.
Frank Donatelli is a longtime political strategist, the former Republican National Committee deputy chair, and senior adviser to Ronald Reagan.
The views expressed in this article are the writer's own.