GOP Texas Congressman Says He'll Refuse to Wear a Mask Until He Gets COVID
A U.S. congressman from Texas said he would not wear a face covering while in public unless he tests positive for coronavirus, after his state experienced its worst week yet in terms of growing cases.
Texas Rep. Louie Gohmert, a Republican, has attended recent House sessions without using a face mask, despite guidance issued last week by a congressional physician requiring that masks be worn during any committee hearings.
"I don't have the coronavirus, turns out as of yesterday I've never had it," Gohmert said about his reasoning for not wearing a mask.
Gohmert, 66, was seen at the Capitol Friday by CNN chatting at a "close distance" with Georgia Congressman Barry Loudermilk, also a Republican.
The Texas lawmaker insisted that he is routinely tested for the virus, which has killed nearly 125,000 people in the U.S. since February, according to data from the Centers for Disease Control and Prevention (CDC).
Unless he does test positive for the virus one day, Gohmert said he will continue not wearing a mask.
"I keep being tested and I don't have it," he said. "So I'm not afraid of you, but if I get it I'll wear a mask."
Gohmert made his stance on masks clear the same day that South Carolina Congressman James Clyburn said he would stop holding meetings in person if other lawmakers continued to show up to the Capitol without masks.
"If you wish to continue having these meetings in person, you're going to have to adhere to the [guidelines set by the] attending physician or I will not have the meetings in person," said Clyburn, a Democrat and chairman of the House committee overseeing the federal response to the coronavirus pandemic.
Representatives from Gohmert's office could not be immediately reached by Newsweek for additional comment.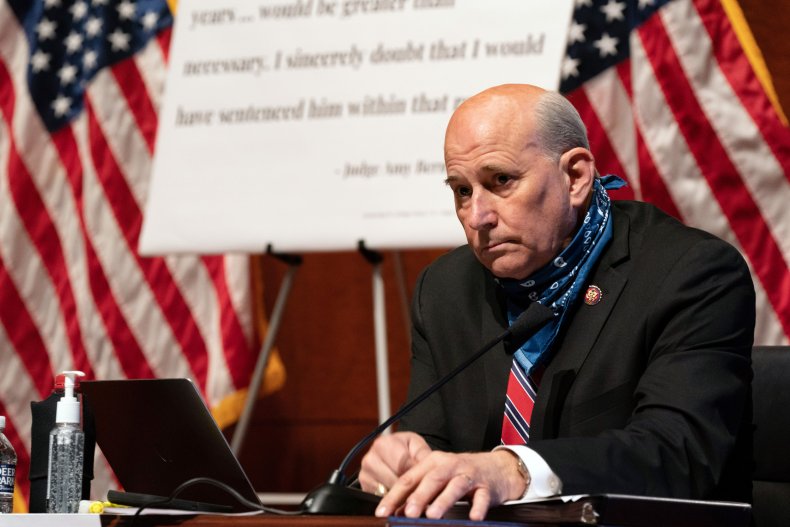 Gohmert's comments Friday follow the worst week his state has seen yet in terms of positive coronavirus cases.
Just one day before, Houston's Texas Medical Center, which is considered the world's largest medical complex, reached 100 percent of its licensed ICU occupancy.
"If this trend continues, our hospital system capacity will become overwhelmed, leading us to make difficult choices of delaying much-needed non-COVID care to accommodate a greater number of COVID patients," according to a statement released Wednesday by Texas Medical Center. "We are therefore calling upon the people of Houston to do their part in helping us to slow the spread of this dangerous virus."
Texas has seen more than 5,000 new reported infections every day since June 23, causing Gov. Greg Abbott to halt reopening plans.
Abbott announced Thursday that he will "pause any further phases to open Texas as the state responds to the recent increase in positive COVID-19 cases and hospitalizations."
The state was in its third stage of reopening when Abbott said it was reversing course.
According to data made available Friday afternoon by the Texas Department of State Health Services, there are an estimated 59,018 current coronavirus cases statewide, some of the highest reported numbers in the U.S.