Republicans More Trusted on 7 Out of 11 Key Issues: Midterms Poll
Voters trust the Republican Party to better handle more key issues affecting the country than they do Democrats, according to a poll.
An ABC News/Ipsos survey conducted three months before November's midterms found that people believe the GOP would do a better job in handling seven out of 11 key issues than the Democrats.
The seven key policies that people trusted the GOP over the Democrats are: the economy [34 percent to 25 percent], crime [32 percent to 21 percent], inflation [33 percent to 23 percent], immigration [37 percent to 28 percent], the Russia-Ukraine war [26 percent to 25 percent], gas prices [33 percent to 24 percent] and taxes [31 percent to 25 percent].
In comparison, voters said they trust the Democrats to do a better job than the GOP on issues such as gun violence [34 percent to 29 percent], abortion rights [38 percent to 26 percent], the coronavirus pandemic [36 percent to 20 percent] and climate change [37 percent to 19 percent].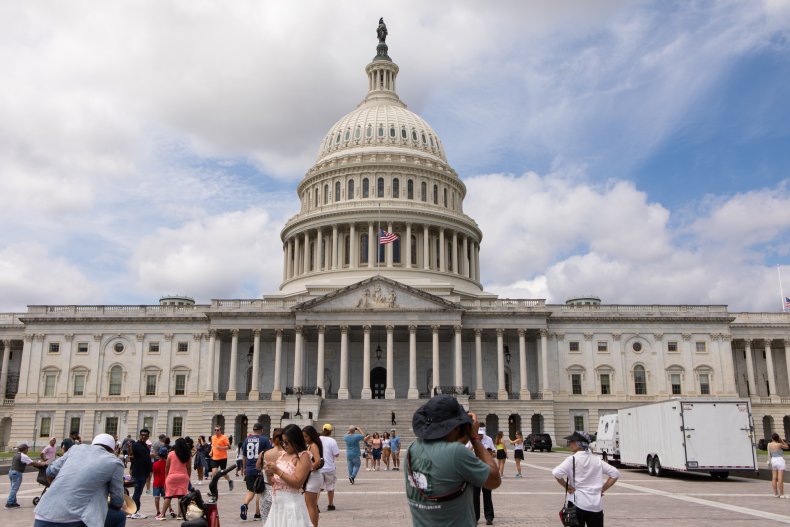 However, while the Dems and GOP lead over each other with regards to these key issues, more voters said they would trust "neither" party on a number of other key foreign and domestic policies, such as the war between Russia and Ukraine [36 percent], gas prices [37 percent] and inflation [36 percent].
"Roughly one-third of Americans trust Republicans to do a better job of handling key issues of the day, namely the economy, inflation, crime, and immigration. Around a quarter trust Democrats more on each of these issues," Ipsos wrote in a memo while sharing details of the poll.
"Among the 35 percent of Americans who are very enthusiastic about voting in November, a similar pattern emerges. Republicans hold a double-digit advantage on trust over Democrats on these four issues."
The GOP is hoping to capitalize on President Joe Biden's plummeting approval ratings by retaking control of both the House and Senate in November's midterms.
According to the ABC/Ipos Poll, voters disapprove of Biden's handling of all but one of the 11 key issues—climate change—where 56 percent say they approve of the president's job compared to 44 who disapprove.
In particular, the Republican Party will hope that the fallout over the recent decades-high level of inflation and recent record breaking gas prices—which have now started to come down—will translate into votes come November.
The poll found more than two thirds of potential voters (69 percent) disapprove of Biden's handling of inflation—the largest of all 11 issues—with 65 percent disapproving of how the president is handling gas prices.
However, as a result of the fall in gas prices, this is the only issue where Biden's approval rating has improved compared to the previous ABC/Ipsos poll in June (34 percent approval compared with 27 percent two months ago).
Another key issue where Biden has a high disapproval rating is gun violence at 64 percent.
The ABC News/Ipsos poll of 665 adults was conducted August 5 to August 6. The margin of sampling error is plus or minus 4.2 percentage points at the 95 percent confidence levels.
The White House has been contacted for comment.
Updated on 08/08/22 at 12:02 p.m. ET with additional information