GOP Wants to Repeal Obamacare Without a Backup Plan, but Some Republicans Say That's a Bad Idea
A Republican-led lawsuit is leaving the fate of the Affordable Care Act hanging in the balance of the courts amid a pandemic that's ravaged the globe and exacerbated the need for health care.
Yet GOP lawmakers on Capitol Hill concede they do not have safety net legislation ready to catch the millions of Americans who would find themselves suddenly without health insurance during a potential second coronavirus wave.
Some Republicans, however, believe that needs to change.
"We need to have a plan in place to make sure that people don't lose coverage," said Senator Mitt Romney (R-Utah).
Pre-existing conditions are the "most important thing" to cover, said Senator Martha McSally. But, the Arizona Republican added, "there are many other contingencies [across the health care market] that we need to be looking into," referring to a wide array of issues that could arise without the law.
Republicans have tried unsuccessfully over the years to repeal and replace Obamacare with health provisions of their own. But more than three years into President Donald Trump's first term, they acknowledge there is neither a discussion nor a plan available to simply replace the expansive health care law that is Obamacare, should it be struck down.
"It's not something we've talked much about lately," said Senator John Cornyn (R-Texas), a member of leadership. "There's not going to be an all-of-government-plan to cover all the ACA, but we're going to make it possible for people to have choices to buy what they want at a price they can afford because there's not going to be an all-government-plan like the ACA."
Despite voting to block, repeal or defund Obamacare several times since its inception, Cornyn advocated for those who lose their jobs amid coronavirus to sign up for the health care law. "The good news is people can find, get coverage under the Affordable Care Act or via Medicaid based on their income," he told PBS Austin Wednesday.
Senator Rick Scott (R-Fla.), a former hospital CEO, said he's "come up with lots of proposals. But there's no proposal here," he added.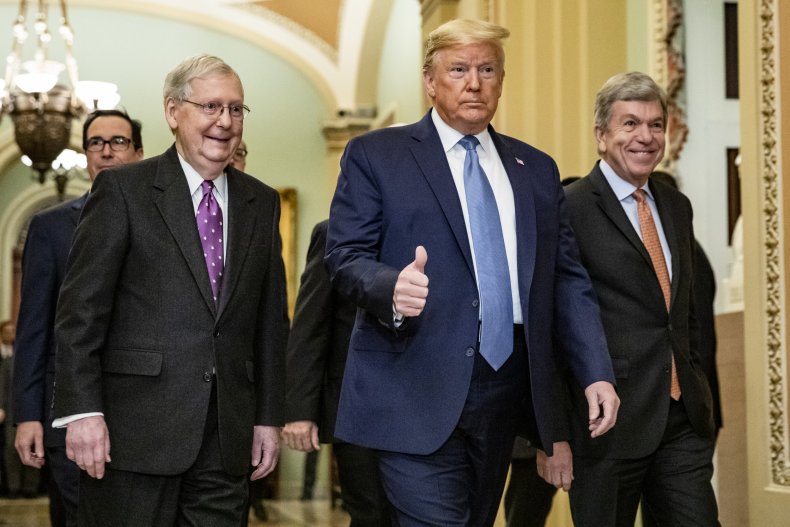 Despite the coronavirus and warnings from Attorney General William Barr of political consequences, the Trump administration and Republican attorneys general from more than a dozen states remained steadfast with a lawsuit to render the entire health care law unconstitutional. The lawsuit contends that when the individual mandate was stripped by GOP tax cuts in 2017, the entire legislation was invalidated.
The U.S. Supreme Court will hear the case during its next session that begins in October, although a final ruling is not expected until after the November elections. That means health care will once again be a pillar of a U.S. election.
Health officials warn that a strong resurgence of the coronavirus could occur in the fall or winter. Should record unemployment levels remain, it could heighten people's reliance on Obamacare. The Urban Institute estimates that roughly 70 percent of workers in industries most impacted by the virus like restaurants and retail would qualify for health care subsidies thanks in large part to the law.
"Taking away health care for millions of Americans is a bad idea. But in the midst of a pandemic, it is a cruel, economically stupid and dangerous idea," former Obama-era Health and Human Services Secretary Kathleen Sebelius told reporters Wednesday on a conference call. "The stakes have just gotten significantly higher. Havoc would be wreaked on lots of Americans who rely on marketplace or Medicaid coverage."
Trump has repeatedly made the false claim that he's "saved" protections for pre-existing conditions, even while his own administration was trying to kill them. The president has reiterated his desire to nullify the law, despite the pandemic. He's also resisted calls from Democrats to allow a special insurance enrollment period.
"What we want to do is terminate it and give great healthcare, and we'll have great healthcare, including pre-existing conditions, 100 percent pre-existing conditions," Trump said last week. "We've already pretty much killed it because we got rid of the individual mandate."
For those who said there should be a contingency plan in place, such as Romney and McSally, few details were offered. Romney said he has a broader proposal but would not provide specifics. McSally pointed to a proposal by Senator Thom Tillis (R-N.C.) to protect pre-existing conditions.
Senator Todd Young (R-Ind.), a member of leadership, said there's been "conversations about [health care] with some of my colleagues" but declined to give details.
The push to overturn Obamacare also places more vulnerable incumbent Republicans, like McSally and Senator Susan Collins of Maine, in more politically difficult positions.
Collins has been among the few GOP members to criticize the lawsuit against Obamacare. She's expressed her opposition to striking down the law several times to the Justice Department and was one of three Senate Republicans—along with the late Senator John McCain of Arizona and Senator Lisa Murkowski of Alaska—to save the health care law in 2017 by voting against its repeal.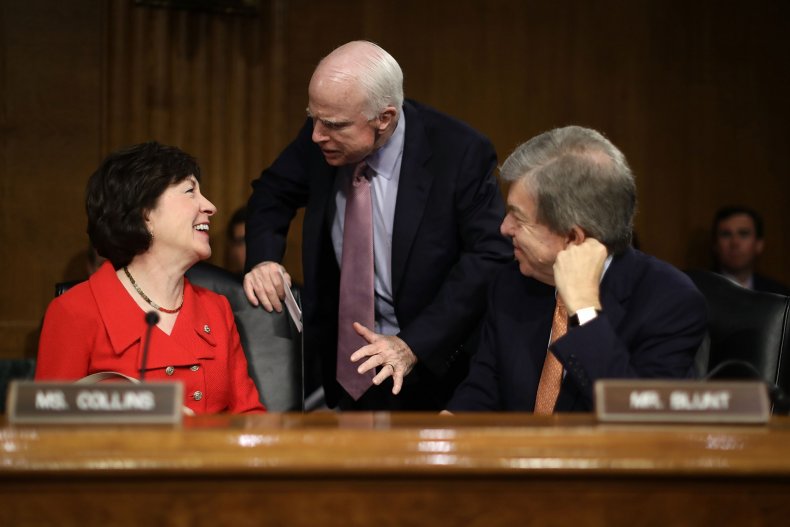 "I don't know of anyone who thinks that the repeal of the individual mandate meant that the whole law would fall. If Congress wanted to repeal the whole lot, that's what Congress would have done," Collins said. "I voted against repealing the law, but I certainly don't expect Newsweek to report that accurately."
Senator Lamar Alexander (R-Tenn.) echoed her criticism of the lawsuit over the weekend. The retiring lawmaker said on NBC that the Justice Department's argument "was really flimsy" to suggest nixing the individual mandate was congruent with ending the program. "I don't know one single senator who thought that."