GOP Wisconsin Senator Called Trump an 'A**hole,' Admitted Biden Won in November Phone Call
Senator Ron Johnson, a Wisconsin Republican and close ally of President Donald Trump, reportedly described the president as an "a**hole" and admitted President-elect Joe Biden won the election about three weeks ago, a former Wisconsin Republican official said.
Johnson has backed Trump's unsubstantiated claims of widespread voter fraud, but according to Mark Becker—a former Brown County supervisor and former chairman of the Republican Party there—the senator told him privately on a call three weeks ago that he accepted Biden's victory.
"My discussion with Senator Ron Johnson was one that I have hesitated openly discussing for three weeks. As a former chairman for the Brown County Republican Party, I have people I respect deeply who are still members of the party," Becker wrote in an article for conservative news site The Bulwark.
During that call, Becker said Johnson told him that "yes, Donald Trump is an asshole" but argued it would be "political suicide" for him to go against the president. Johnson reportedly told Becker that Trump had inspired significant voter turnout and that the views of those voters are important to consider.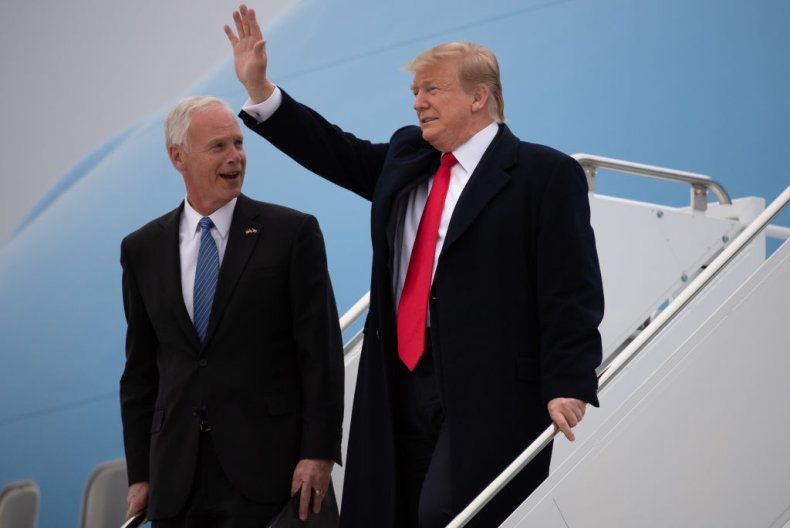 "Senator Johnson said that he knew and accepted the fact that Joe Biden had won," Becker wrote. "I asked why he wouldn't say so at a moment when Trump was taking a sledgehammer to the very foundation of our democracy.
"Senator Johnson replied that the institutions of our democracy are strong enough to withstand what is going on. This response shocked me, since it suggested that the truth was ultimately unimportant and that Sen. Johnson viewed what the president was doing as someone else's problem," Becker said.
In a statement emailed to Newsweek by a spokesperson, Johnson did not specifically deny Becker's claims but said he has been "consistent" in his comments, privately and publicly.
"I have been very consistent in both public and private statements that I believe there are way too many irregularities and suspect issues that need to be fully investigated and publicly vetted before a final result is determined and a peaceful transition of power takes place. The article should be viewed as the political hit piece it is, and simply ignored," Johnson's statement said.
On November 10, three days after Fox News, other television networks and the Associated Press projected that Biden was the winner of the election, Johnson suggested publicly that he did not accept the results. In a moment captured on camera, he walked past reporters as one asked, "Senator, have you congratulated [former] Vice President Biden yet?"
"No," Johnson replied with a laugh as he continued walking. The reporter followed up by asking, "Why not?"
"Nothing to congratulate him about," the GOP senator replied.
After Trump's attorney general, William Barr, said on Tuesday that there is "no evidence" to back the allegations of widespread voter fraud, Johnson questioned Barr's assessment. He said the attorney general should "show everybody" the evidence that there was no fraud.
"I think there is still enough questions outstanding," he said.
Although Trump's legal team and Republicans have mounted legal challenges in multiple battleground states, these have nearly all failed. Judges—including a Trump appointee—have dismissed many of the cases by pointing out that the lawyers have not provided evidence to support the allegations.