Gorilla Terrifies Zoo Visitor With 'Smooth' Entrance In Hilarious Video
A video of a gorilla giving a woman the shock of her life during a trip to the zoo is proving a hit with animal lovers online.
In the clip, which was shared to TikTok by Tina Flick, the gorilla can be seen entering his enclosure before quickly sliding across the floor, stopping just short of Flick before slickly spinning round as if on a revolving platform.
It makes for quite the entrance and has proven popular online, with the clip racking up over 52 million views in the space of a few days. Flick can be heard on the video admitting the encounter "scared the heck" out of her.
The clip can be watched here.
Her apprehension may well be justified. Gorilla conservation organization Berggorilla & Regenwald Direkthilfe E.V. notes that while the animals are generally "very shy and reserved" around humans, they have been known to attack, if "surprised or threatened" by something like "unexpected movement."
In these scenarios, gorillas can react by running at their target at "great speed" before stopping just in front of them. The advice, in this scenario, is to behave "submissively" by "crouching down and looking at the ground."
The worst thing you can do is run.
The majority of comments on Flick's video focus on the gorilla's slick entrance. Chellwanna likened it to the classic "electric slide" dance move, while YaKnow felt the gorilla's slide was reminiscent of a "Smooth Criminal"-era Michael Jackson.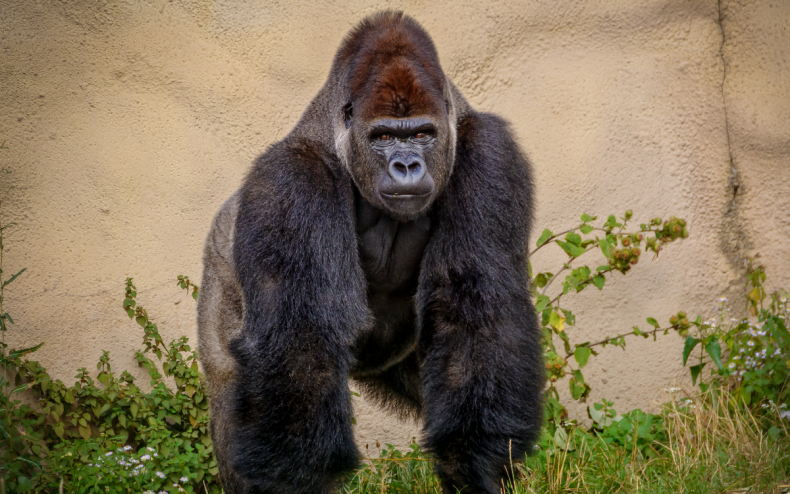 Patrick Lamorgese said, "THAT'S how to make an entrance," with OTK declaring it, "the smoothest thing I've ever seen." BodyImageBabe claimed it was an entrance that said "hello ladies," while luminouswolf69 commented, "He's done that before."
Bing bong didn't think the woman had anything to fear from the gorilla, noting that he "smiled while turning," which they thought meant "he was playing with you."
A hashtag accompanying the video indicates the gorilla featured in the clip is Cenzoo, a resident of the Riverbanks Zoo in Columbia, South Carolina.
According to his previous residence, Birmingham Zoo, Cenzoo "is known to enjoy his food" with particular favorites including fresh fruit, vegetables, leafy greens, fresh cut tree branches and alfalfa hay.
The western lowland gorilla loves to engage in training sessions with zookeepers but does not like rain or getting mud on his feet and has been known to put down wool or hay to avoid getting them wet.
Western lowland gorillas are critically endangered. The main cause of their population decline is human expansion into forest areas for logging.
Newsweek has contacted Flick for comment.
Do you have funny and adorable videos or pictures of your pet you want to share? We want to see the best ones! Send them in to life@newsweek.com and they could appear on our site.