Gosar Says Video of Himself Killing AOC Shows Fight Vs. 'Policy Monster of Open Borders'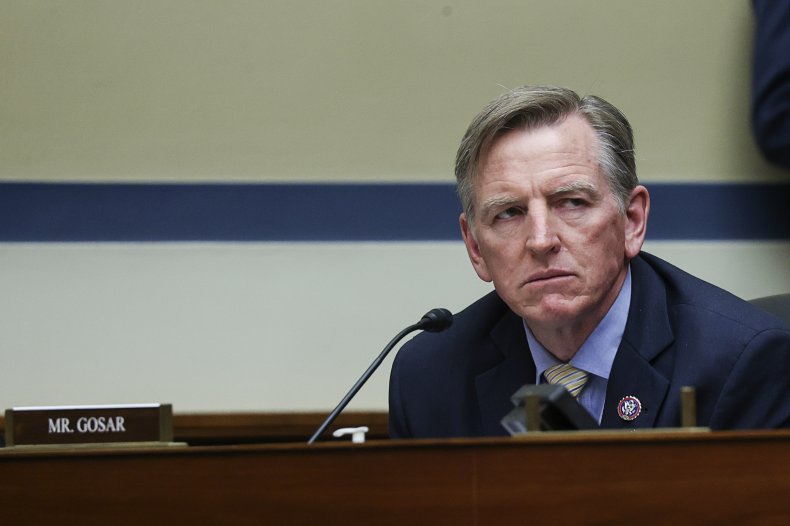 Representative Paul Gosar (R-Ariz.) has defended a video showing himself killing Representative Alexandria Ocasio-Cortez (D-N.Y.) as a depiction of his battle against "the policy monster of open borders."
Gosar has been under heavy fire since posting the video to Twitter on Sunday. The video shows the faces of Gosar, Ocasio-Cortez and President Joe Biden superimposed onto anime characters. Gosar is shown killing Ocasio-Cortez with a sword before moving on to attack Biden as the video ends. The video sparked calls for Gosar to be arrested or expelled from Congress.
On Tuesday, Gosar issued a statement insisting that the video "symbolizes the battle for the soul of America." He argued that Ocasio-Cortez, whom he called "a proud member of the open border caucus," represents "the Democrats' open border amnesty agenda included in" Biden's Build Back Better social spending proposal.
"I do not espouse violence or harm towards any Member of Congress or Mr. Biden," Gosar said. "The video depicts the fight taking place next week on the House floor and symbolizes the battle for the soul of America when Congress takes up Mr. Biden's massive $4 trillion spending bill that includes amnesty for millions of illegal aliens already in our country and was not meant to depict any harm or violence against anyone portrayed in the anime."
"The cartoon depicts the symbolic nature of a battle between lawful and unlawful policies and in no way intended to be a targeted attack against Representative Cortez or Mr. Biden," he added. "It is a symbolic cartoon. It is not real life. Congressman Gosar cannot fly. The hero of the cartoon goes after the monster, the policy monster of open borders."
Earlier in the day, Gosar posted an image to Twitter that dismissively urged those who were offended by the cartoon to "relax."
Ocasio-Cortez responded to Gosar's anime video on Monday by calling him "a creepy member I work with who fundraises for Neo-Nazi groups." Ocasio-Cortez said that Gosar was "extremely fragile" and argued that his "self concept relies on the myth that he was born superior because deep down he knows he couldn't open a pickle jar or read a whole book by himself."
The office of Ocasio-Cortez declined to comment on Gosar's statement when contacted by Newsweek. However, the congresswoman did address the matter again in a tweet on Wednesday, maintaining that she will always "bulldog back a bully" before writing that Gosar "has nothing but tumbleweeds up there."
Although the Build Back Better Act is not focused on immigration, it does include some related provisions. At one point, the bill included a pathway to citizenship for undocumented immigrants. However, the provision was later removed due a conflict with Senate budget reconciliation process rules.
The current version of the proposal would give some undocumented immigrants that have been in the country for at least 10 years a five-year parole period, putting an at least temporary halt to deportations.
In addition, while the Build Back Better bill once carried a potential price tag of around $3.5 trillion, the current version is $1.85 trillion—less than half of the $4 trillion Gosar claimed.
Newsweek reached out to the office of Gosar for comment.
Update (11/10, 4:33 p.m.): This article has been updated to reflect that the office of Ocasio-Cortez declined to comment on Gosar's statement and to include additional comments from an Ocasio-Cortez tweet.