Representative Paul Gosar dismissed criticism he's faced after posting an anime video of himself slicing Representative Alexandria Ocasio-Cortez with swords.
On Sunday, Gosar posted a video on Twitter that featured scenes from the southern border and Gosar, as an anime character, using a sword to come slashing down on a giant with Ocasio-Cortez's face. The video sparked backlash, with Representative Debbie Dingell and her colleagues asking Republican leaders to condemn Gosar and his "vile tweets."
Gosar, who's no stranger to controversy, responded with another cartoon. The two-sided drawing featured, on the right, a person crying with the caption, "You're cartoon anime scares me with your jetpack flying and lightsabers."
The other side of the graphic showed a stern-looking man with the caption, "It's a cartoon. Relax."
Newsweek reached out to Gosar's office for comment.
Dingell, a Democrat from Michigan, spoke out against the video and wrote on Twitter that someone who threatened to kill their colleague would be fired from their job in "any other workplace." Representative Ted Lieu, a Democrat from California, also criticized the video, calling it "sick behavior." He reiterated Dingell's sentiment that the behavior would not be tolerated in other professions.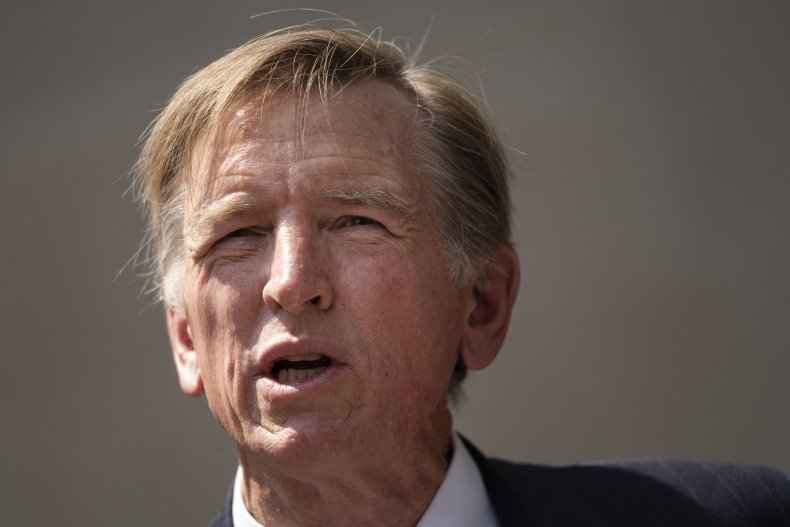 "Rep. Gosar's conduct is grotesque, dangerous and utterly disgraceful to the United States House of Representatives. We must address his intolerable assaults on the dignity of our body and safety of our colleagues," Maryland Representative Jamie Raskin tweeted.
Ocasio-Cortez acknowledged the video on Monday, the day after it was posted, and wrote on Twitter that a "creepy member" of Congress shared a "fantasy video of him killing me." She criticized House Minority Leader Kevin McCarthy for failing to properly hold Gosar accountable.
Gosar's behavior has been condemned by his own siblings, who filmed ads for his opponents and campaigned against him in 2018. His sister, Jennifer Gosar, told MSNBC's The Last Word on Monday night that her brother's behavior is "getting worse" because he isn't being held accountable.
"He's not been censured. He's not been expelled and he hasn't had his seat forfeited by any of the leadership," Jennifer said, noting that she wasn't just targeting McCarthy but all congressional leaders and Attorney General Merrick Garland. "Where are these people? Does he need to act on his sociopathic fantasy? I am very concerned for [Ocasio-Cortez] and other members."
Along with the slashing of an Ocasio-Cortez enemy, the anime video featured Gosar running across a rooftop before leaping into the air and bringing swords down onto a picture of President Joe Biden's face.
Expelling a member of Congress would require a two-thirds vote in the House of Representatives, which would mean getting Republicans on board with ousting Gosar. If the Arizona Republican won't be kicked out of office, some have called for him to be censured.
Censures, a formal condemnation, only require a simple majority in the House, meaning Democrats could censure Gosar without any Republican support.
Gosar also posted the video on his personal account with the caption that the "creativity" of his team is "off the hook." If staff members were involved in creating the video, some have called for those involved to be held accountable, as well.