Review: Ryan Gosling and Emma Stone Twirl 'La La Land' Toward Greatness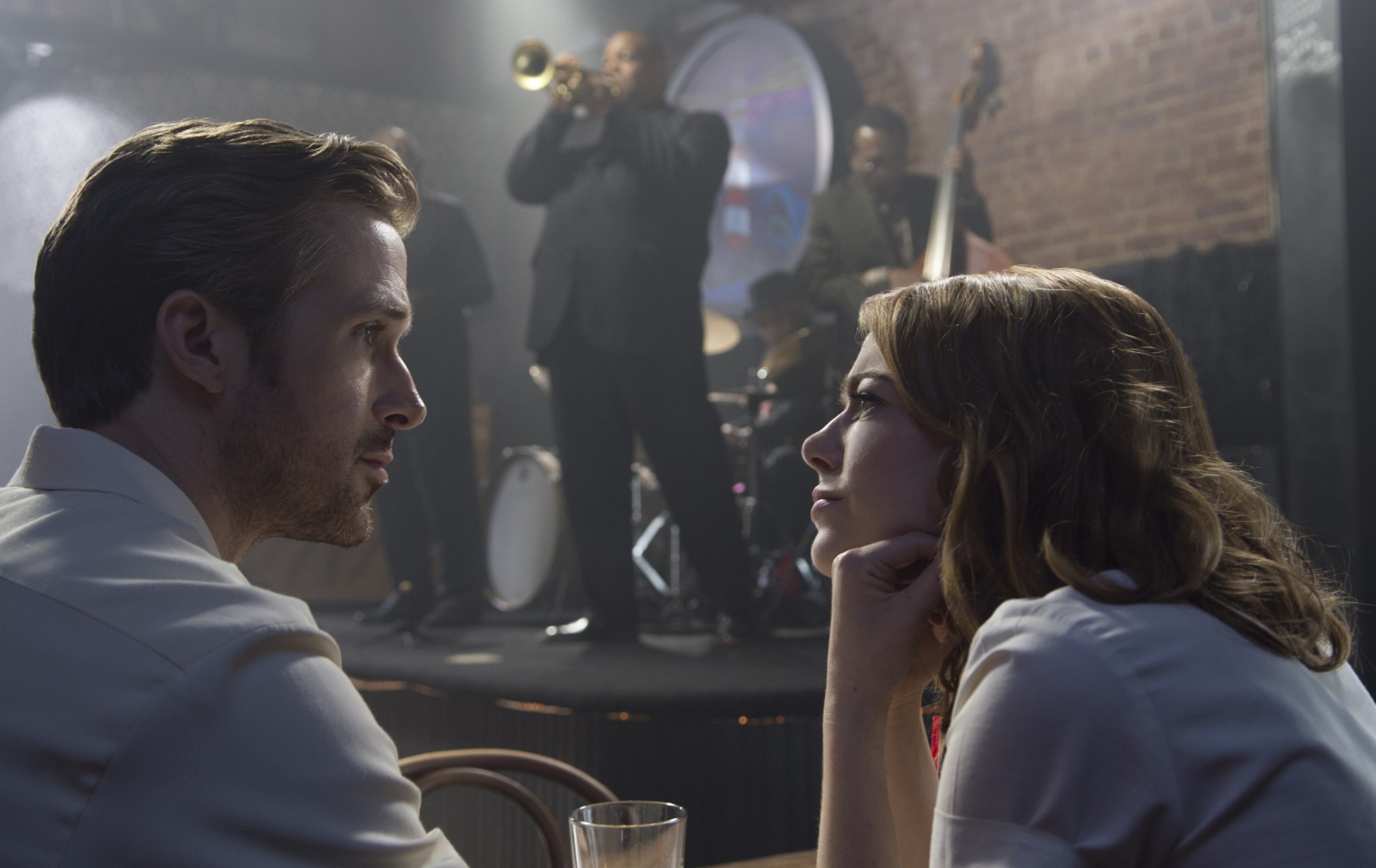 Success can go to a filmmaker's head, as it did Francis Ford Coppola's. It can make them anxious or suspicious, as it did Woody Allen and Martin Scorsese. But sometimes it warms a director up like the sun, and the result is as gorgeous a toasty splash of sound and color as Damien Chazelle's La La Land.
RELATED: Martin Scorsese returns to form with masterful 'Silence'
An enchanting valentine to the Hollywood musical that will have you purring with pleasure, the film is a follow-up to Whiplash, Chazelle's 2014 film about the tough love between a jazz drummer and his teacher. The script for La La Land actually predates the filming of Whiplash: Chazelle wrote it in 2010, while he was still looking for a way into the film industry. But in many ways it feels like its heir, a response to the embrace Whiplash received at the Oscars, where it was nominated for five Academy Awards, winning three—for best supporting actor, film editing and sound mixing. La La Land doubles down: If Hollywood loves Damien Chazelle, Damien Chazelle loves it right back.
The film begins with a traffic jam on a Los Angeles freeway. Each car radio is tuned to a different station. Suddenly, amid the cacophony, the commuters leap from their cars and onto their roofs for a song-and-dance number, "Another Day of Sun;" the camera swings up high to take in the scene. The song finishes, and everyone climbs back into the car to resume leaning on the horn. Thus are the major elements of the film set in motion, not just our leads—stuck in the traffic is a boy (Ryan Gosling) in a red sports car and a girl (Emma Stone) in a Prius who gives him the finger for honking his horn at her—but also the grander romance that will run conterminously with theirs: Old-school musical meets modern world and sweeps it off its feet.
We've been here before, although not recently. The road to resuscitating the Hollywood musical—which is to say, an original screen musical as opposed to an adapted Broadway show, such as Chicago —is beset with honorable failures from major auteurs: Scorsese's New York, New York (1977) sank beneath its own romantic psychodrama; Coppola's One From the Heart (1981) eventually bankrupted the filmmaker and closed Zoetrope Studios; Woody Allen's Everyone Says I Love You (1996) was liked by critics but achieved only semi-liftoff with audiences. At first, Chazelle courts death by set piece, throwing swimming pools and parties and champagne at the screen in a series of showstoppers whose invention feels both delightful and a little heavy, like a diet of nothing but cream. Can he keep it up? Should he? Can anyone handle two hours of fizz?
In the end, La La Land succeeds because it realizes that being a musical is not enough. It wasn't enough for the original audiences of the 1930s and '40s, who unlike us, weren't indulging in anything as gauzy as genre resuscitation or nostalgia: They went to see Fred and Ginger, or, later, Gene Kelly hoofing it with Cyd Charisse. The delay between writing the script and filming allowed Chazelle to land Gosling and Stone, whose chemistry—first on display in 2011, in Glenn Ficarra and John Requa's Crazy, Stupid Love— still rests on the slight suspicion that he thinks himself more of a catch than she does.
Stone plays an actress named Mia who works as a barista on the Warner Bros. lot while auditioning for small roles in television shows. He is a fussy jazz pianist named Sebastian, who owns a piano stool once sat on by Hoagy Carmichael and wishes one day to open his own jazz joint. "They always say, 'Let it die.' Not on my watch." The film's guiding principle is thus laid down: As William Faulkner said, the past is never dead, it's not even past.
Aiding this conception is the fact that the L.A. hipsters who populate the film already look halfway to retro. Meanwhile, David Wasco, the production designer who did such great work creating Jack Rabbit Slim's restaurant in Pulp Fiction, concocts an L.A. of twinkling lights and neon signage, building fronts and palm trees, silhouetted against the violet-and-orange twilight by cinematographer Linus Sandgren. I haven't seen a movie so in love with the magic hour since Terrence Malick's Days of Heaven in 1978.
The plot—her artistic career competes with his artistic career—is an old one, A Star Is Born for the iTunes generation. What keeps the film from being mere pastiche or homage is the same hard edge that drove Whiplash to its astonishing conclusion, in which art was dug out from an earth scorched of close personal relationships. Great art, for Chazelle—even great escapist art like La La Land —is Faustian in nature. There can be no compromise. You can have the fantasy or you can have the reality, Chazelle suggests, but you cannot, even after a couple of hours of the rarest enchantment, have both.
Releases continue worldwide to February 24; for more information, visit LaLaLand.movie.