'Gossip Girl' Episode 6 Recap: You'll Pay for It Later
Gossip Girl episode 6, titled "Parentsite" serves as the HBO Max drama mid-season finale. Unfortunately, a return date has not yet been confirmed but one thing is for sure, fans will be counting down the days until Gossip Girl returns.
Following on from the events of last week, everybody seems to be in a semi-good place, minus Obie (played by Eli Brown) and Zoya (Whitney Peak). The young couple are just not addressing the fact they are so different and quite frankly, do not like each other anymore. Julien does also not seem to be over him whatsoever, with the episode beginning with her scrolling through his Instagram pictures.
The mid-season finale is slow to start, Audrey (Emily Alyn Lind) is understandably stressed out after her mother ended up in the hospital in the previous episode, Zoya and Obie are avoiding each other, Max (Thomas Doherty) is still staying away from Rafa (Jason Gotay) , Julien(Jordan Alexander) is trying to excel in her influencing career and Aki (Evan Mock) is continuing to be the middle man.
Things finally take an interesting turn when Obie's mother, Helena (Lyne Renée), arrives in town. He tried to pass it off as it being a huge shock to Zoya but in reality, he knew all along she would be making an appearance.
Julien in what was a questionable move arranges for Zoya to meet Obie's mother by turning up unannounced at a hair salon. Surprise surprise, when she gets there and introduces herself as Obie's girlfriend, Helena is quick to shut her down insisting "Julien Calloway is Obie's girlfriend." Looks like Obie has been keeping Zoya a little secret from his own family.
Thankfully Gossip Girl's Instagram and some "Zobie" fan accounts were on hand and Zoya could prove to Helena she was well and truly Obie's girlfriend. Zoya gets an invite to a very important dinner to meet with her once again that evening, a dinner Obie did not invite her to.
Fast-forward to dinner and Zoya has absolutely no shame in letting her opinion be known at the dinner table, in front of total strangers. She also has no fear about being somewhat disrespectful to Aki's media-mogul father Rodger (who is channeling serious Rupert Murdoch vibes) and calling out Obie's mother for her plans to build a multimillion apartment complex in place of a homeless shelter down in Brooklyn. It's bold of her and admirable, but also very frustrating. It's like she won't learn speaking her mind in tense situations only ever really gets her in trouble and only pushes Obie further away.
Finally, Obie and Zoya have a huge fight after the dinner Zoya invited herself to. She begins to spiral, thinking it is because Obie still has feelings for Julien and would rather have her sitting at the table instead. Obie doesn't exactly deny it but he does head towards Julien stopping her in the street and asking "can you stop messing with my life, please?"
Julien, who has done some serious self-growth in the past six episodes explains she was only trying to help and only wants them both to be happy. She gives Obie some advice, to stop taking the fact he can't show his mother who he is really "out on the people who love him," causing Obie to walk away. Things seem weird between Obie and Julien, almost like there's some tension and unresolved feelings there. Obie. don't. go. back. there.
Regardless of what Zoya and Julien said, something clicked within Obie. The next day, he is seen protesting at the Brooklyn Navy Yard, where his mother Helena and Aki's father Rodger are behind tearing down sheltered housing to build a multimillion-dollar apartment complex. Both Zoya and Julien saw the videos of Obie at home, separately, and head straight down there to support. This is bound to get awkward.
Yes, it's awkward, so very awkward, and ends with Julien admitting she was still in love with Obie, when Julien asked if Zoya still felt the same way, Zoya shrugged her shoulders and walked off and poor Obie is none the wiser.
Some other interesting things occurred at the fancy dinner party. Audrey, who is high on caffeine mixed with stress and no sleep, outed Aki to his parents (with the help of Zoya, who encouraged Rodger to go on a rant about homophobia and the fact his company was getting sued by a gay man for LGTBQ+ bias). Aki had stepped outside for a breath of fresh air after hearing his father refer to those who are gay as "them."
When Aki exited the restaurant, jumping to his defense, Audrey said: "You could be a little more sensitive ok? You never know how someone at the table identifies." Aki's mother catches on to something, while his father appears oblivious, at least that is what we thought.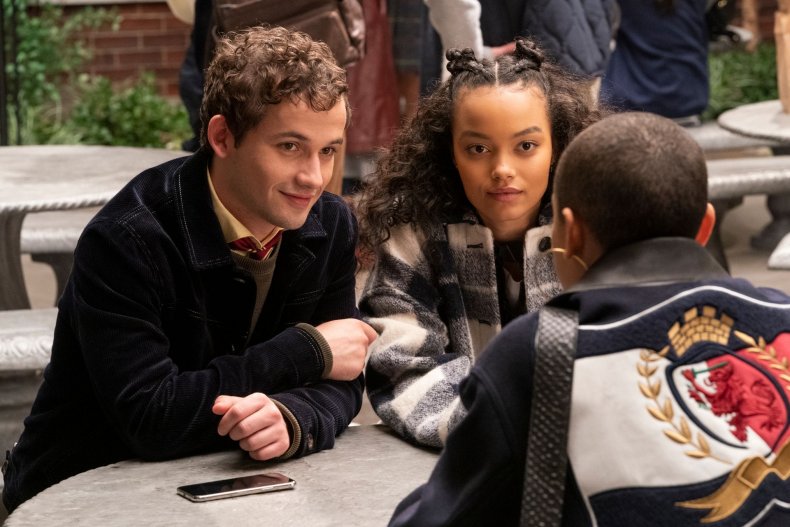 The following day, Rodger would go on to use his son's sexuality to his advantage. When he is asked by an NBC reporter outside the Brooklyn Navy Yard about the impending federal lawsuit, Rodger in a bid to defend himself outs Aki live on television as a gay man, exclaiming: "How can my company and I be homophobic when my own son, Aki, who I love very much is gay himself." Aki isn't gay Rodger he is bisexual and that is the first time Aki is saying those words out loud for himself.
Elsewhere, Max's classics teacher Rafa is crazy. When Max rejects his advances numerous times, he decides to track down Max's father on a dating app. He then proceeds to send Max a photo of him and his father out on a date, which he wakes up to the next day. Thankfully, Max is still on his good behavior streak and arranges to meet with his father immediately, to warn him of Rafa and even better, tell him the truth.
But this is Gossip Girl and all good things come to an end, including Max Wolfe's good morals and self-care streak. After meeting with his father, he sent Rafa a little message which read: "Rafa, I'm done doing the right thing. You play dirty. Now so do I." Max then decided to send a video of him having sex with Rafa to Gossip Girl but little did he know, Rafa has access to the Gossip Girl account.
Rafa was able to delete the video fast but not before Gossip Girl herself Kate Keller (Tavi Gevinson) and her minions see the clip. Things are about to get dirty.
The mid-season finale ends on three chaotic cliffhangers. The threesome of the century is happening. Aki, Max, and Audrey are finally addressing the sexual tension between them. It's finally happening.
While Aki is busy experimenting in the bedroom, he receives a voicemail from his father who unexpectedly warns him to "stay away from Julien." In this episode, Rodger and Julien did not even cross paths, so his warning seems very unusual and unwarranted.
Down in Brooklyn, Obie and Julien reunite at the protest, and as they run from the cops they stop and kiss. When Gossip Girl and Zoya hear about this, it's going to be serious trouble in paradise.
'Till Next Time.
XOXO Gossip Girl
The first 6 episodes of Gossip Girl are streaming on HBO Max now.