'Gossip Girl' Cast: Is Elizabeth Lail in the 'Gossip Girl' Reboot?
Gossip Girl episode 3, titled "Lies Wide Shut," is streaming on HBO Max now. In the episode, Max Wolfe's (played by Thomas Doherty) two dad's Gideon (Todd Almond) and Roy (John Benjamin Hickey) were introduced into the Gossip Girl world. The episode also touched on Julien's home life and her complete and utter shock to learn her father has a secret girlfriend.
Warning: This article contains spoilers about Gossip Girl episode 3
Is Elizabeth Lail in the 'Gossip Girl' Reboot?
Yes, actress Elizabeth Lail does appear in the Gossip Girl reboot. She made her debut in episode three as Lola Morgan and will appear throughout the series in the recurring role.
Lail is best known for playing Guinevere Beck in Netflix's YOU and Anna in Once Upon a Time.
This is not the first time the worlds of Gossip Girl and YOU have collided.
Penn Badgley, who played Dan Humphrey in the original Gossip Girl, went on to star in Netflix's YOU as killer Joe Goldberg.
Lail played the lead role of Beck in season one of YOU, which premiered back in 2018.
Now, Lail is entering Dan Humphrey's world as Lola Morgan in Gossip Girl.
Lola is a barista and aspiring musician from New York and the secret girlfriend of Julien's music mogul father Davis (Luke Kirby).
She and Julien (Jordan Alexander) first crossed paths in a nightclub bathroom, when Julien went on a drunken rant about her ex-boyfriend Obie (Eli Brown) dating her half-sister (Whitney Peak).
Lola and Julien bonded over boys, with Lola admitting she had some relationship problems of her own.
Lola shared she had been dating her boyfriend for over a year but he had never gone public with their relationship and had always met up in secret.
When they parted ways after their bathroom chat, Julien watched on as Lola walked into the arms of her father, Davis, at the opposite end of the nightclub.
The evening before, Davis had told his daughter he was traveling on business to Berlin but in reality, he was spending time with Lola, his girlfriend.
Hurt and furious, Julien did some detective work of her own and followed Lola to her apartment. It transpired Davis had gone to extreme lengths to keep Lola a secret and had even been renting out a swanky apartment in the Upper East Side for him and Lola to live in.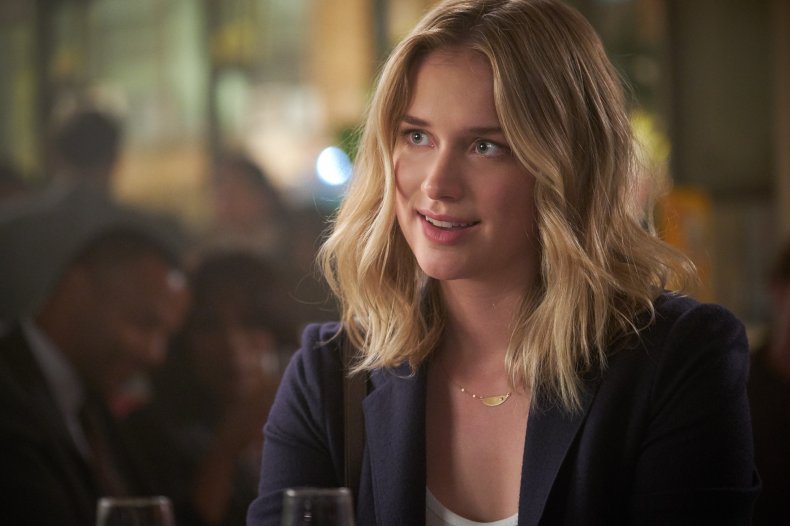 Taking matters into her own hands, Julien wanted to expose her father's lies and did so in a very public setting.
She tricked Lola into thinking Davis had sent her an invitation to the opening night of a play at The Public. Davis, too embarrassed to say he was not the one who sent her the ticket laced in roses, went along with.
He quickly realized he and Lola had both been set up when he spotted a waving Julien from the opposite end of the theater.
Once the play had ended, the truth came out as Julien always intended. Davis explained after the death of his wife and Julien's mother, he had vowed to make sure Julien was the only woman in his life and his only priority.
As a result, he chose to keep his dating life private and a secret from his own daughter. He later admitted he was at fault and had not realized how much Julien had grown up.
Handing her father his cell phone, Julien insisted he calls Lola to save their relationship. Julien even told her father she would "love" to meet her.
Like Davis, Lola is listed as a recurring character on the Gossip Girl reboot, so fans haven't seen the last of Lail in the role.
Hopefully, Lola will answer Davis' calls and she will feature more heavily in the show's remaining episodes.
Gossip Girl airs every Thursday on HBO Max.